Trump Versus Clinton Leaves Opera Fans With Wagnerian Dilemma
By
'It's a killer conflict,' says hedge fund manager George Weiss

Some are drawn to 'bloodsport,' others repelled by it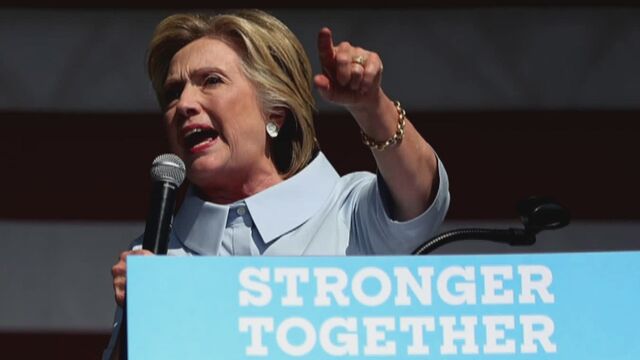 The Metropolitan Opera will open its season on the same night as the first U.S. presidential debate, forcing a difficult choice on its patrons: Tristan und Isolde or Donald and Hillary?
"It's a killer conflict," said George Weiss, chairman and chief executive officer of Weiss Multi-Strategy Advisers. He's going to the five-hour opera in New York on Sept. 26 and taping the 90-minute debate.
After all, the Met opening night is the Super Bowl of high culture, drawing an international crowd of wealth, power and celebrity around a performance that has generally been in the works for years.
Julie Macklowe, founder of skincare-products maker vbeaute, is splitting her evening, starting with Wagner's tragic love story and then leaving Lincoln Center "to catch the slugfest" before the final act. "There will probably be a mass exodus out of the opera then," she said.
No wonder Masterplanner, a calendar of major galas, concerts and conferences, lists the night of the first presidential debate as a "threat date."
"It means, beware, beware, you may not want to have your event or you may have to do something to change your event," said David Adler, Masterplanner's publisher.
Ordering Take-Out
Hospitality guru Danny Meyer, a self-professed political junkie, said he's cleared his calendar from 3 p.m. on for pregame punditry and the debate, which starts at 9 p.m. at Hofstra University in Hempstead, New York. His business partner, Richard Coraine, reports reservations are light at their restaurants, including Maialino and Gramercy Tavern, while Seamless spokeswoman Kaitlyn Carl said the take-out ordering service expects a spike in group orders as people gather in homes to watch.
On the gala circuit, some nonprofits are bending to the will of Trump v. Clinton, or at least the desire to watch it live: The New York-Historical Society moved up the start of its History Makers Gala by 30 minutes, to ensure guests will make it home in time.
Other events won't be so accommodating, from Adele at Madison Square Garden to an American Theatre Wing tribute to Cicely Tyson. To complicate matters at the Met Opera, it's a big fundraising night that starts with cocktails at 4 p.m. and includes supper at 10 p.m. after the performance. Last year's event raised $5 million.
Not Worried
The Met doesn't sound worried. "Ticket sales have been strong and we haven't seen any significant effect from the debate being scheduled against our opening," said Sam Neuman, a spokesman.
Marc Scorca, president of Opera America, said he couldn't imagine giving up a night at the opera to watch the debate. "There's a certain magic that prevails in the theater for a piece like Tristan that doesn't describe the presidential debate," he said.
Still, there are similarities, according to Kevin Parker, CEO of Sustainable Insight Capital.
"There won't be anything romantic about a Trump/Clinton debate, nor any love potions exchanged," Parker said. "Although it may possibly end in tragedy and death -- of a political career."
Picking Neither
Jill Kargman, creator and star of Bravo's "Odd Mom Out" series, is taking a pass on both.
"I do love the idea of high society in their couture fineries and jewels dabbing tears with embroidered hankies while everyone else watches the car crash of a different sort of opera," Kargman said. "I prefer romantic drama to mudslinging, but will probably be in my pajamas with wine and looking over homework."
The Met makes an effort to democratize the art form by offering a free live broadcast of the opera in Times Square, where one could simultaneously follow the debate through news tickers in the area, or on their own devices.
As for the timing: Opening night has fallen on the Monday of the eighth week of the fiscal year since 2001. The Commission on Presidential Debates announced its schedule a year ago, and who would be participating was determined at the Republican and Democratic conventions in July.
Conspiracy Theory
"I'm sure it is evidence of the election being rigged in some fashion," joked Scorca, borrowing a Trump line about National Football League games also coinciding with debate dates.
Scorca will watch the debate but prefers to do so on tape with the benefit of news coverage and analysis. "I don't see debates as a blood sport and I just fear that's what it will become," he said.
Blood sport is what's drawing many to watch it live.
"It's one part American Idol, one part heavyweight title fight, and you want to be able to say, I saw when they landed that punch, or I saw when they landed that song," said the restaurateur Coraine. "The next morning, people are going to be asking, did you see? And if you haven't, you're going to be an outsider."
If the crowd does thin at the opera, Macklowe said it might not be just because of the debate. "Reality is, two hours is enough for me for the opera or any event," she said. "I have ADD."