Trump Laments 'We're Not Allowed to Profile' in Terror Fight
By
Cites Israel as example of nation effectively using profiling

Says he 'called' cause of New York blast 'before the news'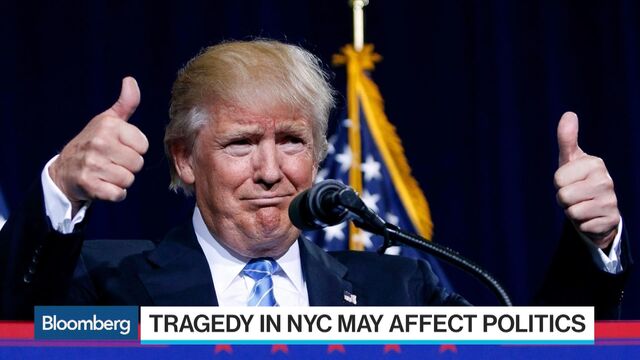 Republican presidential nominee Donald Trump said Monday that the U.S. response to domestic terrorism is inhibited by police officers afraid they'll be accused of profiling.
"Our police are amazing. Our local police, they know who a lot of these people are. They're afraid to do anything about it because they don't want to be accused of profiling and they don't want to be accused of all sorts of things," Trump said in a Fox News phone interview.
"If somebody looks like he's got a massive bomb on his back we won't go up to that person and say, 'I'm sorry,' because if he looks like he comes from that part of the world we're not allowed to profile," Trump said. "Give me a break."
Trump spoke after a dumpster bomb injured 29 people in New York City on Saturday night. New York City police said Monday they were looking for 28-year-old Ahmad Khan Rahami, a naturalized U.S. citizen from Afghanistan, for questioning in connection with the explosion.
Israel Example
Trump cited Israel, a U.S. ally in the Middle East, as an example of a nation that has used profiling to effectively fight terrorism.
"In Israel they profile," Trump said. "They've done an unbelievable job, as good as you can do."
"They see somebody that's suspicious, they will profile. They will take that person and they'll check out."
Suggesting that was the path the U.S. needed to take, he asked, "Do we have a choice?"
'Does Not Work'
There's no credible evidence that profiling prevents violence or criminality, said Jaylani Hussein, executive director of the Minnesota chapter of the Council on American-Islamic Relations.
"It does not work. It has only marginalized and polarized communities, particularly minority communities," Hussein said in an interview. It wastes law enforcement officials' time and energy because it alienates the same people they need cooperation from, he said.
Israel looks at human behavior and evidence, not race or religious identity, Hussein said. In any case, it's not reasonable for the U.S. to use the same tactics as the Israelis, who are studying a much smaller population, he said.
Blames Clinton
Trump has blamed President Barack Obama and Democratic nominee Hillary Clinton for allowing domestic terrorism threats -- what he called a "cancer from within" -- to flourish. Clinton was Obama's secretary of state from 2009-2013.
"Under the leadership of Obama & Clinton, Americans have experienced more attacks at home than victories abroad. Time to change the playbook!" Trump said on Twitter on Sunday.
Asked on Fox News what he'd do, Trump said, "We're going to have to do something extremely tough over there."
Like what, the Fox interviewer asked?
"Like, knock the hell out of them," Trump said. "And we have to get everybody together and we have to lead for a change. We're not knocking them. We're hitting them every once in a while. We're hitting them in certain places. We're being very gentle about it. We're going to have to be very tough."
He said that while he supports freedom of the press, which is protected in the First Amendment of the U.S. Constitution, those who publish bomb-making instructions in print magazines or online should be arrested.
"And we can't let any more people come into this country," he said.
In December Trump proposed "a total and complete shutdown of Muslims entering the United States until our country's representatives can figure out what is going on" with terrorism.
In August, after months of blowback for the proposed religious test, Trump said that if elected he would ask federal agencies to develop a list of "regions and countries from which immigration must be suspended until proven and effective vetting mechanisms can be put into place" and that they would include Syria and Libya. He said applicants to enter the U.S. would have to undergo ideological screening.
Trump on Fox News on Monday also defended preempting law enforcement on Saturday in attributing the New York explosion to a bomb.
"What I said was exactly correct," Trump said. "I should be a newscaster because I called it before the news."
Clinton on Sunday afternoon called the explosion in New York, along with incidents in Minnesota and New Jersey, "apparent terrorist attacks."
"ISIS has claimed responsibility for the attack in Minnesota, and this should steel our resolve to protect our country and defeat ISIS and other terrorist groups," Clinton said in a statement, referring to the Islamic State. She called for an "intelligence surge" and for working with Silicon Valley, the U.S. technology industry hub, to counter online propaganda and recruitment.
Bilateral Meetings
Trump said he didn't want to comment on reports that he planned to meet Monday with Egyptian President Abdel Fattah El-Sisi as the United Nations General Assembly gets underway in New York. A Trump foreign-policy adviser, Walid Phares, confirmed the planned meeting in a tweet.
"I will say with all the folks being in New York, I've had a lot of calls from a lot of different people on the basis I'm doing well," Trump said, adding he has "already met with a couple of them."
"I just don't want to comment on specifically who they are," he said. "Let's put it this way. It'll be a very interesting day or two."
Clinton was expected to meet El-Sisi, Ukrainian President Petro Poroshenko, and Japanese Prime Minister Shinzo Abe this week, according to her campaign and media reports. Obama was set to speak at the General Assembly opening session on Tuesday.