Refugee Crisis Shapes Swedish Budget as More Seen as Not Enough
By and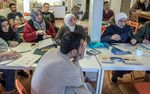 Sweden's government presented an expansionary budget and predicted finances will return to balance in 2018 amid increased spending to absorb a record inflow of refugees over the past two years.
Almost half the extra spending presented on Tuesday by Finance Minister Magdalena Andersson has been earmarked for municipalities that are on the front-line for taking care of the flood of refugees from Syria and other nations. But local authorities say the government's extra support underestimates the needs in coming years, and warn that they will need to cut costs and raise taxes.
"Of course, it will be a big effort going forward," said Annika Wallenskog, chief economist at SKL, Swedish Association of Local Authorities and Regions. "It's really good that we've received the 10 billion kronor, but it won't cover the extra costs for migration."
Sweden's economy has enjoyed a boom amid extra spending to cover the refugee inflow. After tightening border controls in November last year the government predicts deficits will be smaller than 0.3 percent this year and next before achieving balance in 2018. 
The government has budgeted 24 billion kronor ($2.8 billion) for so-called reforms in 2017, which will rise to as much as 36 billion kronor by 2020. The money includes the 10 billion kronor per year already pledged to municipalities and the rest will be mainly spent on education, jobs and the environment.
"We have pursued a tight fiscal policy, and the large deficit of over 60 billion kronor that the government inherited has essentially been wiped out," Andersson said in a statement. "This has been achieved despite the strain on public finances following the large number of asylum seekers who came to Sweden in 2015. As a result, we will be able to implement necessary reforms to meet the challenges we face both in the long term and here and now."
Sweden will raise taxes by about 7 billion kronor next year, including a higher tax on banks, chemicals and income. It announced plans to raise the energy tax in order to eliminate the nuclear output tax by 2018 and cut property taxes on hydro-power plants from 2.8 percent to 0.5 percent by 2020. 
The higher electricity tax will raise 1.2 billion kronor in revenue in 2017 and 2.4 billion kronor the following year.
One major issue for the government to solve is jobs or education for the 163,000 refugees who arrived in Sweden last year, especially for those that lack upper-level education. Today, only 31 percent of newly arrived refugees find a job or education after a two-year establishment program.
That is a "lousy" result, Labor Market Minister Ylva Johansson said on Monday after presenting new initiatives.
Economists are still waiting for the government to present any large-scale solutions or reforms. According to Hakan Frisen, head of economic research at SEB in Stockholm, its forecasts for public finances beyond next year are probably too optimistic since investments in key public services such as schools and healthcare will require more than what's included in the government's current forecasts.
Failures to solve housing, integration and labor market issues could have considerable consequences, Frisen said, and the risk of worsening quality in the welfare system may in the longer term undermine the societal contract between the state and tax payers.
"The challenges of migration, the quality of the public sector and perhaps also the housing market" are "so big and overarching that they require policies that we're not seeing any first signs of," he said. "The government is not really showing their cards on how they will solve these issues."
Before it's here, it's on the Bloomberg Terminal.
LEARN MORE