It's Not Your Imagination: Your Tiny Apartment Is Getting Smaller
by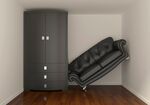 If you've been watching HGTV, you know that tiny houses are all the rage. But for those of us living in New York or San Francisco, tiny isn't a trend: it's a fact of life.
In these two pricey cities, the average size of new apartments built between 2010 and 2016 was 855 square feet, down from 894 square feet in the 2000-2009 period and much smaller than the new units coming onto the market in other parts of the U.S., according to a study by real estate consultants RCLCO. Still, whether you're living in exorbitant Manhattan or more affordable Phoenix, there's no denying: apartments nearly everywhere are shrinking.

Some of the decline in the average apartment size is simply due to distribution: More studio and one bedroom units are coming online as Millennials marry later and delay the search for larger spaces. As more small apartments come onto the market, the average size of new units falls. Studios and one bedrooms together accounted for nearly two thirds of the unit mix in the cities from 2010 to 2016 (darker colors below), RCLCO said, up from about half at the start of the millennium (lighter colors).



But it's not just the boom in studio apartment demand that's dragging down the size of the average new unit: Floorplans are also shrinking in most markets, the RCLCO study found. Overall, the share of studio and one-bedroom apartments in the U.S. smaller than 600 square feet doubled to 15 percent during the 2010-2016 period. Here's what the breakdown looked like in the period ended 2009:

And here's the breakdown from the last few years. In the very high-cost markets of New York and San Francisco, 29 percent of studio and one-bedroom apartments are now smaller than 600 square feet, up from 22 percent in the previous period. Murphy beds, anyone?

So we can agree apartments are definitely getting smaller, but just how fast they're shrinking depends on your area code. In the Philadelphia metropolitan area, new units are 25 percent smaller now compared to in the 2000-2009 period, while in Phoenix, they're only 1 percent smaller. 

Bucking the trend are two California cities — San Diego and Riverside — where apartment sizes actually rose during that period, the RCLCO study found. Want more space? I suppose the gold rush had it right: "Go West, young man!" (And maybe avoid San Francisco.)
This interactive StoryChart originally ran in Bloomberg Briefs: Economics.
Before it's here, it's on the Bloomberg Terminal.
LEARN MORE