Clinton Says Trump's Rhetoric Plays Into Hands of Extremists
By and
Trump urges police use profiling to identify extremists

Blast in New York puts terrorism at forefront of campaign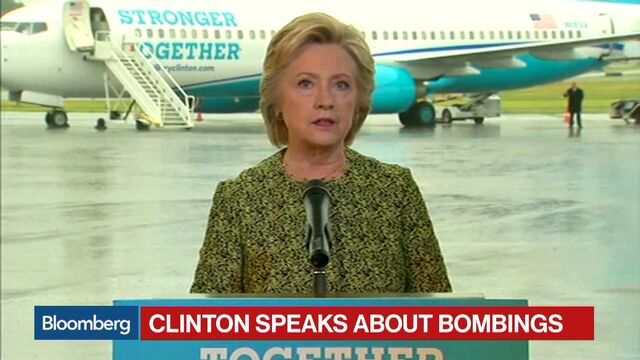 Democratic presidential nominee Hillary Clinton said the country must reject Donald Trump's approach to terrorism, saying his rhetoric has been a recruitment tool for extremist groups such as Islamic State.
Hours after the Republican nominee said the U.S. response to domestic terrorism is inhibited by police officers afraid they'll be accused of profiling if they single out Muslims, Clinton said the way to prevent attacks like the bomb blast in New York is to build up trust between law enforcement and the American Muslim community.
"Let us be vigilant but not afraid," Clinton said Monday at Westchester County Airport before leaving for a campaign event. "We will not turn on each other or undermine our values."
The two candidates delivered starkly different prescriptions for confronting the threat of domestic terrorism as they reacted to the explosion of a homemade bomb that injured 29 people in New York City on Saturday night and the discovery of other similar devices in the area. A suspect, 28-year-old Ahmad Khan Rahami, a naturalized U.S. citizen from Afghanistan, was in custody.
Campaign Issue
The incidents in New York and New Jersey and an apparently unrelated stabbing spree in Minnesota are sure to bring terrorism back to the forefront in the campaign as Clinton and Trump prepare for their first face-to-face debate on Sept. 26. Their responses exemplified how each candidate approaches issues, with Trump offering blunt talk and Clinton delivering a more measured statement that echoed the rhetoric of the Obama and Bush administrations.
In a recent Quinnipiac University Poll, 17 percent of likely voters nationwide said terrorism was the most important issue facing the U.S., the second-biggest concern after the economy. But polls suggest voters are nearly split on who is better qualified to confront the issue: 49 percent of voters told Quinnipiac Clinton would do a better of keeping the country safe from terrorism, while 47 percent said Trump would.
"Our local police, they know who a lot of these people are. They're afraid to do anything about it because they don't want to be accused of profiling and they don't want to be accused of all sorts of things," Trump said in a Fox News phone interview.
Profiling
"If somebody looks like he's got a massive bomb on his back we won't go up to that person and say, 'I'm sorry,' because if he looks like he comes from that part of the world we're not allowed to profile," Trump said. "Give me a break."
Jaylani Hussein, executive director of the Minnesota chapter of the Council on American-Islamic Relations, said such an approach "has only marginalized and polarized communities, particularly minority communities." While Trump cited the experience of Israel in dealing with suspected terrorists, Hussein said the Israeli authorities look at human behavior and evidence more than race or religious identity.
Trump has blamed President Barack Obama and Clinton, who was secretary of state from 2009-2013, for allowing domestic terrorism threats to flourish. 
Clinton said there are millions of naturalized U.S. citizens from all over the world and that singling out Muslims or those of Middle Eastern background plays into the Islamic State's attempts to portray their cause as a battle between the West and Islam.
'Recruitment of Terrorists'
"We know that Donald Trump's comments have been used online for recruitment of terrorists," Clinton said, citing past remarks by former intelligence officials.
Trump's campaign called Clinton's remarks an accusation of treason against the Republican nominee. Her "comments today accusing Mr. Trump of treason are not only beyond the pale, it's also an attempt to distract from her horrible record on ISIS. If Clinton really wants to find the real cause of ISIS, she needs to take a long, hard look in the mirror," spokesman Jason Miller said in a statement.
Trump's campaign also seized on a report from the Homeland Security Department's inspector general released on Monday that said incomplete fingerprint records led the U.S. to mistakenly grant citizenship to 858 people who had been ordered deported or removed under other names. The IG said paper-based fingerprint cards used prior to 2008 weren't consistently digitized.
Clinton and Trump both said the U.S. must deal with online recruiting and support for would-be terrorists. Clinton called for working more closely with Silicon Valley counter terrorist propaganda and recruitment efforts. Trump said that while he supports freedom of the press, which is protected in the First Amendment of the U.S. Constitution, those who publish bomb-making instructions in print magazines or online should be arrested.
Obama Reaction
Obama on Monday also addressed the issue while in New York to attend fundraisers for Clinton and the annual opening session of the United Nations General Assembly. He sought to assure the public that law enforcement will have all the resources they need to investigate the incidents over the weekend and prevent future attacks.
He said the U.S. will "continue to enlist tech companies and religious and community leaders" to counter extremists recruiting.
Clinton and Trump also were planning to attend part of the UN opening. Clinton was expected to meet Abdel Fattah El-Sisi, Ukrainian President Petro Poroshenko, and Japanese Prime Minister Shinzo Abe this week. Trump said he didn't want to comment on reports that he planned to meet Monday with El-Sisi, though one of his foreign-policy advisers, Walid Phares, confirmed via Twitter that it was scheduled.