Clinton Global Initiative Ends With Some of Shine Worn Off
By and
12th annual event in New York will be last CGI gathering

Hillary Clinton's campaign adds complication to legacy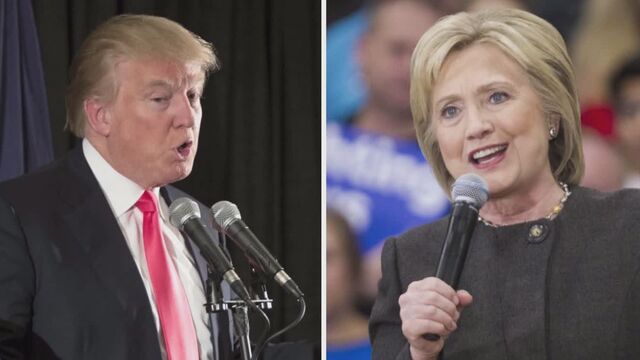 When the Clinton Global Initiative opens Monday for its 12th and final annual meeting, it'll be a little less global, lighter on initiative and absent one Clinton.
The event in New York, for years considered a prime forum for movie stars, captains of industry and global leaders to put their good names to good works, is ending its run with a formidable list of accomplishments but burdened by the political complications of Hillary Clinton's candidacy for president and the attendant scrutiny of the family's ties to wealthy interests.
Some well-known supporters of CGI, notably President Barack Obama, are missing from the guest list for this year's meeting, when the door will close on an institution that's won praise for reshaping philanthropy but also drawn derision for an atmosphere of pay-for-access.
"If Breitbart and Fox are going on and on and on about how laced with controversy this organization is, that's going to sound alarms to companies that are very risk averse," said Susan McPherson, a CGI member and CEO of McPherson Strategies, which advises corporate clients on philanthropic giving. "When you couple that with the presidential race, it makes it even riskier for them. They don't want to be seen as pay-to-play if Hillary Clinton becomes president, and that has certainly had an effect this year."
Some of the biggest corporate sponsors of years past are sitting out the finale: Exxon Mobil Corp. and Deutsche Bank AG already skipped last year, too. Other longtime sponsors Goldman Sachs Group Inc., Barclays PLC, and Blackstone Group LP are taking a pass as well. CGI will also be missing some of its main draws. Like Obama, Hillary Clinton, the Democratic presidential nominee, will instead be at the United Nations General Assembly opening.
Since Bill Clinton launched CGI as an arm of the Clinton Foundation in 2005, its members made more than 3,550 commitments and pledged to raise $125 billion to meet them, according to a Bloomberg News calculation based on annual reports. The group says its work has affected 430 million people in 180 countries. In philanthropy circles, CGI is widely credited with creating a new framework for giving and action, convening powerful figures from government, business and charities to address global problems. Members would pay for the privilege to meet and brainstorm solutions, then make financial commitments, often multi-year plans costing tens of millions of dollars.
"When we started this in 2005 it was a great gamble," Clinton said Monday in opening remarks at the CGI meeting. "The way to end this is not on a nostalgia trip" but to "keep working to push the ball forward."
Inaugural Meeting
The annual event has been a showcase for Bill Clinton's philanthropic aspirations in his post-presidency. At CGI's inaugural meeting in September 2005, timed to coincide with the annual opening of UN session, Clinton showed his ambitions to keep his hand in world affairs beyond philanthropic commitments. 
One panel featured a discussion about Mideast peace with King Abdullah II of Jordan, Condoleezza Rice, then secretary of state to President George W. Bush, and British Prime Minister Tony Blair. Rice praised CGI as a "wonderful initiative," saying from the stage that "it mobilizes people to think what they can do about poverty and despair, and also hope and opportunity in the world." The meeting resulted in 300 commitments worth more than $2.5 billion, the group said, and Clinton later said it had "succeeded beyond my expectations."
The following year's lineup put on display the political and corporate star power Clinton could command, including Warren Buffett, Richard Branson, Bill Gates, Rupert Murdoch, first lady Laura Bush and French President Jacques Chirac. By 2009, CGI was ranked the No. 1 conference attracting CEOs from top companies, according to public relations firm Weber Shandwick "Five-Star Conference" study; in 2010, it took the No. 2 spot, behind the World Economic Forum in Davos.
The bipartisan and non-political nature of the event persisted even after Hillary Clinton ran for the Democratic presidential nomination in 2008 and then went on to serve as Obama's first secretary of state. In September 2012, in the midst of the presidential race, then-Republican nominee Mitt Romney made an appearance.
Clinton Impersonation
Glamour was always a part of the CGI. In 2013, Bill Clinton was running late for a panel with the International Monetary Fund's Christine LaGarde, Facebook's Sheryl Sandberg and Bono, when the U2 frontman grabbed the microphone and performed a spot-on impersonation of the former president, complete with accent and mannerisms.
The CGI's star power may have peaked in 2014, when 10 current or former heads of state were in attendance, including Obama. Although anticipation of her presidential run in 2016 was already building, Hillary Clinton emerged on the ballroom stage, bejeweled and swathed in royal blue, to announced, "Live from New York, it's CGI!"
Once her decision to run was set, the non-political air of CGI quickly faded. With rising populist anger at elites one of the defining features of the 2016 election season, Clinton's relationship to wealthy donors, particularly those outside the U.S. who have contributed to the family foundation and attended the CGI meetings, became an unrelenting line of criticism of her both in the primary and general campaign. 
Three days before the start of this year's CGI, Donald Trump said he will press Hillary Clinton to release an audit of her family's foundation work in Haiti, a country where both the foundation has done work and where CGI members have made millions of dollars worth of commitments.
In a Slate podcast last month, one former CGI panel moderator, Adam Davidson, a contributor to the New Yorker and co-founder of NPR's "Planet Money" program said that while he intends to support Hillary Clinton in November, CGI had given him a "creepy vibe" and that "it just feels like the worst version of an elite selling access to the aspirational" and creating a "theater" of doing good, while "it's all about something else."
Zack Rosenburg, chief executive officer of SBP, a New Orleans-based disaster rebuilding and recovery firm that has looked to CGI for networking and sharing best pratices, called such criticism of CGI "a canard" and said, "there's no doubt that the country and frankly the globe is better and healthier because of the commitments that have come out of the global initiative."
Most of the company's taking a pass on this year's gathering declined to comment beyond confirming they won't participate. 
Allen Jeffers, a spokesman for Exxon Mobil, said the company's focus "has been on opportunities the CGI gave us to forge new partnerships with several nonprofit organizations working to combat malaria and provide economic opportunities for women in the developing world."
Different Model
From the outset, CGI had a different model for philanthropy. In fact, some of the commitments the group helped nail down weren't philanthropy at all, like the one from private equity firm Leapfrog Investments. The firm launched a $135 million fund to invest in businesses serving lower income individuals in 10 developing nations to create 50,000 jobs. Two years later, it reported that revenue in its CGI portfolio increased 40.6 percent. Stephen Bowey, a partner at Leapfrog, said the group has created more than 102,000 jobs within four years.
Venture capital firm Ignia made a commitment to CGI in 2011 to become the largest "impact investing fund" in Latin America. It raised and invested $200 million to meet that goal. That same year, Inerjys Ventures committed to setting up a $1 billion fund to invest in clean energy startups with the goal of turning them into profitable companies. The fund has since been scaled back to $300 million, according to a progress report.
"We're demonstrating the model we had initially talked about when we started engaging with CGI, bringing about real world examples of investing in tech companies and investing in projects to bring down the cost of clean energy," said Stephan Ouaknine, managing partner of Inerjys and a speaker at this year's conference.
Bob Harrison, president of CGI, said "if someone's able to make money and also to do something positive from a social or environmental perspective it's likely to be sustainable."
Not all commitments have led to success. In 2005, Hollywood producer Stephen Bing, ex-World Bank President James Wolfensohn, venture capitalists Vinod Khosla and Ron Burkle made a $1 billion commitment to invest in renewable energy. The four made a few investments, but didn't start a fund, according to Frank Quintero, a principal in Burkle's Yucaipa Companies. 
Others were difficult to assess. Greentech Automotive, the electric car company started by longtime Clinton confidante and Virginia Governor Terry McAuliffe, pledged in 2010 to sell Americans 100,000 electric cars at a price under $10,000. The company has yet to sell any cars in the U.S. In June, the Clinton Foundation released a study showing that 17 percent of its commitments were either unfulfilled or hadn't provided progress reports for more than two years.
There have been notable achievements. CGI helped broker a partnership between the AFL-CIO, the American Federation of Teachers and the National Building Trades Union to invest $14.5 billion in infrastructure investments since 2011, an effort they say has created at least 100,000 jobs. The group also put together the Energy and Resources Institute with more than 80 partner organizations to provide solar-powered electric lamps and charging stations to 900,000 people in Africa and Asia.
Loyal Supporters
Even though it's lost some shine, plenty of longtime sponsors will still be at the final CGI meeting, including Procter & Gamble, which has made 14 CGI commitments since 2006, and furniture maker West Elm.
West Elm President Jim Brett said that even though the criticism of CGI and the Clinton Foundation is unfounded, the negative coverage has cast enough of a shadow to give corporate public relations teams pause. "I'm very proud of our commitment, of our association with a foundation that does good in the world," Brett said.
CGI's end comes as the Clintons wind down philanthropic activities that could pose conflicts of interests if the former first lady, senator and secretary of state becomes president. Bill Clinton said he intends to continue a smaller, CGI university program that can be maintained with support from independent foundations and individuals.
"In much of their work, they were aligned in their efforts with other funders, foundations, major nonprofits and NGOs," said Phil Buchanan, president of the Center for Effective Philanthropy, which evaluates charities. "I'm sure a lot of those funders are thinking, 'How can we step in?'"
Bill Clinton had written in a 2007 book, "Giving," that he wanted the annual meetings to continue for at least a decade to build a global network of citizen activists. In an August statement announcing this year's would be the last, Clinton wrote, "That is exactly what CGI, its members and its dedicated staff have done."
In an interview with Charlie Rose for CBS and PBS released on Sept. 13, Bill Clinton said CGI had a bipartisan legacy and has been transparent.
"I bent over backwards to try to make sure there was no conflict of interest, or appearance of conflict of interest," the former president said. CGI "can't run without the support of corporate sponsors and international contributors," Clinton said. "That's how we've gotten 3,500 commitments that have helped 430 million people in 180 countries. So, we can't do that."
Before it's here, it's on the Bloomberg Terminal.
LEARN MORE