Clinton Asks Millennials For Support While Giving Nod to Their Doubts
Young voters, distrustful of Clinton, are giving a look to third-party candidates.
By and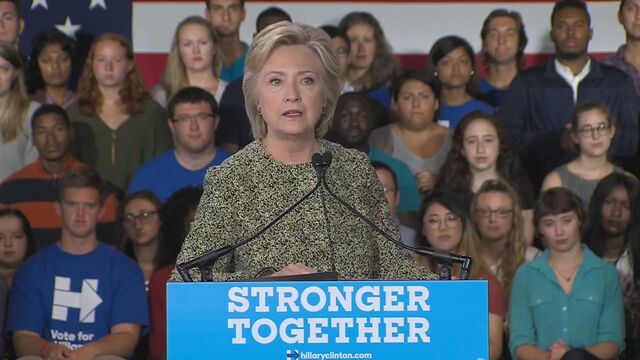 Hillary Clinton tried to confront her trust deficit with younger voters Monday in making a direct appeal to millennials, whose lack of enthusiasm for the Democratic nominee is a threat to her prospects in November.
Campaigning at Temple University in Philadelphia, Clinton touched on issues important to voters under 35, including college affordability and climate change, and acknowledged that many of them have doubts about her.
"I know that with Washington paralyzed with big money in politics, the gap between the change we want and the progress politics should deliver can look like a chasm. I also know that even if you're totally opposed to Donald Trump you may still have some questions about me. I get that," Clinton said in Philadelphia. "And I want to do my best to answer those questions."
It was a rare acknowledgement of weakness by Clinton, who for months has focused more on attacking Trump than making a positive case for herself. She still leads the Republican nominee among millennials in surveys, but in a troubling sign, many are flirting with supporting Libertarian candidate Gary Johnson or Green Party nominee Jill Stein. In a Quinnipiac poll last week, Clinton garnered support from 55 percent among voters 18 to 34 in a two-way contest with Trump. When Johnson and Stein were included, it dropped to 31 percent, with 29 percent supporting the Libertarian and 15 percent backing Stein.
Young voters were an important stronghold for Democrats in recent elections. President Barack Obama won 60 percent of voters under 30 in 2012, and 66 percent of the same bloc in 2008. Clinton is counting  on replicating much of Obama's voting coalition to win in 2016.
Since the end of the Democratic primary, Clinton has has done little to directly reach out to young voters, many of whom were drawn to her challenger for the nomination, Vermont Senator Bernie Sanders. Clinton and Sanders campaigned together once in June, and in July she moved her education policy in his direction by proposing to make public college tuition-free for families making less than $125,000 per year. Sanders, along with Senator Elizabeth Warren, campaigned for her in Ohio over the weekend to lay out the stakes for millennials.
"I worked with Bernie Sanders on a plan," Clinton said. "We came up with a plan that makes public college tuition free for working families and debt-free for everyone."
Clinton painted herself as a detail-oriented policy wonk who sometimes struggles with her public image, a characterization her allies and foes tend to agree with, and called Trump a "showman."
"When it comes to public service, the service part has always been easier for me than the public part," Clinton said. "I confess I don't enjoy doing some of the things that come naturally to most politicians—like talking about myself."
She asked any voters who remain undecided 50 days before the election to, "Give us both a fair hearing. Hold us accountable for our ideas. Both of us."
Clinton's event was nothing like raucous rallies for Sanders at the peak of his popularity. A seated crowd of about 300 invited guests, mostly students from Temple and the University of Pennsylvania, listened to Clinton. Aides said 350 more were in an overflow room.
A source of Clinton's problems with younger voters is trust. The latest Quinnipiac poll found that 77 percent of likely voters between the ages 18 to 34 don't think Clinton is honest, higher than any other age group; just 21 percent say she is. Her approval rating among voters under 30 is a mere 33 percent, according to Gallup.
Clinton spoke of her roots to young people who may not know much about them. She recalled her opposition to the Vietnam War, her work for the Children's Defense Fund in the 1970s and her push for universal health care in the 1990s that culminated in the Children's Health Insurance Program. She spoke of her reluctance to run for office until a high school student urged her on, now nearly two decades ago.
Toward the end, Clinton took a swing at Trump, saying he "led the birther movement to delegitimize our first black president, and he's still lying about it today. He refuses to apologize to President Obama, his family and the American people. We have to stand up to this hate. We cannot let it go on."
It garnered the biggest applause line of her speech.
Before it's here, it's on the Bloomberg Terminal.
LEARN MORE