U.S. Says for First Time That Christie Knew of Bridge Plot
By and
Kelly, Baroni accused of tying up traffic to punish mayor

Government witness described as 'vicious guy,' a 'bully'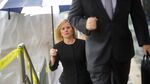 New Jersey Governor Chris Christie was told about politically motivated traffic jams near the George Washington Bridge as they crippled a town whose mayor refused to back his re-election, a U.S. prosecutor said for the first time since the scandal became public.
The assertion came at the start of a trial of Bridget Anne Kelly and Bill Baroni, who are accused of shutting bridge access lanes to paralyze traffic in Fort Lee, New Jersey, during the first week of school in September 2013. Prosecutors say they sought to punish Mayor Mark Sokolich, a Democrat who didn't back Christie, a Republican. 

A former Port Authority official, David Wildstein, has pleaded guilty and will testify against Kelly and Baroni, a prosecutor said Monday in his opening statement. He said Wildstein and Baroni spoke to Christie during a Sept. 11 memorial at the World Trade Center in New York.
"During those precious few minutes, they bragged about the fact that there were traffic problems in Fort Lee and that Mayor Sokolich was not getting his calls returned," Assistant U.S. Attorney Vikas Khanna told jurors in federal court in Newark, New Jersey.
Christie denies he knew anything of the traffic plot until weeks later. Spokesman Jeremy Rosen declined to comment on Monday, citing the governor's earlier statements that he didn't know at the time. Wildstein's attorney previously said "evidence exists" that Christie did know.
First Time
While state lawmakers have investigated the closings, and a law firm Christie commissioned cleared him of wrongdoing, Khanna's comments were the first time a prosecutor endorsed Wildstein's view that Christie knew of the traffic debacle as it happened.
Kelly, Christie's former deputy chief of staff, and Baroni, the former deputy executive director at the Port Authority of New York & New Jersey, have pleaded not guilty. Their lawyer promised to shed light on the inner workings of Christie's administration. 
Christie positioned himself before the November 2013 election as a bipartisan star who appealed to Democrats like Sokolich. 
'Vicious Guy'
Kelly's and Baroni's lawyers derided Wildstein, 54, as a serial liar, a lifelong manipulator and a political operative who was Christie's enforcer to help him in his quest for the White House. They said Wildstein will lie about Kelly and Baroni to please prosecutors and avoid prison when he's sentenced.
Wildstein is a "vicious guy," a "bully" and Christie's "fixer," Baroni's lawyer, Michael Baldassare, said before resorting to profanities to describe him.
Baldassare revealed that Baroni worked as a Federal Bureau of Investigation informant from 2006 to 2010, helping uncover political corruption in Trenton. As a state senator then, he "contributed in some small way to get convictions" in one or two cases, Baldassare said.
But Baroni wasn't up for the task that Christie gave him of firing Port Authority workers.
"He was considered weak," Baldassare said. "The governor didn't like that he wasn't firing the people that he was supposed to fire."
Fear, Intimidation
By contrast, Wildstein instilled fear and intimidation at the Port Authority, deciding who would get fired in "red light/green light" meetings, Kelly's attorney Michael Critchley said. 
"This is not a situation of distant friends," Critchley said of Wildstein and Christie. "They were interacting on a very close level."
Critchley said Wildstein was one of six members of Christie's inner circle.
"He said he had one constituent -- Chris Christie," Critchley said.
When Wildstein spoke, "Governor Chris Christie's voice came out and everybody knew it," Baldassare said. Wildstein "looks like a ventriloquist sitting on Christopher J. Christie's lap. You're going to hear that Christie was Wildstein's world, and that David Wildstein loved him."
Willing Witness
As recently as Sunday, Christie said he knew nothing about the lane closings until later.
"I would have no problem if called to testify by either side," Christie, a campaign adviser to Republican presidential nominee Donald Trump, said on CNN. "But the fact is that I won't because I really don't have any knowledge of this incident at all."
Khanna said Kelly and Baroni, both 44, joined a plot hatched by Wildstein to close two of three local access lanes to the world's busiest bridge, claiming falsely it was for a traffic study. 
The mayor tried frantically for four days to learn why his town was subjected to gridlock, and he was met with "radio silence" from Baroni, Khanna said.
Baroni didn't return the mayor's phone calls because he was told "the study was important to Trenton and if the mayor was called back it would mess up the results," Baldassare said.
A month before the gridlock began, Kelly sent Wildstein an e-mail that said: "Time for some traffic problems in Fort Lee." Wildstein responded: "Got it."
'Casual Banter'
Critchley said the "traffic problems" e-mail was "casual banter" in response to Wildstein's manipulative scheme.
"Does she wish that she never used the 'time for some traffic problems?"' Critchley said. "My God, does she wish that."
The siege ended when Patrick Foye, the executive director of the Port Authority and an appointee of New York Democratic Governor Andrew Cuomo, ordered the lanes reopened on the fifth morning.
Prison Possible
Kelly and Baroni are charged with conspiracy to misuse Port Authority property, wire fraud, deprivation of civil rights and conspiracy against civil rights. They face as long as 20 years in prison if convicted on the most serious charge. Wildstein pleaded guilty to two conspiracy counts last year and faces as long as 15 years in prison. 
Kelly, a single mother of four, was a deputy chief of staff but she wasn't involved in policy decisions, Critchley said. Rather, she prepared the governor's staff for local Christie visits and helped manage guests in his reserved suite at sporting events, he said.
"One of her most important responsibilities was ordering food," Critchley said.
Wildstein, he said, was little more than a colleague she knew via e-mail and telephone.
"She knew this guy was a powerful person" but didn't know he "was crazy," Critchley said.
The case is U.S. v. Baroni, 15-cr-00193, U.S. District Court, District of New Jersey (Newark).
— With assistance by Terrence Dopp
Before it's here, it's on the Bloomberg Terminal.
LEARN MORE