Aleppo Flub Was a Human Mistake, Gary Johnson Tells '60 Minutes'
By
Libertarian says he doesn't want to make excuses about lapse

Outsider candidate calls two dominant parties 'dinosaurs'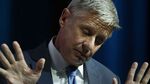 Libertarian presidential nominee Gary Johnson owned up to a recent incident in which he didn't recognize Aleppo as the city at the center of the humanitarian crisis spawned by Syria's civil war, saying that he didn't want to make excuses for himself.
"I am human," Johnson, 63, a former two-term governor of New Mexico, told CBS News's "60 Minutes" of the stumble, which occurred in an MSNBC interview on Sept. 8.
"I have a filter. And it starts with honesty. It starts with the truth. It starts with transparency -- and would serve as president -- in that capacity," Johnson said in a transcript made available by CBS.
Johnson, running alongside former Massachusetts Governor William Weld, hasn't reached the 15 percent threshold he needed in national polls to be included in the first presidential debate on Sept. 26.
RealClearPolitics shows Johnson with 8.6 percent support in a four-way race with Democrat Hillary Clinton, Republican Donald Trump and the Green Party's Jill Stein, based on a average of recent surveys. A rising trend for Johnson stalled after the Aleppo comment.
Republican 'Demise'
Johnson and Weld are running on a platform that centers, among other things, on eliminating wasteful government spending and overhauling tax and social safety-net policy. "There has to be reforms of Medicaid and Medicare and Social Security," Johnson told "60 Minutes." According to the 2016 platform on its website, the Libertarian Party would "phase out the current government-sponsored Social Security system and transition to a private voluntary system."
The Republican and Democratic parties which dominate American politics are "dinosaurs," Johnson said. He and Weld are "the comet in this whole equation," he said, which, if the metaphor played out, could blast the major parties into extinction. Johnson specifically singled out the Republican Party as headed for "demise."
Asked if he had foreign policy advisers, Johnson said he did, although he said that he "wouldn't quite say" that he has military strategists and that he didn't know who he would appoint as secretary of defense if elected. Weld said he has a short list of three or four candidates in mind for the position, 60 Minutes correspondent Steve Kroft said on the show.
Although he's putting the Aleppo incident behind him, Johnson made another flub Sunday on CNN's "Reliable Sources" when asked to respond to weekend events including a bomb blast in New York City, which injured at least 29, and the stabbing of eight people at a Minnesota shopping mall by an assailant who was then shot dead by an off-duty police officer.
"Well, first of all, just grateful that nobody got hurt," Johnson said.
The candidate sent out a statement hours later saying his "thoughts are with those injured in the attacks."
Before it's here, it's on the Bloomberg Terminal.
LEARN MORE