Libertarian Johnson Adds to Clinton's Challenges With Young Voters
With Clinton and Trump unpopular, third party candidates may have an opening
By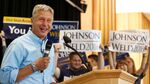 Gary Johnson's standing in polls isn't enough to get him into the presidential debates, but it's enough to complicate an increasingly competitive race for the White House.
The unpopularity of both Donald Trump and Hillary Clinton has opened an opportunity for third party candidates, and pollsters say Johnson, a Libertarian who will be on the ballot in all 50 states, is pulling slightly more votes from Clinton than Trump. The question now is whether Johnson will sustain that, potentially costing Clinton electoral votes in a close race reminiscent of the 2000 election, or will his support fade as voters take a serious look at their choices. 
"In any other year, I'd say that the safest prediction would be to take Johnson's current average of 8 percent and cut it in half by election day, giving him about 4 percent when everything is said and done, but it's not a conventional year," Democratic strategist Craig Varoga said via e-mail.
Johnson serves as a reminder that two essential components of the coalition that elected President Barack Obama—young voters and independents—aren't happy with Clinton, even if they are turned off by Trump. 
"We've found in our surveys that his presence hurts Clinton more than it hurts Trump, and the fact that he did not backslide after Aleppo means that he is possibly here to stay," said Tim Malloy, assistant director at the Quinnipiac University poll, referring to a Sept. 8 TV interview in which Johnson seemed to not know about the besieged Syrian city.  
In a national Quinnipiac poll released Wednesday, Clinton led Trump by five percentage points in a head to head match up, 48 percent to 43 percent. But when Johnson and the Green Party's Jill Stein are included, Clinton's lead shrinks to 2 percentage points, 41 percent to 39 percent. Johnson gets 13 percent support and Stein receives 4 percent. 
A New York Times/CBS News national poll released Thursday also showed Clinton's lead shrinking when third party candidates were included. Among likely voters, Clinton leads by two points, at 46 percent to 44 percent. With Johnson (drawing 8 percent) and Stein (4 percent) included, Clinton and Trump are tied at 42 percent. 
While Stein, who has made appeals to disenchanted supporters of Vermont Senator Bernie Sanders, is much more likely to eat into Clinton's support than Trump's, she hasn't consistently performed as well as Johnson. And, unlike Johnson, she won't be on the ballot in all 50 states, including Nevada and North Carolina, two battlegrounds Clinton hopes to win. 
Debate Stage
Johnson currently averages 8.3 percent in national surveys, according to the RealClearPolitics' polling average, well below the 15 percent threshold for inclusion in the three scheduled presidential debates. Johnson and his running mate, former Massachusetts Governor Bill Weld, have made a recent push for inclusion in the debates, including a full page ad in Wednesday's New York Times. 
"An important thing for Johnson would be to theoretically get into the debates but that looks almost impossible at this point, which might make his voters less sticky," said Geoffrey Skelley, a political analyst at the University of Virginia's Center for Politics.
For third party candidates, the biggest hurdle historically has been getting voters to take them seriously. As an election draws closer, voters tend to engage in what University of Denver political science professor Seth Masket calls "strategic voting."
"Voters come to realize that they really have a choice between two candidates that have a shot, and if they vote for anyone else, they're not only wasting their vote but making it more likely that the candidate they like least will win," Masket said. 
Masket said he doesn't expect Johnson to swing the election one way or the other, but his support shows that there's a portion of the electorate having a hard time rallying behind either Clinton or Trump.  "The real difference this year is that you have two historically unpopular major party nominees," he said.
Varoga said Johnson's biggest impact would be in Western states and possibly in New Hampshire, where he received the endorsement of the Union Leader on Wednesday.
Narrow Margins
Johnson likely won't play the spoiler "unless we get into a Florida situation where we're counting hundreds of votes," said Patrick Murray, director of the independent Monmouth University Polling Institute. 
Though Johnson may draw some comparisons to the Green Party's Ralph Nader, who some blame for costing Democrat Al Gore the 2000 election by pulling votes in Florida and New Hampshire, Johnson's effect on Clinton's numbers is less lopsided.
In 2000, Gore lost Florida to  George W. Bush by 537 votes after a disputed recount. Nader got 97, 488 votes, about 1.6 percent of the total in the state. Even though Gore won the popular vote nationally by a half-million votes, Florida's 25 electoral votes put the Republican over the top in the Electoral College. 
Murray said based on his own polling, Johnson and Stein tend to cut Clinton's margin against Trump by just one percentage point.
"If Trump wins by two points, I would say it's very unlikely that Johnson cost Clinton that state," he said. 
Clinton's bigger problem is a lack of enthusiasm from younger voters, some of whom are defaulting to Johnson and Stein. Polling in battleground states highlights that challenge. In a Bloomberg News Ohio poll released Wednesday, third party candidates pulled equally from Trump and Clinton, but Johnson won 22 percent of the 18-34 year old vote, who typically vote Democratic. Clinton won 36 percent and Trump won 33 percent. The poll showed Trump leading Clinton by 5 percentage points in a four way race, 44 percent to 39 percent.
In Wednesday's Quinnipiac poll, Clinton's support among 18-34-year -olds dropped from 55 percent against Trump (with 34 percent), to 31 percent when Johnson (29 percent) and Stein (15 percent) were included.
Her campaign recognizes the problem. Clinton is planning an event Sept. 19 in Philadelphia explicitly to emphasize ``the stakes of the election for millennials.''  Sanders and Massachusetts Senator Elizabeth Warren,  a hero in the Democratic Party's liberal wing, both will be campaigning on the same theme Saturday in Ohio .
"This is an audience in particular that grew up after Bill Clinton was president and we believe there's a lot they can learn about her and about the stakes in this election," Jennifer Palmieri, the campaign's communications director said. ``It's going to be a priority for us and our surrogates.''  
For now, third party supporters feel safe continuing to voice their discontent by backing Johnson, Skelley said. 
"Obviously the race has narrowed, but if you're looking at the electoral college map Clinton still leads in all the states she needs to get over 270 electoral votes," Skelley said. "The real question is are they going to stay with Johnson if the race gets on a knife's edge." 
-With reporting by Margaret Talev
Before it's here, it's on the Bloomberg Terminal.
LEARN MORE