Johnson & Johnson Buying 100 Megawatts of Texas Wind Power
By
Company signed 12-year deal for half the output of EON project

J&J seeking to get 35% of electricity from renewables by 2020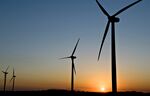 Johnson & Johnson, the world's biggest maker of health-care products, agreed to buy 100 megawatts of capacity from a wind-power project in the Texas Panhandle.
The company signed a 12-year power purchase agreement to buy half the output from a 200-megawatt wind project being developed by EON SE, Jed Richardson, Johnson & Johnson's global energy director, said in an interview.
Johnson & Johnson is one of a growing number of companies that have agreed to buy renewable energy in recent years, a trend that's helping spur wider development of wind and solar farms. Google is the biggest corporate buyer of renewable-energy. Amazon.com Inc. said Thursday it will buy 90 percent of the power from a 253-megawatt wind project that in Texas.
"We want to use our spending power to drive change," Richardson said. "To have healthy people, we need a healthy climate."
Richardson expects the Colbeck's Corner project near Amarillo to provide the equivalent of about 60 percent of Johnson & Johnson's electricity consumption in the U.S., and 25 percent globally. The company aims to produce or procure 35 percent of its electricity from renewable-energy by 2020, and all of it by 2050. The project is expected to go into service this year.
Johnson & Johnson has invested $339 million in 166 energy efficiency and clean-energy projects since 2005.