Why Donald Trump's Reversal Won't Put 'Birtherism' Behind Him
He glossed over his own role spreading the conspiracy theory, which was central to his rise in the Republican Party.
By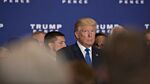 Delivered at the tail end of an event unveiling the endorsements of several military veterans, including one with birther views, Donald Trump's reversal on his years-long campaign of doubting the birthplace of President Barack Obama sent mixed signals to his base and the skeptics he's trying to win over.
"Hillary Clinton and her campaign of 2008 started the birther controversy; I finished it. President Barack Obama was born in the United States, period," Trump said at Trump International Hotel in Washington, D.C.
Not only did he refuse to apologize for his own prominent role in spreading the conspiracy theory for years, but he unleashed another conspiracy theory that has been widely debunked: that Clinton "started" the birther theory.
Trump's effort to decisively put the "birther" issue behind him was an attempt to avoid a distraction at the first presidential debate in 10 days and break down a barrier to receiving support from voters like college-educated whites and independents who worry he holds racist views, campaign officials said.
But the way he delivered the message seemed to energize his Democratic rival, who was off the campaign trail earlier this week recovering from pneumonia as Trump rose in polls, and her supporters. 
"When Trump tries to deflect blame for denying that @POTUS was born in America, he is lying," she tweeted in response to Trump's claim about her involvement. In a series of 10 tweets, she called Trump "deplorable," "asinine," and a "disgrace" who has fueled a "racist conspiracy theory."
"Trump's birtherism stems from the same innate beliefs that led to discriminating against black tenants early in his career," she wrote. "Can't be undone."
Roots of Trump's Rise
The roots of Republican discontent that fueled Trump's rise are related to fears of an increasingly multicultural society, a paradigm shift reflected in the election of Obama, who was born in Hawaii.
Weeks after Donald Trump began indulging the conspiracy theory that Obama wasn't born in the U.S., the real-estate mogul shot to the top of Republican polls. Two surveys in April 2011 found him leading the 2012 primary field.
Five years later, Trump is the Republican presidential nominee locked in a close race with Obama's would-be Democratic successor with 52 days until Election Day. 
A Pew Research poll in June 2016 found that Republican supporters of Trump were more likely to believe immigrants threaten U.S. values and that America's gradual transformation into a minority-majority country was a bad thing. A 2014 Pew survey said less than one-third of self-identified conservatives value racial and ethnic diversity in their community.
An extensive 2013 study into the conservative voting base by the left-leaning Democracy Corps concluded: "They have an acute sense that they are white in a country that is becoming increasingly 'minority,' and their party is getting whooped by a Democratic Party that uses big government programs that benefit mostly minorities, create dependency and a new electoral majority. Barack Obama and Obamacare is a racial flashpoint for many Evangelical and Tea Party voters."
Birthplace Doubts
Surveys over the years reveal that Republican voters continue to doubt Obama's U.S. birth. The impulses behind the claim are central to Trump's rise and success in the Republican Party — a fear of demographic changes, a distaste for diversity and immigration, and a nostalgia for an era when white Americans enjoyed greater privileges.
Fifty-three percent of Republicans don't believe Obama was born in the U.S., according to a January 2016 poll by YouGov. Just 21 percent believe he was, while 26 percent told the pollster they didn't know.
Among Trump's supporters, 61 percent said Obama wasn't born in the U.S., according to a Public Policy Polling survey released in September 2015 when Trump was solidifying his lead in the Republican primary. In addition, 66 percent of Trump backers said Obama is a Muslim, while just 12 percent accepted that he's a Christian.
Although other prominent Republicans haven't been nearly as willing to embrace the "birther" theory, Trump faced no meaningful pushback from 2016 rivals for espousing it. In 2012, nominee Mitt Romney, who never indulged Obama birthplace conspiracies, nevertheless stood with Trump and accepted his endorsement, a tacit admission of the New York real estate developer's star power in the party.
"We got other things to attend to," Obama said Friday when asked about Trump returning to the birther issue. "I was pretty confident about where I was born. I think most people were as well. My hope would be the presidential election reflects more serious issues than that."
Before it's here, it's on the Bloomberg Terminal.
LEARN MORE