UBS Is the Latest Bank to Warn of a 10% Drop In the S&P 500
By , , and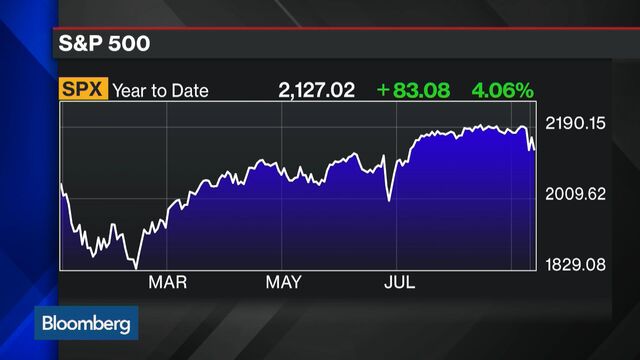 That 2 percent drop in the U.S. stock market on Friday might not be the last big pullback we see this year.
Michael Riesner and Marc Muller, technical analysts at UBS AG, are calling for a top in the S&P 500 following the recent bond market sell-off that has pushed yields on the benchmark 10-year U.S. Treasury above 1.7 percent.
"A breakout in bond yields and rising bond market volatility was our favored trigger for the [S&P 500] to move into our suggested medium-term September top as the starting point of a volatile correction process," they write in a note published on Wednesday, in which they call for an 8 to 10 percent correction in late October or early November.
"The Friday sell-off is in our view not a one-day event," they add.
UBS isn't the only one calling for more volatility following what's been an unusually quiet summer.
Deutsche Bank AG Chief U.S. Equity Strategist David Bianco said earlier this week that there are a number of reasons markets might get choppy, including the U.S. election that is less than 60 days away and more uncertainty around when the Federal Reserve will hike rates for the second time. He's forecasting a decline of up to 10 percent.

Right now, the median estimate on Wall Street is for the S&P 500 to end the year at 2,175, or a 2.2 percent gain from yesterday's close, according to data compiled by Bloomberg. The lowest estimate comes from HSBC Holdings Plc with a forecast for 1,960 and the most bullish is Fundstrat Global Advisors LLC's Thomas Lee with 2,325.
But even though the UBS analysts say a bounce is possible, they believe it will be very short lived.
"The key message is that with other sentiment studies and/or flow themes we are still at levels that are far from any real buy levels," they conclude. "So even if were to see another positive surprise on the upside, we would see this bounce as just a fake and/or still as part of a distributive top-building process."
Before it's here, it's on the Bloomberg Terminal.
LEARN MORE