Clinton Offers More Details Than Trump in Health Disclosures
By , , and
"The Dr. Oz Show" offers Republican's health assessment

Litany of lab results sent by Clinton campaign to reporter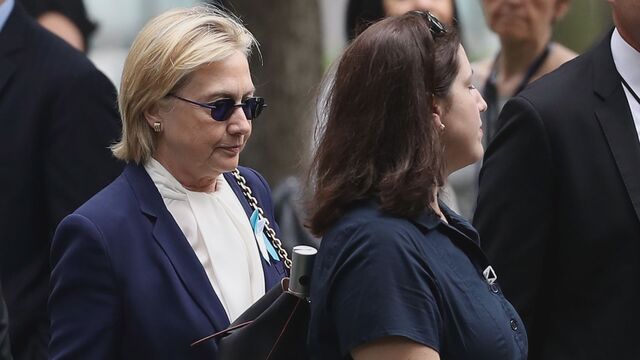 When it was time to reassure voters concerned about their health, two very different presidential candidates on Wednesday chose very different paths, with one taking to daytime television with few details and the other providing a dry listing of laboratory results.
Republican presidential nominee Donald Trump offered a vague view of his overall health on the set of "The Dr. Oz Show" but has not released any information publicly since December, when his longtime physician said Trump would be the "healthiest individual ever elected" should he prevail in the election.

Democratic nominee Hillary Clinton sent detailed findings to reporters later in the afternoon, seeking to validate her doctor's claim that she was on the mend from a bout of "mild, non-contagious bacterial pneumonia" that caused her to stumble at a Sept. 11 anniversary ceremony on Sunday.
According to Lisa Bardack, Clinton's physician, she is "recovering well with antibiotics and rest. She continues to remain healthy and fit to serve as President of the United States."
After reviewing a summary of a recent physical by Trump's longtime physician, host Mehmet Oz said a patient like Trump would be a "doctor's dream." That's according to the observations of Jen Sandler, a 25-year-old freelance theater producer and a member of the audience, who said Oz seemed impressed by Trump's health.
The rhetoric hearkened back to the first health disclosure Trump made exactly nine months ago, when his doctor, Harold Bornstein, released a four-paragraph letter on the campaign's Facebook account saying that Trump had "astonishingly excellent" blood pressure.
On Wednesday Trump said he took Lipitor, a statin medication to lower his cholesterol. But he offered little beyond what an observant passerby could discern on their own: he's carrying a bit of extra weight. He's not exercising enough. He'd like to drop a few pounds.
Clinton's physical exam was normal, and her blood pressure levels were low, even though they tend to rise for those struggling to fight off an infection. Her cholesterol level was 189, below the traditional goal of 200, with bad cholesterol at 103, and the good kind that ferries fats out of the body at 56.
The presidential candidates' health and commitments to transparency flared up as campaign issues again this weekend after Clinton became dizzy and stumbled at a Sept. 11 anniversary ceremony in an incident caught on video. Her campaign later disclosed she had pneumonia and promised to release more health information.
Bornstein Exam
The show said Trump's results were from an exam performed last week by Bornstein, his doctor since 1980.
Oz said he "took Mr. Trump through a full review of systems" including the nervous system, the head and neck, hormone levels, cardiovascular health and medications, respiratory health, gastrointestinal health, bladder or prostate health, and family medical history, the show said. He didn't perform a personal exam, instead questioning the candidate about his health history.
The 70-year-old has a body-mass index of about 30 -- which government experts say is on the border between overweight and obese -- and said he hoped to lose 15 or 20 pounds, said attendees who were interviewed in New York ahead of the show's airing Thursday, citing an on-the-fly BMI calculation by Oz.
Attendees said Trump evaded questions from Oz and audience members about his sleeping and eating habits, even though he's promoted his love of taco bowls and Kentucky Fried Chicken in social media posts. 
The amount of disclosure falls far short of what would be expected from a major candidate, said Robert Dallek, a Washington-based presidential historian and author. Health records should go back as far as five years in order to give an accurate picture of any past conditions and recurrence, he said.
"It's anything but a full disclosure to have a television appearance with a 1-page summary of what his last physical told us. It's part of a pattern," Dallek said in a phone interview. "He's very good at this, managing to bob and weave."
The partial disclosure on network television "diminishes" the candidate's health as a campaign topic, Dallek said. "This is serious business -- you want to be the president of the United States and the public is entitled to know," he said. "I respect the privacy of medical information, but when you are running for president or vice president, I think you are obliged to give a full accounting."
The audience, which was made up of friends and family members of the staff of "The Dr. Oz Show," were from across the political spectrum. But Trump supporters came away impressed.
"It was very reassuring," said Stan Gale, a 66-year-old New York real-estate developer who said he knows the Trump family socially and was wearing a red hat with Trump's slogan, "Make America Great Again." "I assumed this was the case but it's always nice to hear it from a medical professional."
Madeline Rhodes of New York emerged with a potshot for the Republican candidate. "They didn't go into his moral health," she said.
'Very Specific Numbers'
Trump said Monday on Fox News that he had undergone a physical exam within the last week and would release "very, very specific numbers" from it. Democrats have criticized him for attacking Clinton's transparency on health even after he released just a four-paragraph letter from Bornstein last year.

Trump wished Clinton, 68, well and said, "We have to see what's wrong," taking a more restrained tone than he had in the past about an opponent he has criticized as lacking the necessary stamina for the presidency.
Fox News reported Monday that Trump's exam would be a subject of discussion at the "Dr. Oz" taping, which was scheduled before news of Clinton's pneumonia. But sparking confusing, senior Trump campaign aides told reporters before the taping that Trump wouldn't discuss his medical reports or recent exam on the show.
Trump's exam took place before Clinton's incident, campaign manager Kellyanne Conway said on MSNBC on Tuesday. Trump underwent the exam because "he believes that it's important for the public to know what his basic health condition is," Conway said, even as she also said, "I don't know why we need such extensive medical reporting when we all have a right to privacy."
'Quack' Treatments
Oz has attracted his own share of controversy, getting dubbed "America's quack" by science bloggers in 2014 and receiving credit for the so-called "Oz effect" of boosting sales of products that often include unproven alternative therapies.
Last year, 10 doctors, surgeons, and professors sent a letter to a Columbia University official calling on him to fire Oz from his position as vice chair of the surgical department for promoting "quack" treatments for his own financial gain. They said he has shown "disdain" for science and made "baseless and relentless" attacks on genetically modified foods.
Oz responded on his popular show that he never promotes treatments for financial gain and questioned the credibility of some of his critics, according to the New York Times. "I vow to you right here and right now, we will not be silenced," he said, according to the Times.
Transparency Issues
Clinton and her allies say that the little health information Trump's released so far, along with his decision not to release his tax returns -- a break from modern presidential-campaign precedent -- should trouble voters.
"It's fair to say the public now knows more about Hillary Clinton than nearly anyone in public life," said Robby Mook, Hillary for America Campaign Manager. "Hillary Clinton's release of updated medical information today meets a standard followed by presidential candidates like Barack Obama and Mitt Romney. Additionally, Hillary has made public nearly
40 years of tax returns over her lifetime. In stark contrast, Donald Trump is hands down the least transparent presidential nominee in memory. His Doctor Oz charade is as completely unserious as his original joke of a letter written in five minutes. He continues to hide his taxes and business dealing behind fake excuses. And it begs the question: what is he trying to hide?"
Clinton, who has long battled the perception that she's secretive, said Monday on CNN that Americans "know more about me than almost anyone in public life," spanning her finances and her health. Still, she's taken heat for not disclosing her Friday pneumonia diagnosis more quickly and for initially leaving reporters in the dark about the Sunday incident.
"Antibiotics can take care of pneumonia. What's the cure for an unhealthy penchant for privacy that repeatedly creates unnecessary problems?" tweeted David Axelrod, a former adviser to President Barack Obama, on Monday.
Both candidates have poor favorability and trustworthiness ratings from voters. Overall, Clinton on Wednesday had a narrow 2-percentage-point lead in the race in the RealClearPolitics national poll average, which also includes third-party candidates.
The health issue has also gained more prominence in the 2016 race because Trump would be the oldest person to assume the White House if he wins in November; Clinton would be the second oldest, after Ronald Reagan.
Hillary Clinton is "feeling great and I think she'll be back out there tomorrow," said her husband, former President Bill Clinton, campaigning for her in Las Vegas on Wednesday. "It's a crazy time we live in, you know, when people think there's something unusual about getting the flu. Last time I checked, millions of people were getting it every year."
Candidates' Letters
In Bornstein's letter released in December, he said Trump's blood pressure of 110/65 and other laboratory tests were "astonishingly excellent." Trump took a daily aspirin and a low dose of a statin, said the gastroenterologist and internal medicine specialist, who said he had served as Trump's doctor since 1980.
No laboratory results were given except a PSA score of 0.15, which Bornstein characterized as "very low." The PSA test for prostate cancer is no longer backed by the U.S. Preventive Services Task Force, which said the risks that stem from treatment after undergoing screening outweigh the possible benefits. Bornstein didn't say whether Trump had undergone a colonoscopy, a screening test for colon cancer recommended beginning at age 50.
Trump had lost 15 pounds during the past year, Bornstein said, without giving his height or weight. Trump had never had surgery other than the removal of his appendix at age 10; never used tobacco products; and had no history of "using alcohol," the doctor said.
In a letter released in July 2015, internist Lisa Bardack said Clinton "is in excellent physical condition and fit to serve as President of the United States." Her medical issues included seasonal pollen allergies and hypothyroidism, a condition that is common in women over 60, Bardack said.
Clinton experienced deep vein thrombosis in 1998 and 2009, an elbow fracture in 2009, and a concussion in 2012, all of which were reported publicly at the time. Her current medications included Armour Thyroid, antihistamines, vitamin B12, and Coumadin, an anticoagulant. Clinton took no other medications regularly, didn't smoke, and drank alcohol occasionally, according to Bardack.
— With assistance by Ben Brody, and Jennifer Epstein
Before it's here, it's on the Bloomberg Terminal.
LEARN MORE