Cruz's Internet Crusade Gains Steam in U.S. Funding Debate
By and
Senator warns freedom at stake if U.S. doesn't oversee the web

Republicans want internet provision included in spending bill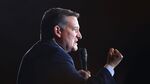 Another year, another standoff over a possible government shutdown, and Ted Cruz is back in the center of the action -- this time over who controls internet domain names.
The Texas Republican senator's latest crusade is to block an Obama administration plan to give up U.S. oversight of domain names to international supervision, warning in a Senate subcommittee hearing Wednesday that could be a threat to freedom. He warned against giving power to the Internet Corporation for Assigned Names and Numbers, a private non-profit group based in Los Angeles.
"Imagine an internet run like China or Russia, that punish and incarcerate those who engage in political dissent," Cruz said. Earlier on the Senate floor, Cruz said he didn't want "to tell our children and our children's children what it was once like when the internet wasn't censored, wasn't in the control of the foreign governments."
Cruz and some senior Republicans want to block the transfer as part of the stopgap spending bill required to avoid a government shutdown Oct. 1, although neither party has explicitly threatened to block the measure over the fight.
The issue drew notice elsewhere in Washington. White House spokesman Josh Earnest told reporters Wednesday that Cruz's position "is, frankly, not really supported by anybody" and called for a spending measure without extra language. In the House, Representative Bill Flores of Texas, head of the influential Republican Study Committee, recommended his chamber move first with a spending measure that should include language blocking the internet transition.
Republican leaders are hoping to wrap up a deal with Democrats and the White House quickly, but the internet issue is among about a half dozen yet to be resolved, Senate Republican Conference Chairman John Thune told reporters Tuesday.
Thune predicted the funding bill would block the internet transition.
"They're trying to work out what that would look like, what would be effective in terms of putting the brakes on this," he told reporters.
'Obscure and Irrelevant'
But Senator Dick Durbin of Illinois, the No. 2 Democrat, was incredulous that Republicans might risk a shutdown over the issue.
"Can Ted Cruz and Republicans dream up an any more obscure and irrelevant issue to stop the business of the American government?" Durbin said. "If Senate Republicans can't control Cruz at this point, imagine when he gets in full gear and starts running for president."
"I couldn't believe it when they told me this could stop the CR," he said, referring to the continuing resolution needed to keep the government funded after Sept. 30.
Durbin questioned whether Republicans would actually follow Cruz if he tries to hold up the bill over the issue.
"Do they want to carry that particular burden into the election, that they shut down the government again, under Dr. Cruz and Dr. Seuss?" Durbin asked, referring to an episode during the 2013 debate over a stopgap spending measure where he read "Green Eggs and Ham" aloud during an hours-long appearance on the Senate floor.
Asked last week if he would try to block this year's stopgap over the issue, Cruz demurred, saying he was hopeful Congress would act.
Expiring Contract
The Obama plan will leave address-assigning functions for the internet in private hands, removing a U.S. government role that the Commerce Department describes as largely clerical. At issue is the system for handling domains, like .com or .org, at the heart of every website.
The Obama administration plans to let the contract outlining the U.S. role expire on Sept. 30.
"Internet experts, scientists, business leaders, technology experts all agree that this is the most effective approach and the right thing for the long-term security and well-being of the Internet," Earnest, the White House spokesman, said on Sept. 12. "So, that's the approach that we're intending to pursue. We'll see what kind of tricks Senator Cruz has up his sleeve."
U.S. companies including tech giants Facebook Inc., Alphabet Inc.'s Google and Amazon.com Inc. support the transition, which they said recognizes the internet's inclusivity and openness.
Industry Support
"This important proposal will assure the continuing security, stability and resiliency of this system," the companies said in a Sept. 13 letter to congressional leaders. "It is imperative that Congress does not take action to delay the October 1st transition date."
The Los Angeles-based ICANN would be responsible for day-to-day administration of web names, and it would follow policy set by innovators, engineers, businesses, technical experts, civil society groups and governments.
The domain names .mil and .gov will remain under the administration of the U.S. government, and any changes to them can only be made with the approval of the U.S. government, according to the Commerce Department. The U.S. role has long been a source of irritation to foreign governments and prompted calls by some governments to push for the United Nations or other bodies to take over stewardship, the department said.
Censorship Fears
Cruz and lawmakers in both chambers warn that ICANN could be influenced by countries such as Russia, China and Iran, and could relocate to another country as well. In his speech, Cruz said the group could eventually take action against "hate" speech, targeting websites of particular groups or countries they disagree with.
But at least one of the witnesses who appeared before Cruz's panel on Wednesday says these fears are overblown.
"There isn't really any practical implication to this transfer" because ICANN has "been performing these functions for 16 years" under contract with the U.S. government, said Jonathan Zuck, president of ACT/The App Association, a trade group that represents software application makers. "It's largely symbolic," said Zuck, whose organization counts among its members Apple Inc., AT&T Inc., Facebook, Alphabet, Microsoft Corp. and Oracle Corp.
"China and Iran and Russia are problems, have been and always have," he said. The issues posed by those countries "have nothing to do with this transition," Zuck said. Congressional action to delay the change in oversight would give U.S. allies an incentive to back UN control, he said.
No 'Plausible Scenario'
Larry Strickling, a Commerce Department assistant secretary overseeing the change, told the panel that it is "extreme" to say Russia, China or authoritarian governments will be able to censor the internet.
"It simply will not happen as a result of completing the transition," he said.
Delaying the change could embolden governments threatened by a free and open internet, he said.
"Do not give a gift to to Russia and other authoritarian nations by blocking this transition," Strickling said.
The tussle comes as Republican leaders are hopeful of wrapping up a deal next week, with elections looming and the Senate potentially in the balance in November's elections. That package will include Zika funding as well, Republican leaders say.
Among the other issues still to be worked out is language sought by the White House to get the U.S. Export-Import Bank back to full speed, clearing a $20 billion backlog of exports. That backlog is due to the Senate's blocking of a quorum on the board required for deals worth $10 million or more.
— With assistance by Erik Wasson, and James Rowley
Before it's here, it's on the Bloomberg Terminal.
LEARN MORE