Style
Patriots Quarterback Tom Brady Has Some Style Advice for You
If Gisele trusts him for fashion tips, shouldn't you, too?
By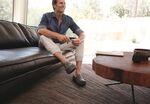 With Tom Brady on "Deflategate" suspension for the first four games of the NFL season, it's perhaps fitting that the New England Patriots quarterback and four-time Super Bowl champ is starring in an ad campaign for UGG called Do Nothing. (The five-part digital campaign series features actor Jeff Bridges and teammate Julian Edelman, as well.) The campaign champions the idea of doing nothing, sitting down, and enjoying your time off.
We caught up with Brady at New York's Viceroy Hotel to talk with him about the things that are important off the field: namely, fashion and his supermodel wife, Gisele Bundchen. He has advice for all men on the topics of fit, buying denim, and what women like to see on a man.

Let's start with the basics. Who are your favorite designers?

I have a couple that I like. I like Tom Ford a lot because it's so classic and has great quality. I wear a lot of Rag & Bone.
Why do other sports, such as basketball, have a better reputation for featuring well-dressed men than football? 
I think the NBA has done a great job with that because they mandate what the players wear after games; they actually have a dress code. NFL teams I wouldn't say necessarily have the same conditions. We play only 16 games a year, while they play 82—so there's a lot more opportunity for them to show off the stuff they're wearing. I'm sure if we had cameras in our practice facilities, the guys would dress up all the time. When guys in the NFL have the opportunity to do it, they take advantage of it, but it's not as often as the NBA players do.
So you and your teammates do like fashion?
Definitely.
Is there any competition between you and your teammates on who dresses the best?
Um, no. I don't think there's a ton of that for the guys I hang out with. But I think guys definitely always want to be stylish, and they want to pay attention to what they're wearing. You pay attention to everything else in your life, so why shouldn't you pay attention? It's a representation of yourself, and you can express a lot of your creativity with what your wearing. A lot of guys on my team take it seriously when they have the opportunity to do it. 
What are currently your favorite item in your closet to wear?
I love wearing jackets, but it's been so damn warm you can't wear anything until the fall. I'm looking forward to it getting a little bit cold. I would say this year I want things to fit a lot better.
Why is fit important to you?
Men always want and love when women wear tight and fitted clothing, right? And you're like, "Wow, she looks so beautiful." And then you have men who dress like slobs, and you're like, "What's the deal with these big and baggy suits." It's pretty ridiculous. Once things fit well, everyone's like, "Man, that looks so great," and yeah, no s--t, because it fits. Fit is key.
I really focus on my jeans and sweaters for them to fit really well. There was a time that wasn't the case.
How do you find the perfect pair of jeans?
I make sure that every pair of jeans I own fit exactly the way I want, so I can just grab whatever color I want—does that make sense? So, you know, normally you have 20 pairs of jeans, but you always grab the same two pairs. What's the point in that? I have a tailor, who's now a friend, that I work with all the time to make sure they fit. Its a smart thing for men to do, find a good tailor. 
What's your most precious item in your closet.
I have a few things that I got as gifts that have a lot of meaning. I have these two suits that I really love.
Who makes them?
Who do you think?
Tom Ford.
Yes, he makes great suits.
Does Gisele help style you?
Not really. She's very helpful for a lot of things, but she kinda lets me do my own thing.
Do you help her?
Yeah, she does a fashion show for me from time to time. She would ask me what I think, and I would respond, "I like it," and when its too baggy, I say, "I don't like it." I like it when it fits tight. 
When you have to deal with a New England winter, what brands do you wear off the field?
It's very cold for months and months at a time. So outside of UGG, it's all about layering. 
It's ironic because [UGG is] a California brand—it's really a surf brand, and you know those surfers like to get out of the water and just be comfortable. How they've evolved and moved to the northeast and how the brand is growing is pretty amazing to see. I'm in my house a lot, so I wear the slippers a lot, the Ascot: They're warm, comfortable, and durable. They have winter boots, as well, and casual shoes that I wear with my jeans.
If you weren't playing football what would you be doing? 
I have no clue ... no idea. Thankfully I never had to go down that road. I never envisioned myself doing anything else. When I started playing, I was like, Man, I would love to keep playing in college, and then when I got to college I said, Wow, I want to play with the pros, and I got a chance to do that.

Did you have a plan B?
I never really had a Plan B and never had to think about it. I have a friend who always had a plan B. I always used to tell him you're working on your Plan B all the time, you're you work harder at your backup plan than at your actual real plan. Why don't you start working on your real plan like you do on both and see what that amounts to?
I'm so blessed I get to do what I love to do. I show up to work, and it doesn't feel like I'm working because I love what I'm doing. I love the training and the different opportunities I get to do.
Is there any athlete whose post-professional career you particularly admire?
Michael Strahan. I really like him, he's a great guy. He's works very hard, too. I never want to do that [television hosting], but I think it's really cool how he's transitioned into his second part of his life.
Before it's here, it's on the Bloomberg Terminal.
LEARN MORE