Facebook Probe Is in Antitrust, Privacy Gray Zone, EU Says
by and
Facebook has 'a very dominant position' as social network

Antitrust regulators look at data use, Vestager says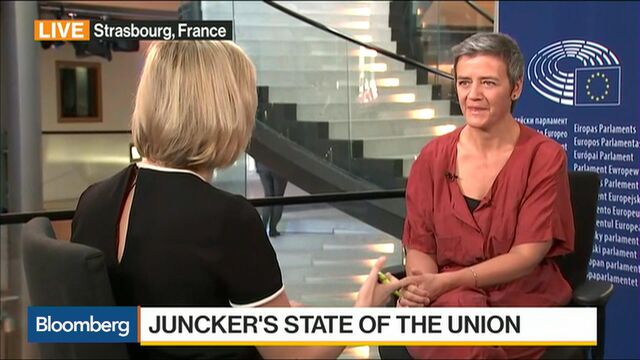 A German antitrust probe into Facebook Inc.'s user terms falls into a "gray zone between competition and privacy," the European Union's competition chief said, describing the social networking site as having "a very dominant position."
While social networks aren't a specific worry for EU regulators, they are concerned if they see competition being closed down, Margrethe Vestager told Bloomberg TV in an interview Wednesday. Germany's Federal Cartel Office is investigating whether Facebook abused its power as a social network by forcing customers to agree to unfair terms on how their data is used.

Data and how it may be misused by fast-growing technology giants is a focus for Vestager, who's probing Google on several fronts and quizzing Facebook on a U-turn over its use of WhatsApp data, two years after the EU cleared the deal. She'll soon have to examine Microsoft Corp.'s acquisition of professional social network LinkedIn Corp. when they file for EU approval.
"Data as such is one of the more important things because that's the new line of business," Vestager said. "Both knowledge and data are another kind of currency, another asset than just the turnover of the company."
The EU is weighing possible changes to merger rules to allow more examination of a company's control of data or intellectual property such as patents, Vestager said. Regulators will seek views on the issue later this year.
"It's very important for us to be able to secure that there is competition also post-merger in some of the new industries," she said.
Facebook is "confident that we comply with the law and we look forward to working with the Bundeskartellamt to answer their questions," the company said in an e-mailed statement.
Google, owned by Alphabet Inc., didn't need to seek EU approval to buy mapping application Waze or smart-meter developer Nest because revenues fell below existing merger limits. Facebook voluntarily sought an EU review of WhatsApp to avoid multiple probes across Europe since the deal also fell outside the EU's thresholds.
Before it's here, it's on the Bloomberg Terminal.
LEARN MORE