What's Trump Spending on His Campaign? Depends Who You Ask
He's been giving the public a higher number than his reports to the FEC show.
By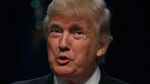 Donald Trump rarely passes up a chance to boast about the tens of millions of dollars of his own money he's spent running for president.
So you might think it would be easy to find out exactly what he's given. But the Republican, his campaign's press office, and his official reports to federal regulators all give conflicting accounts of his generosity. The numbers sometimes differ by $4 million or more.
It's no surprise that the billionaire real-estate developer's own estimates of his giving are imprecise, since he often speaks off the cuff at rallies or in interviews. 
It's harder to explain why his campaign's official press releases differ from its monthly reports to the Federal Election Commission. Responding to a question from Bloomberg News, Trump finance chairman Steven Mnuchin said in an e-mail on Sept. 8 that his staff was looking into the discrepancy, but he hasn't responded to further inquiries. Neither have two spokespeople for the campaign. 
In early July, the Trump campaign said in a press release that Trump had given $55 million to his campaign. Two weeks later, it reported to the FEC that he'd given $50 million.

The next month, Trump stepped onto a stage at a rally in Ashburn, Virginia, and proclaimed that his giving now stood at "over $60 million." The next day, a press release from the campaign put the figure a little lower, at "in excess of $56 million" through the end of July. Eighteen days later, the number came down again in a report to the FEC: $52 million.

Last week, the mystery deepened. The Trump campaign announced that his personal giving rose to "almost $60 million," and Mnuchin, the fundraising chief, said in an interview that the figure included $2 million in new contributions in August. That would mean Trump had given almost $58 million before that, rather than the $52 million he reported to the FEC. That figure already includes both cash and in-kind contributions.
Might Trump be incurring millions of dollars in expenses that he deems to be campaign-related, but the FEC does not? If so, the campaign won't say. Could there be some other category of contribution that doesn't appear under the heading "candidate contributions" or "candidate loans" in FEC reports? Judith Ingram, a spokeswoman for the FEC, said in an e-mail that "there's no other category that I can point you to."
Jason Torchinsky, a leading Republican expert on political law, suggested that maybe Trump was counting donations by family members to his campaign or the Republican National Committee. "That's the only thing I can think of," he said. FEC records show no such contributions. Without speaking for attribution, other Republicans suggested other explanations, none of which panned out.
Whatever the correct amount, Trump is unlikely to sweat the details. At a rally in Scranton, Pennsylvania, in late July, he made his familiar pitch about how his wealth makes him immune to pressure from donors. He mostly self-funded his primary victory, but is now relying mainly on other people's money to fund his general-election campaign, and his own giving has tapered off recently.
Trump told the crowd in Scranton that he'd recently been talking about a $2 million contribution he'd made to the campaign, only to be told that the actual amount he gave was $3.8 million.
"And I said to myself, you know, it's great when you can put up $3.8 million instead of $2 million and you don't care," he said. "That's the way it is. I don't care. I don't care."
Before it's here, it's on the Bloomberg Terminal.
LEARN MORE