U.S. Supreme Court Won't Reinstate Ohio's Voting 'Golden Week'
By
State had let voters register and cast ballots at same time

Top court rejects Ohio Democrats with no published dissents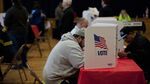 Rejecting calls from Ohio Democrats, the U.S. Supreme Court refused to reinstate a voting period known as "Golden Week," when people could register and cast ballots at the same time.
With no published dissents, the justices said they wouldn't block an appeals court decision that allowed the elimination of Golden Week under a Republican-backed law.
The Ohio Democratic Party argued that the law disproportionately affected black voters, violating both the Constitution and the Voting Rights Act. The party sought to revive the early-voting period for the November election.
"Tens of thousands of Ohio voters have relied on Golden Week during the past two presidential elections, and African Americans have done so at far higher rates than other voters," the Democrats told the Supreme Court.
Ohio's Republican leaders urged the Supreme Court to reject the bid, saying the state's 23 days of early in-person voting put it in the top 10 in the nation.
"All Ohioans have many options to cast a ballot," Secretary of State Jon Husted and Attorney General Mike DeWine argued.
Republican-backed voting laws have met with mixed success in the run-up to the 2016 election. Courts have tossed out or softened voter-ID laws in Texas, North Carolina, Wisconsin.
12-Hour Lines
Voting hours in Ohio have been the focus of a racially charged debate since the 2004 presidential election, when some people had to wait in line as long as 12 hours to cast ballots.
The state responded in 2005 by creating a 35-day window for voters to cast ballots before Election Day. The beginning of the window became known as Golden Week because people could meet the separate 30-day deadline for registering while voting on the same day.
In 2014 Ohio Governor John Kasich signed into law a bill that moved the first early voting day to the day after the registration deadline, eliminating Golden Week.
Groups led by the National Association for the Advancement of Colored People and the American Civil Liberties Union sued and eventually reached a settlement. Under that accord, the state added another Sunday of early voting, and the groups dropped their challenge to the elimination of Golden Week.
The Democratic Party then filed its own suit, winning a federal trial court ruling before losing a 2-1 appellate decision.
Two years ago, the Supreme Court intervened at the behest of Republicans, voting 5-4 to revive the law and block Golden Week for the 2014 election.
The case is Ohio Democratic Party v. Husted, 16A223.
Before it's here, it's on the Bloomberg Terminal.
LEARN MORE