Quebec's Leitao Sees 2015-16 Surplus of at Least C$1.8 Billion
By and
'We really have turned it around,' finance minister says

Additional money likely to go to health care, reserve fund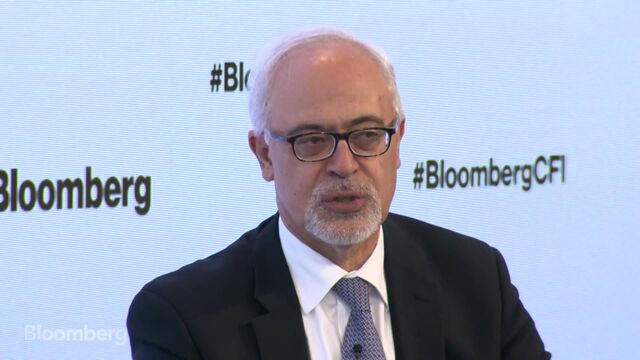 Quebec may use part of an unexpected C$1.8 billion ($1.4 billion) surplus for last year to boost spending on health care and education, Finance Minister Carlos Leitao said.
Higher-than-planned revenue and smaller-than-forecast debt costs are working in Quebec's favor, according to preliminary budget documents released June 30. Leitao, who had initially forecast the 2015-16 budget would be balanced, said he'll provide final figures in Quebec City in October, adding the exact date hasn't yet been decided.
"We will be publishing our public accounts soon, and there will be a surplus, not just a balanced budget, in the C$1.8 billion range or maybe even more," Leitao said Tuesday at the Bloomberg Canadian Fixed Income Conference in New York. "We really have turned it around from a position of systemic structural deficits to a place where it gives us a lot more confidence."
Canada's second-most populous province is also planning to balance the books in the current fiscal year. British Columbia is the only other major Canadian province not to forecast a deficit in 2016-17.
More than half of the surplus for 2015-16 will probably be allocated to a "stabilization reserve" that will finance new spending, while the remainder is directed to the province's C$10 billion Generations Fund, Leitao said in a subsequent interview.
'Room to Maneuver'
"There will be an arbitrage on the split between the stabilization reserve and the Generations Fund," Leitao said in the interview. "The bigger share will likely go to the stabilization reserve. The existence of this reserve will protect our fiscal structure. It will allow us in subsequent years to adjust public spending."
Health care will likely benefit from Quebec's new-found spending power.
"We have room to maneuver now, and we want to use it in proximity services: health care, education and economic development," Leitao said. "These are our three priorities, and this is what we are going to talk about in the October update and the next budget."
Created in 2006 to reduce net debt, the Generations Fund aims to earn returns that exceed the province's borrowing costs. Managed by the Caisse de Depot et Placement du Quebec, the fund posted a return of 8.1 percent in 2015, the documents show. Assets of the fund will likely climb to C$20 billion in about five years, Leitao predicted Tuesday.
Before it's here, it's on the Bloomberg Terminal.
LEARN MORE