Nervous Democrats Fret About Clinton's Stumbles as Race Tightens
Prominent Democrats have tough words for Clinton as some Democrats worry she'll squander her advantage against Trump.
By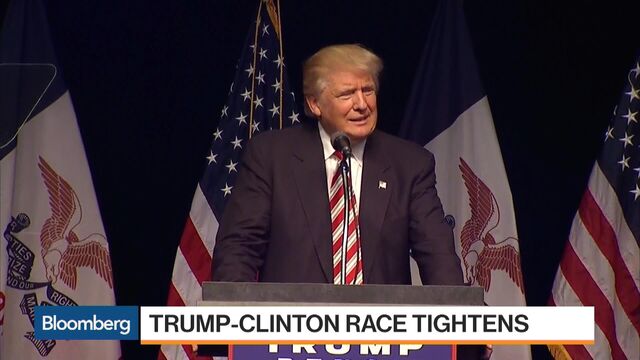 Eight weeks from Election Day, Democrats are feeling queasy about Hillary Clinton's narrowing national and battleground-state lead over Donald Trump.
A race some had considered a layup for Clinton on Tuesday showed Trump within 2.5 points in the RealClearPolitics average of polls. The Democratic presidential nominee's stumbles over the weekend—from a botched response to a health incident to having to partially disavow her comment slamming "half" of Trump's supporters—has heightened concerns.
"I'm totally afraid. Donald Trump definitely has the chance to win. It's really close. Closing here in Pennsylvania and Florida," said Clinton Barnes of Philadelphia, who attended President Barack Obama's rally there Tuesday for Clinton. "It's all spooky."
"Hillary's been her own worst enemy," he said. "People think she's dishonest."
After an incident Sunday when her campaign brushed off rumors that something was amiss until a video clip showed her dizzy and stumbling into a van after a Sept. 11 commemoration event, former Pennsylvania Governor Ed Rendell said Clinton would help herself by being more transparent. 
"My advice is be transparent about everything and get it out early, because you minimize the damage you'll do by getting it out early," Rendell said in an interview. "Getting things out early is always the best policy, whether you're a candidate or whether you're in public office."
Rendell said he was "guardedly optimistic" Clinton would still win the election.
The disclosure that she had been diagnosed with pneumonia was a quintessentially Clintonian stumble, with her instinct for secrecy proving more damaging than the facts of the situation. Her campaign later confirmed Friday's diagnosis and her top spokespeople acknowledged they shouldn't have kept reporters in the dark for so long after questions were raised about why she had to leave Sunday's memorial abruptly. 
"Antibiotics can take care of pneumonia. What's the cure for an unhealthy penchant for privacy that repeatedly creates unnecessary problems?" David Axelrod, a former top adviser to Obama, wrote on Twitter.
Asked to respond during a phone interview Monday on CNN, Clinton said, "I just didn't think it was going to be that big a deal." She added that unlike with Trump, Americans "know more about me than almost anyone in public life."
Clinton plans to return to the campaign trail on Thursday, her campaign said in an e-mail. 
'Zone Of Privacy'
Other Obama alumni sounded less concerned that the incident would affect the outcome of the race. 
"Every campaign has bad days, it's all about how you deal with them," said Steve Schale, who managed Obama's 2008 campaign in Florida. "The problem in real-time reporting is any delay in responding is seen as being secretive."
Jon Favreau, Obama's former chief speechwriter, sympathized with Clinton's decision not to announce her pneumonia diagnosis when she received it Friday, given the persisting conspiracy theories about her health.
"In retrospect, it might've been better to be more transparent, but I don't think it was a no-brainer," Favreau said in an e-mail. "Yesterday they clearly could've handled better, which they've said themselves."
"An occasional gaffe or two is unavoidable in any campaign, no matter how disciplined or well-run," he said.
Bill Burton, a former Obama spokesman, blamed media coverage for the attention Clinton's health has received.
"I've worked for four presidential candidates and one president, and none of them were under the kind of pressure put on Hillary to release information about their colds," he said. "The coverage of this has been remarkably stupid."
Clinton, 68, who in the 1990s said she believes in "a zone of privacy," has at times demonstrated a politically self-defeating tendency toward secrecy. A notable example was her use of a private e-mail server as secretary of state, which she admitted last year was a mistake and which has taken a toll on her image.
"Sometimes she makes a little bit of an oops," said Sandra Lawrence of South Philadelphia, referencing Clinton's e-mail woes and her remarks describing many Trump supporters as "deplorables" who are racist, sexist, and xenophobic. "Sometimes you've got to be a little more tactical. ... I think she gets herself into trouble."
"I think she'll learn, though," she said.
For now, Clinton remains the favorite, due to a mathematical advantage in the Electoral College and leads in swing states like Pennsylvania and Virginia, even as others such as Ohio, Florida, and Iowa have narrowed to a dead heat in some polls.
Trump leads Clinton by 5 points among likely voters in Ohio, a Bloomberg Politics poll published Wednesday found.
Obama Rallies
Obama was greeted with a hero's welcome Tuesday in Philadelphia, where he implored Americans to vote for Clinton (who spent Tuesday resting and recovering) and lit into Trump as someone who "says stuff every day that used to be considered as disqualifying for being president."
Democrats expressed anxiety mixed with cautious optimism that they'd defeat Trump on Nov. 8.
"I'm nervous," said Debra Derderian of Newtown, Pennsylvania.
She said Clinton has handled her controversies "very well" but fretted that voters "don't understand Hillary's personality."
Norman S. Wooten of North Philadelphia said he wishes Obama were on the ballot.
"He'd be killing Donald Trump right now," he said.
Wooten said Clinton isn't doing as well "because of the semi-mistake she made" with her e-mail server. "And the fact that she's a woman. Other than that she'd be killing."
While Clinton's favorable rating slumped to a dismal 38 percent (barely higher than Trump's 36 percent) in the latest Gallup tracking poll, Obama's approval soared to 58 percent in a Washington Post survey released Sunday, his highest since July 2009.
If Obama were running against Trump, "there would not be any contest," said Lucy Dubas of New Hope, Pennsylvania. "People just do not like Hillary and I don't get it."
Clinton's strategy is to turn out the coalition that powered Obama to two victories. She's courting nonwhite voters, millennials, and unmarried women with a progressive agenda and promises to protect the president's achievements. Obama's presence on the campaign trail, along with first lady Michelle Obama's expected upcoming appearances, could give Clinton a boost and ease Democrats' concerns.
"I'm hoping it's just a little bump in the road," Mike Blisko of Levittown said of Clinton's recent woes.
Other Democrats said she's up against the worst of America.
"Trump has brought out anger, fear and hatred to a degree we have never known before. He's conquered the Republican primary candidates and now he's trying to fuel this anger to go after Hillary," said Mark Daniels, who flew from Springfield, Illinois, to see Obama in Philadelphia. "Part of the reason I think Hillary got sick is trying to fight this off."
Before it's here, it's on the Bloomberg Terminal.
LEARN MORE