EU Banks More Vulnerable Than Peers to Basel Revamp, Data Show
By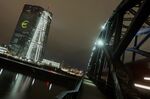 Large European banks may be more vulnerable than their global peers to changes in the rules for measuring asset risk that are under discussion at the Basel Committee on Banking Supervision, regulatory data show.
European Union banks that are large and internationally active had an average common equity Tier 1 capital ratio -- a key measure of financial strength -- of 12.4 percent of risk-weighted assets at end-2015, compared with the global average of 11.8 percent, according to data released on Tuesday by the European Banking Authority and the Basel Committee.
Those numbers are dependent in part on banks' ability to model risk, something the Basel Committee is looking to restrict as it finishes up work on the capital framework known as Basel III by year-end. Measures that don't consider risk, such as the leverage ratio, tell the other side of the story: Europe's big banks came in at 4.7 percent, below the global average of 5.6 percent. The risk-blind leverage ratio is designed to discourage banks from piling on assets.
As it revises the capital rules, the Basel Committee, whose members include the European Central Bank and the U.S. Federal Reserve, is focusing on the models banks use to calculate risk-weighted assets. The regulator says the results yielded by modeling vary too widely for similar assets.
Asset Risk
European banks have led the lobbying effort to tone down the Basel reforms, claiming they'll be affected more severely than others, particularly U.S. firms. Tuesday's data illustrate why: European banks' ratio of risk-weighted to total assets is lower, meaning the same amount of top-quality capital delivers a higher CET1 ratio. If European banks' ability to model risk is curbed, their advantage in regulatory capital will diminish.
European banks argue that their balance sheets are inflated compared with those of their U.S. peers because they typically retain their mortgage loans. That contrasts with practice in the U.S., where lenders sell their mortgages to a government-sponsored entity such as Freddie Mac, which then repackages the loan as an asset-backed security and sells it on to a private investor.
The Basel Committee reports regularly on banks' fulfillment of Basel III requirements. The global sample consists of 100 internationally active banks with Tier 1 capital of more than 3 billion euros ($3.4 billion), of which 45 are based in the EU.
The latest data show that the world's biggest banks have largely filled the shortfalls that emerged when the rules were first introduced. The sample group showed no CET1 shortfall under fully loaded Basel III requirements, and a gap of 8.8 billion euros of additional Tier 1 and Tier 2 capital.
Before it's here, it's on the Bloomberg Terminal.
LEARN MORE