Clinton Says She Was Simply Overheated as Health Issue Smolders
By and
Trump says he'll release more health info, wishes her well

Delaying pneumonia news raises Clinton transparency questions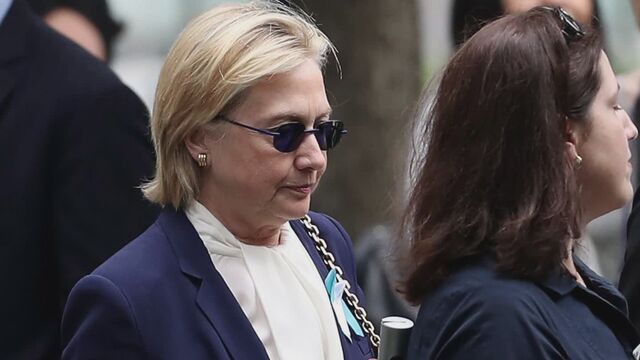 Hillary Clinton said she was overheated when she abruptly left a Sept. 11 memorial Sunday in New York, as she sought to temper speculation about her well-being and fend off accusations that she hasn't been honest about her health.
"I felt dizzy and I did lose my balance for a minute, but once I got in, once I could sit down, once I could cool off, once I had some water, I immediately started feeling better," Clinton said on CNN Monday evening.
Clinton's doctor Friday told her she's suffering from pneumonia, news that her campaign didn't disclose until hours after she left the commemoration and was caught on a video by a bystander appearing weak and to almost stumble as she was helped into a waiting van.
She promised on CNN to release more information about her medical history in the coming days, adding that the health reports she's already made public far exceed what Republican Donald Trump has produced.
"I think it's time he met the same level of disclosure that I have for years," Clinton said. "You've got a medical report on me that meets the same standard as Mitt Romney and Barack Obama. Donald Trump's doctor said he'd be the healthiest president in history. That's just not even serious."
The sudden focus on Clinton's health threatened to create a political crisis for her in the closing stretch of the race. It also prompted Trump to vow he would soon release more information about his own health, an opportunity to quiet critics who say a doctor's short letter that he already released is insufficient.
Trump, at 70, would be the oldest person to assume the presidency if he gets elected. Clinton, 68, would be the second oldest, after Ronald Reagan. 
Clinton's husband, former President Bill Clinton, also took to the air, telling Charlie Rose on PBS that she was feeling better Monday and pinned her episode over the weekend on dehydration that she's experienced occasionally over the years, not on pneumonia.
"She just got dehydrated yesterday," the former president said in interview, according to a transcript. "Rarely, on more than one occasion, over the last many, many years, the same sort of thing's happened to her when she got severely dehydrated, and she's worked like a demon, as you know, as secretary of state, as a senator, and in the year since."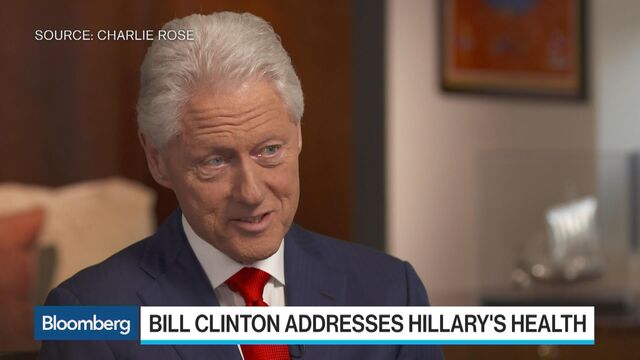 Her aides Monday were moving to contain the damage from the delay in releasing basic details about her status that revived scrutiny of her health and longstanding criticism about her lack of transparency. The episode risks eroding voter confidence in her as she seeks to preserve a narrow lead in the race over Trump, whose allies have raised questions and stoked rumors about whether Clinton is healthy enough to serve.
After she suddenly left the Sept. 11 commemoration, Clinton's campaign remained silent for almost 90 minutes. The reporters who travel with the candidate weren't notified that Clinton was leaving.
Brian Fallon, Clinton's press secretary, said they erred in not releasing information sooner about the pneumonia diagnosis.
"In retrospect, we could have handled it better in terms of providing more information more quickly," Fallon said on MSNBC Monday. "It is our intention in the next couple of days -- we will be releasing more medical information."
Trump's Response
Trump said in a phone interview on Fox News on Monday that he'll provide a report from a physical exam he underwent in the past week. "I'll be releasing very, very specific numbers," he said.
"I hope she gets well soon. I don't know what's going on," Trump said, taking a relatively cautious approach to discussing Clinton's health. "We have to see what's wrong." He said he assumed a coughing fit Clinton had a week ago was the pneumonia that was announced Sunday.
Trump said he expected to see Clinton at the first presidential debate on Sept. 26 and that he didn't think Democrats would replace her as their nominee.
In a subsequent interview on CNBC, Trump went further in contrasting his fitness with Clinton's. "It's grueling work. There's no question about it," Trump said about campaigning. "I find the whole challenge to be very invigorating."
Clinton, who canceled a two-day trip to California scheduled to begin Monday, was resting at her home. Fallon said there is "no other undisclosed condition" affecting her. Bill Clinton will appear at events in California and Nevada on Tuesday and Wednesday on his wife's behalf, according to his office.
Voter Mistrust
The episode, and the delayed disclosure, feed into Trump's previous line of attack on Clinton's fitness for office and may reinforce voter mistrust of her stemming from her penchant for secrecy as well as revelations about her use of private e-mail while secretary of state and ties with donors to her family's foundation. She also still is dealing with the fallout from her remarks at a fundraiser on Friday that "you could put half of Trump's supporters into what I call the basket of deplorables." Trump spokesman Jason Miller said Clinton "revealed her true contempt for everyday Americans."
"Now for 24-48 hours she's going to have to suffer through an issue that's not good for her campaign," said Ari Fleischer, who was press secretary under Republican President George W. Bush "It involves her honesty and her health, which politically is a deadly combination. Then she'll have millions of eyeballs on her for what previously people didn't take seriously as an issue."
Some Democrats were also critical of the Clinton campaign's handling of the situation. "Antibiotics can take care of pneumonia. What's the cure for an unhealthy penchant for privacy that repeatedly creates unnecessary problems?" tweeted David Axelrod, a former adviser to President Barack Obama.
"We could have done better yesterday," Clinton spokeswoman Jennifer Palmieri acknowledged in a reply, "but it is a fact that public knows more about HRC than any nominee in history."
Trump's surrogates -- supporters who promote him in media appearances -- received instructions on how to answer questions regarding Clinton's health, according to people familiar with the matter. "We wish Hillary a speedy recovery" was the line they were asked to use, the people said.
At least one Trump ally wasn't proceeding so cautiously, however. Provocateur Roger Stone on Sunday said that "the hide-and-seek game Hillary is playing with her health must end" and that "the woman is not well -- it's time for her to admit it."
'Recovering Nicely'
Bardack, who examined Clinton at the candidate's home in Chappaqua, New York, on Sunday, disclosed for the first time that Clinton was being treated for pneumonia that was discovered Friday after she was evaluated for several public coughing fits brought on by allergies. Clinton was taking antibiotics and had become overheated and dehydrated while at the Sept. 11 ceremony. "She is now re-hydrated and recovering nicely," Bardack said in a statement released by the campaign.
Given existing unease about her e-mails and the Clinton Foundation, Clinton needs to be open about what happened on Sunday, said presidential historian Douglas Brinkley, a professor at Rice University.
"The single most important thing for Hillary Clinton is to be transparent," he said. "Any kind of defensive crouch, I think it could cost her."
Aides to Franklin Delano Roosevelt took great pains to conceal that he used a wheelchair, John F. Kennedy hid his Addison's disease and reliance on steroids to treat the illness, and Reagan was secretive about his onset of Alzheimer's. But, Brinkley said, in an era of social media and cable news -- where a mobile-phone video shot by someone who happens to be in the right place at the right time can be seen by millions within hours -- little can stay under wraps for long. "I don't think you can get away with hiding your health the way a previous generation did," he said.
Average life expectancy for women in the U.S. is just over 81, five years longer than for men. Yet Trump has been able to effectively make Clinton's health into a political issue while there's been far less scrutiny of his physical condition.
Gender Stereotypes
Questioning Clinton's health feeds into gender stereotypes, said Kathleen Hall Jamieson, an expert on political communication at the University of Pennsylvania. "The stereotypes of older women are active and Donald Trump is playing into them -- unstable, fragile. They're stereotypes so we don't realize when they act on us," she said.
Clinton released a two-page letter from her physician Bardack in July 2015 giving some details about her medications and treatment for a concussion in 2012 and blood clots. It addressed Clinton's head injury, which occurred after the then-secretary of state "suffered a stomach virus after traveling, became dehydrated, fainted and sustained a concussion," according to a Bardack's letter. She said that overall Clinton "is in excellent physical condition and fit to serve as president of the United States."
Trump released a letter from his physician, Harold Bornstein, last year that gave few details and declared the Republican would be "the healthiest individual ever elected to the presidency." Bornstein told NBC News last month that he wrote the four-paragraph assessment in five minutes. In another unconventional twist in a campaign that's been full of them, Trump is scheduled to appear in a pre-taped interview on Thursday with Mehmet C. Oz, also known as Dr. Oz, to discuss his "personal health regimen."
Trump has used questions about Clinton's health, including highlighting her recent coughing spells, as a counter to the Democratic nominee's accusation that he's temperamentally unfit and unqualified to president.
Thus far, there's been scant evidence that the questions have resonated outside Trump's circle of fervent supporters. The way the Clinton team handled Sunday's event may provide an opening for Trump's argument to gain more purchase.
The delay in disclosing the pneumonia diagnosis and the silence from the campaign immediately after Clinton left the Sept. 11 commemoration "lets everyone fill the holes themselves," said Jennifer Loven, managing director of the strategic communications firm Glover Park Group in Washington and a former president of the White House Correspondents' Association. "That can be embarrassing at the very least, or it can be very damaging because it ends up reinforcing the very negative impressions you were afraid of in the first place -- perceived problems about transparency and worries about her health."
— With assistance by Ben Brody, Kevin Cirilli, and Jennifer Jacobs
Before it's here, it's on the Bloomberg Terminal.
LEARN MORE