Christie Provokes Sharp Opinions at GW Bridge Jury Selection
By
'It should be Chris Christie on trial,' potential juror says

Kelly, Baroni accused of snarling traffic to punish mayor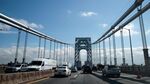 Potential jurors considered for the George Washington Bridge traffic case expressed a wide range of political opinions in court, like New Jersey Governor Chris Christie should be on trial instead of two allies. Others said Christie has done a great job, or the media can't be trusted. 
One by one, 28 potential jurors came Tuesday to federal court in Newark to answer queries raised by their written questionnaires to determine if they could be fair and impartial about the Christie allies on trial. Bridget Anne Kelly, Christie's former deputy chief of staff, and Bill Baroni, the former deputy executive director at the Port Authority of New York & New Jersey, are accused of snarling traffic by the bridge to punish a mayor who didn't support Christie's re-election in 2013.
Over nearly seven hours, 19 potential jurors were eliminated, either because U.S. District Judge Susan Wigenton decided they couldn't be fair, or lawyers for Kelly and Baroni wanted them out. Nine remain, and jury selection resumes Wednesday to round out the panel of 12. They'll also pick four alternates. Opening statements are set for Sept. 19.
Pungent Opinions
Wigenton summoned panelists only by number, and biographical details were often sketchy. But their opinions were occasionally pungent. Some of those jurors were removed by prosecutors or defense lawyers, who can each strike them without stating a reason.
"It should be Chris Christie on trial," said a librarian in her questionnaire. When the judge questioned her, she insisted she could be fair. Her daughter works for the Department of Justice, which is prosecuting Kelly and Baroni. "She has her opinions, and I've got mine," the woman said. She remains on the panel.
The case has been a drag on Christie, a Republican who sought the GOP nomination for the White House before serving as an adviser to Donald Trump, the party's nominee.
One man who helps manage a large retail company said he is a big fan of Christie and the Republican Party. Christie did a great job helping New Jersey recover from Hurricane Sandy, the man said. He said he didn't think he could be fair. Wigenton excused him.
Gridlock Woes
An engineer who works for the state transportation department said he wasn't happy about the gridlock over four mornings in Fort Lee, New Jersey.
"I didn't like what happened," the engineer said. "It shouldn't have happened. But it was what it was." He was excused by lawyers for Baroni, whose former agency runs the bridge.
One teacher knew attorney William Palatucci, a longtime political adviser to Christie. Palatucci coached her younger sister, and she has relatives in law enforcement. She said she has "strong opinions" about Christie but could set them aside to judge the case fairly. Lawyers for Kelly excused her.
One of those questioned said she might have a hard time believing a witness who pleaded guilty and testified. David Wildstein, a former Christie ally who admitted to conspiring with Kelly and Baroni, is set to testify as a government witness.
"If they somehow accepted a plea bargain, they are doing it to help themselves," said the woman. "They may not be fully honest."
Exercising Challenge
When Wigenton asked if she could be fair, the woman said she could. A prosecutor asked that she be dismissed for cause, but the judge denied the request. Prosecutors later excused her, exercising one of their challenges. 
A man who works for a digital media agency said he had met Christie at a fundraiser. He has plenty friends and relatives in law enforcement, and he said union members may be pressured to give testimony that the organization supports.
"I believe this is politically based and should not have come to trial," the man said. The judge removed him from the panel.
The case is U.S. v. Baroni, 15-cr-00193, U.S. District Court, District of New Jersey (Newark).
Before it's here, it's on the Bloomberg Terminal.
LEARN MORE