China's Postal Savings Bank Seeks Up to $8.1 Billion in IPO
Bloomberg News
Cornerstone buyers take up about three-quarters of share sale

Biggest Chinese lender by outlets seeks premium valuation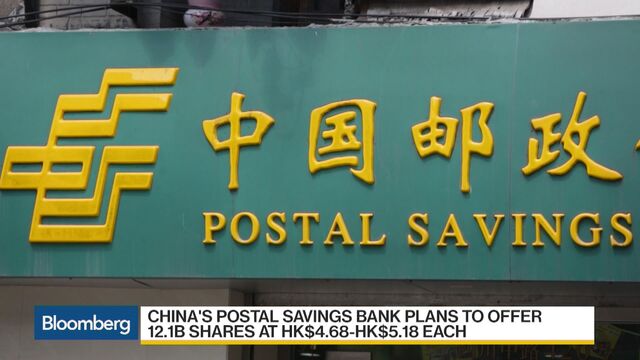 Postal Savings Bank of China Co. is seeking as much as $8.1 billion in a Hong Kong initial public offering, which could become the world's biggest share sale this year.
The Beijing-based bank is offering 12.1 billion shares at HK$4.68 to HK$5.18 apiece, according to terms for the deal obtained by Bloomberg on Tuesday. Cornerstone investors, who commit to hold their shares for six months, agreed to buy about $5.9 billion of stock, accounting for 76 percent of the offering at the midpoint of the marketed range.
The price range values Postal Savings Bank at about 1 to 1.1 times its net assets at the end of March this year, a person with knowledge of the matter said, asking not to be identified as the information is private. Chinese lenders listed in Hong Kong trade at a median 0.88 times their latest book value, data compiled by Bloomberg show.
Postal Savings May Not Win Biggest IPO But It'll Deliver: Gadfly
Postal Savings Bank, ubiquitous in small-town China, joins Bank of Tianjin Co. and China Zheshang Bank Co. in selling shares in Hong Kong to fund expansion. The bank, which has more outlets than any other Chinese lender, boasts a non-performing loan ratio that was less than half the official industry figure at the end of March, and has the potential to use a strong deposit base to grow lending faster than its peers.
Valuation Premium
"Even though there are some positives for Postal Savings Bank, the valuation is not attractive enough," Edmond Law, an analyst at UOB Kay Hian (Hong Kong) Ltd., said by phone Tuesday. Investors may prefer the shares of other listed state-owned banks due to their more attractive price-to-book ratios, Law said.
A Hong Kong-based external spokesman for Postal Savings Bank declined to comment on the valuation.
Even at the bottom end of the price range, Postal Savings Bank's first-time share sale would be the largest globally this year, surpassing the $3 billion offering from Danish utility Dong Energy A/S in June, according to data compiled by Bloomberg. The IPO is set to be the largest globally since e-commerce billionaire Jack Ma's Alibaba Group Holding Ltd. priced its $25 billion New York share sale in September 2014, the data show.
Capital Needs
Postal Savings Bank reported an 11 percent increase in first-quarter profit as it pared provisions for bad loans, according to pre-listing documents filed with Hong Kong's stock exchange. The bank will use the proceeds to strengthen its capital base to support ongoing business growth, Tuesday's terms show.
The lender's capital adequacy ratio stood at 10.26 percent at the end of March, with a core tier-1 ratio of 8.35 percent. The China Banking Regulatory Commission requires non-systemically important banks such as Postal Savings Bank to have a minimum capital level of 10.5 percent by the end of 2018, with a core ratio at least 7.5 percent.
State-owned China Shipbuilding Industry Corp. will invest about $2.2 billion in the offering, while Shanghai International Port Group Co. agreed to purchase around $2.1 billion of stock, according to the terms. HNA Group Co., the parent of China's fourth-largest airline, will buy $1 billion of shares.
State Grid Corp. of China, the world's largest utility, committed $300 million, the terms show. State-owned China Chengtong Holdings Group Ltd. and China Great Wall Asset Management Corp. will also purchase stock in the offering.
Shadow Banking
Postal Savings Bank faces numerous challenges due to its complex relationship with parent China Postal Group, concentrated lending to borrowers such as China Railway Corp., and shadow banking exposures, according to analysts at Sanford C. Bernstein & Co.
The bank had 953 billion yuan ($143 billion) of investments in "special purpose vehicles" such as wealth management products, trust investment plans, asset management plans and securities investment funds as of March. That exposure almost doubled since 2014 and was up more than 500 percent since 2013, according to its pre-listing document.
Law said the higher exposure to shadow banking was a result of the difficulty Postal Savings Bank has faced in finding sufficient high-quality borrowers to grow its traditional lending activities. Analysts will be looking for more information on the exact nature of the exposure, he said. "We need to wait for the management to give us more guidance on the underlying assets of these investments," said Law.
The lender plans to price the offering Sept. 20 U.S. time and begin trading on Sept. 28, the terms show. Bank of America Corp., China International Capital Corp., Goldman Sachs Group Inc., JPMorgan Chase & Co. and Morgan Stanley are joint sponsors of the offering.
— With assistance by Jun Luo, and Fox Hu
Before it's here, it's on the Bloomberg Terminal.
LEARN MORE