Argentina Eases Fiscal Target to Boost Growth, Macri Says
By and
Macri says may cut 2017 deficit reduction target to 4 percent

President to cut taxes, find new trade routes to boost growth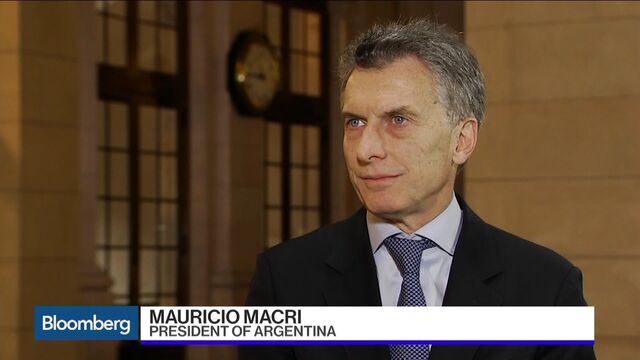 Maintaining fiscal discipline while hauling Argentina out of a protracted recession to lure foreign investment is proving to be President Mauricio Macri's toughest challenge.
The government may cut its fiscal deficit target to 4 percent from an original 3.3 percent in the 2017 budget it will present to Congress on Thursday as spending increases, the president said in an interview with Bloomberg. The government may not be able to fulfill an election campaign pledge to cut taxes on soy exports by 5 percent, according to two people familiar with the matter. Soy taxes represents about 37 percent of total tax revenue for the government.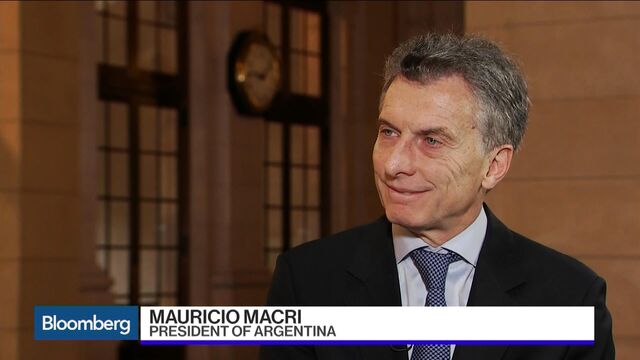 "We had thought it would be 3.3 percent, but we won't get there," Macri said in an interview with Bloomberg TV on the sidelines of a business forum in Buenos Aires. "We're going to be closer to 4 percent. We have to do it step by step. We are going to fulfill the commitment of reducing it every year and reducing inflation."
Macri, 57, took office in December vowing to unwind the protectionist policies and uncontrolled spending of his predecessor, Cristina Fernandez de Kirchner. Macri said he wants to cut taxes, open up new trade routes and re-establish rule of law in order to "jolt" Argentina out of recession and bring growth back to the South American nation. Macri inherited a primary budget gap of 5.4 percent of gross domestic product, the highest in decades.
To read QuickTake on Argentina click here
The forum, which is hosting about 2,000 investors over the next three days, has already achieved some of its objectives. Canada's Pan American Silver Corp. will invest in a project in Chubut province, Macri announced in a statement without providing further details. Egyptian billionaire Naguib Sawiris said he plans to invest between $250 million and $500 million in mining and telecommunications in Argentina.
Despite plenty of interest, the real money is only trickling in as investors, wary of a 200-year history of six defaults and 10-year cycles of economic crises. A ticker on the Finance Ministry website has tallied $32.6 billion in investment pledges since December, but central bank data show only $1.3 billion has actually arrived in the first six months of 2016.
Macri said that in the next six months he aims to continue to forge trade links with countries around the world including China, Japan, Brazil and the European Union. He said he trusts Michel Temer, who took over the presidency of Brazil after the impeachment of Dilma Rousseff.
International Relations
He said he would work with whoever wins this year's U.S. election even though he expected it to be easier to form a relationship with Hillary Clinton than Donald Trump since he has worked with her in the past in the C40 megacities project.
"I need to have a relationship as good as I did with Barack Obama," he said. "It looks to be easier with Hillary Clinton. We worked on C40 when I was mayor of the city with the Clinton Foundation."
Watch Next: Argentina's Macri on Investment, Trade, and Economy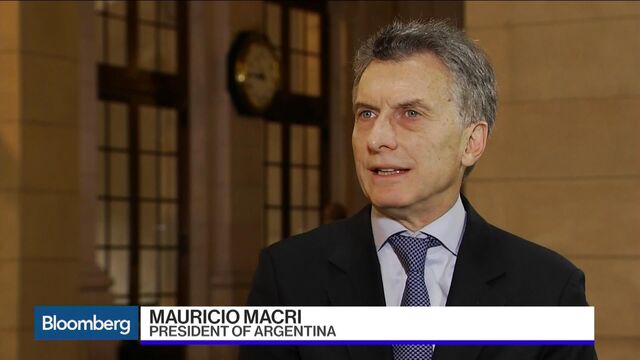 Macri said he'll continue to press Argentina's claim for the disputed ownership of the Falkland Islands and will meet with U.K. Foreign Minister Boris Johnson in New York during the United Nations.
"We cannot accept that we cannot sit down on a table and discuss," Macri said. "It's not a claim we will leave it aside. In the meantime we want to have a positive relationship with the United Kingdom."
Macri also addressed issues of alleged irregularities in his government and stood by Vice President Gabriela Michetti and Energy Minister Juan Jose Aranguren. Aranguren sold his shares in Shell after a recommendation from the Anti-Corruption Office, Macri said. Michetti, who is being investigated over the origins of more than $50,000 cash that was stolen from her home, will continue to co-operate with the justice system to clear up any doubts, Macri said.
Currency Controls
Since taking office, Macri has lifted currency controls, allowing the peso to float and settled a toxic legal battle with creditors, bringing Argentina out of default after 14 years. He is also close to getting the International Monetary Fund to close a difficult chapter with Argentina after it sanctioned the country for publishing inaccurate economic data. The agricultural sector, Argentina's biggest source of export revenue, benefited after he removed almost all export taxes, while he also simplified the red tape for imports.
The economy has been in recession since mid-2015 while inflation has soared this year to over 40 percent. The contraction has resulted in job losses and a rise in poverty. In a speech to open the investment forum, Macri said earlier that inflation is already slowing and that the economy is showing the first signs of coming out of recession.
"I think we can do it much better than we did in the past," Macri said. "Argentina is ready to take its place. Its a big country with a lot of talent. We're more than Messi and the Pope."
Before it's here, it's on the Bloomberg Terminal.
LEARN MORE