Want to Know How Trump's Doing? Just Look at Mexico's Peso
By
Currency has moved inversely with Trump electoral probability

Peso reaches 2 1/2-month low as Clinton suffers from pneumonia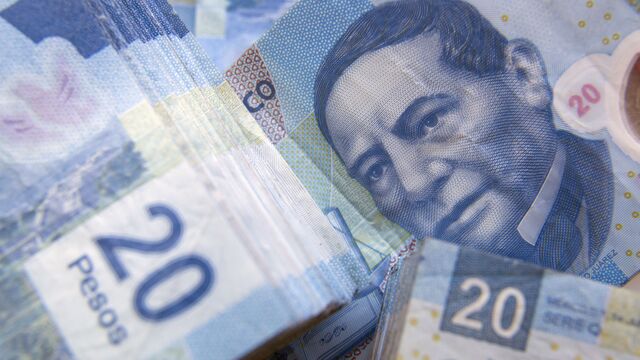 Polls? Who needs 'em.
If you want to know how Donald Trump is doing, all you need to do is check the Mexican peso.
Over the past four months, Mexico's currency has repeatedly declined when Trump's election outlook improves and rallied when his odds of winning slump. The peso tumbled to a 2 1/2-month low Monday after his Democratic rival, Hillary Clinton, canceled a two-day trip to California because she's suffering from pneumonia.
The presidential campaign has kept Juan Carlos Alderete busy. The 32-year-old head of currency strategy for Grupo Financiero Banorte SAB in Mexico City said phone calls from clients such as pension and mutual funds jumped 50 percent in July, when Trump improved his showing in predictive models like FiveThirtyEight during the Republican and Democratic conventions. Alderete has become a U.S. political junkie, closely following the daily movements and speeches of the two candidates -- particularly the one who pledges to end or overhaul Nafta and make Mexico pay for a $10 billion border wall.

"There's not a lot of appetite to go long the peso given the risk for a Trump victory," said Alderete, who develops game plans for a team of currency and options traders at Mexico's largest publicly-traded bank. "Among the different risk factors that affect all markets, this is one that could have greater consequences specifically for Mexico."
Particularly Vulnerable
Concern Trump will follow through on his promises regarding Mexico if elected has helped the peso weaken 10 percent this year, the worst performance of any major currency apart from the U.K. pound. It was last week's biggest loser, sliding 1.7 percent, and has since dropped to the lowest since June after Democratic presidential nominee Clinton's campaign announced she was ill.
The peso's status as the most-liquid emerging-market currency after China's yuan has left it particularly vulnerable to selling, sending it to repeated record lows and forced the central bank to raise interest rates.
Mexico is arguably the major world economy most dependent on the U.S. Trade between Mexico and the U.S. has grown fivefold to more than $500 billion in goods annually since Nafta took effect in 1994, making the Latin American nation the largest U.S. trade partner after China and Canada, according to data from the International Monetary Fund. While Mexico has also strengthened its trade ties with other nations and has a free-trade agreement with the EU, it still sent 73 percent of exports to the U.S. in 2015, compared with 79 percent the year before Nafta was implemented.
'Directional Trade'
In addition to ending Nafta, Trump has said he'll make Mexico pay for the wall -- a proposal that the government has repeatedly said is a non-starter -- by holding remittances from immigrants in the U.S., which play an important role in bolstering the peso.
Alderete isn't the only person who's noticed the peso's reaction to Trump's news cycles. Kevin Daly, a money manager at Aberdeen Asset Management in London, said that the peso's rebound in early August was due in part to a better outlook for Clinton. At that time, she opened up a wider lead over Trump following the conventions, with FiveThirtyEight's forecast showing her odds of victory increasing to a high of 89 percent, with the reality TV star's falling to 11 percent.
"You could definitely say that in recent months, there are specific dates where you can draw some correlations between the two," said Daly, who helps oversee about $9 billion of emerging-market debt, including Mexican government bonds. Betting against the peso based on Trump is "more of a short-term directional trade that the fast-money community would be apt to put on," he said.
'Delayed Investment'
After reaching a three-month high in mid-August as Trump's odds of victory bottomed out, the peso has retreated in the past three weeks as FiveThirtyEight's model showed his probability to reach the White House rebounding to about 30 percent.
"There's an impact of the U.S. elections on the peso for sure," said Carlos Capistran, chief Mexico economist at Bank of America Corp. in Mexico City and the former director of macroeconomic analysis at Mexico's central bank. "Given the uncertainty regarding who could win and the different positions regarding policy toward Mexico, this has probably delayed investment into Mexico, and that of course is something that is not positive for the peso."
Before it's here, it's on the Bloomberg Terminal.
LEARN MORE