Libya's Oil Comeback Derailed as Former General Seizes Ports
By and
Haftar's forces seen using two ports for political leverage

Facility had been scheduled for first shipment since 2014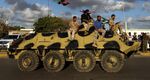 Libya's plans to restore oil production suffered a significant setback after forces loyal to the eastern region's powerful military commander ousted government-backed fighters from key export terminals, just days before a tanker was due to load the first shipment in nearly two years.
Khalifa Haftar's fighters took the ports of Ras Lanuf and Es Sider from Ibrahim Jadran, leader of local Petroleum Facilities Guard units, on Sunday. His forces now control shipping terminals and oil fields in Libya's main producing region. While restrictions on crude exports mean Haftar can't generate revenue from the assets, they afford him political leverage over the Tripoli-based Government of National Accord.

"It's an important development that strengthens Haftar's position," said Richard Mallinson, an analyst at Energy Aspects Ltd. in London. "It's a real challenge for the GNA how it responds to Haftar's move -- does it try and negotiate a compromise and try to offer him the position of defense minister, which it wasn't willing to do in the past, or do GNA forces try to challenge him. Either way, it's hard to see a way this supports the stabilization of Libya, or a resumption of exports."
Libya has splintered since fighters from different regions came together five years ago to oust Moammar Qaddafi. Armed groups now compete for control of Africa's largest crude reserves, source of more than 95 percent of the country's export revenue prior to 2011. Prime Minister Fayez al-Sarraj's GNA has been attempting to increase output -- currently less than a quarter of pre-war levels -- to revive the economy and boost efforts to unite the country after a United Nations-brokered peace deal in December.
Controversial Deal
In July the Tripoli-based unity government reached a controversial deal to pay salaries to PFG members in exchange for reopening Es Sider, Ras Lanuf and a third oil port called Zueitina. The agreement set a "terrible precedent" and invited extortion by militias, National Oil Co. Chairman Mustafa Sanalla said at the time.
Authorities had started to repair damage to the ports and begin maintenance in order to boost production by more than 900,000 barrels a day by the end of the year. On Sept. 18, Ras Lanuf was expected to load its first crude cargo since Dec. 2014.
"Haftar's move kills off the July deal," Mallinson said. The force majeure at the ports -- a legal clause that allows companies to halt shipments without breaching contracts -- is now unlikely to be lifted, he said.
Long-Running Dispute
Output from Libya is likely to stay at 300,000 barrels a day or lower until year-end at least, as there is likely to be yet another long-running dispute over who is entitled to sell the nation's crude exports, Audrey Dubois-Hebert, an analyst at FGE, said in an e-mailed note. There is also a risk of further damage to the export terminals if fighting continues.
Haftar, a former general in Qaddafi's regime who later fled the country, doesn't recognize the GNA and has been consolidating his authority over territory in the east including some oil facilities and Benghazi, the main city in the region. Tribal support enabled him to easily take the ports. He also gets backing from Russia, Egypt and the United Arab Emirates.
The operation to seize the two oil ports was intended to push out militias who were stealing the nation's wealth, said Colonel Ahmed al-Masmari, a spokesman for Haftar's forces. Libya's NOC confirmed the seizure without commenting further. Photos posted on Facebook showed units from Haftar's self-proclaimed Libyan National Army celebrating victory at checkpoints on the coastal road.
Losing Control

In a statement on Monday, France, Germany, Italy, Spain, the U.K, and the U.S condemned the seizures and reiterated that they'll enforce the block on unauthorized oil sales. 
"Oil infrastructure, production, and export must remain under the exclusive control of the National Oil Corporation acting under the GNA's authority. We call for all military forces that have moved into the oil crescent to withdraw immediately, without preconditions," they said. "Violence against fellow Libyans undermines Libya's stability and encourages division."
Some members of the Presidential Council -- the GNA's leadership committee -- saw the fall of Jadran favorably and sympathize with the LNA, Riccardo Fabiani, senior North Africa analyst at Eurasia Group, said in an e-mailed note. As Haftar advances and consolidates his power, these divisions will become increasingly visible, he said, and in the next six to 24 months his move will lead to renewed tensions with West Libyan militias, further reducing the chances of a successful peace agreement between the two sides, he said.
"The seizure of the ports is by no means definitive, we should expect more fighting," said Mattia Toaldo, senior policy fellow at the European Council on Foreign Relations. "For Jadran it is an existential battle and he's likely to ask for help from Defense Minister Bargathi, who is a close ally."
Toaldo said he wouldn't rule out the possibility of Haftar coming to some kind of deal with the NOC. The crucial factor will be whether leaders in the west would allow the former general to gain the kind of political leverage that controlling those ports would provide, he said. 
Before it's here, it's on the Bloomberg Terminal.
LEARN MORE