DraftKings CEO Leaves the Door Open for a Possible FanDuel Merger
The two daily fantasy sports companies have been in talks over the last year and a half, but no deal is imminent, said Jason Robins.
by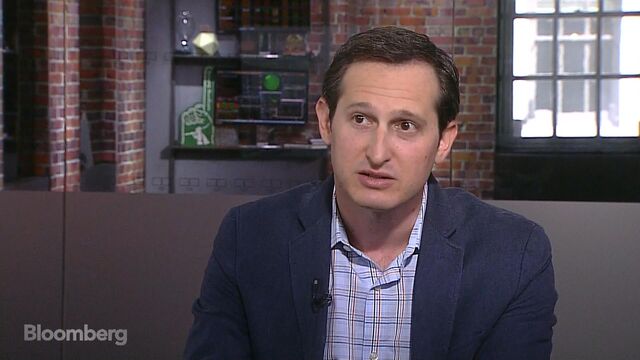 Jason Robins, the chief executive officer of DraftKings Inc., said his company has held merger talks periodically over the last 18 months with FanDuel Inc., its biggest competitor in daily fantasy sports.
While he said no deal is imminent, Robins laid out the benefits of a potential merger during an onstage interview at a technology conference in San Francisco. He said having a bigger pool of players, who assemble fantasy sports teams each week to compete for prizes, would be helpful. "Where that actually leads—and when—we'll see," Robins said at TechCrunch Disrupt. "When the time is right, there's potential."
Robins said combining the two private companies could also reduce legal and lobbying costs. DraftKings and FanDuel are pushing for laws that clearly define fantasy sports as legal after questions about whether they should be classified as gambling.
Bloomberg reported in June that DraftKings and FanDuel had been in discussions about a potential merger and that each company's investors were pushing for a tie-up. People familiar with the matter have said that the question of who would lead a combined entity has been a consistent stumbling point.
But two unprofitable companies spending big on advertising may not be able to coexist. "I don't know, frankly, whether this market can support two players," said Adam Krejcik, a principal at Eilers & Krejcik Gaming, a research firm. Even if a merger is inevitable, Krejcik said it'll have to wait. "They're not going to merge this year. That's pretty clear," he said.
Robins has publicly flirted with the idea of combining the two companies in previous interviews, often seeming to welcome a merger. In a Bloomberg TV interview on Sept. 6, he was asked whether an announcement of a tie-up was coming soon. "Not next week," Robins said. But his comments today were more explicit than in the past.
Executives for FanDuel, by contrast, have been much less willing to discuss a merger in public. A spokeswoman for FanDuel declined to comment.
Earlier this month, DraftKings said it raised $150 million in new capital. Fortune reported that the valuation in that funding round was "substantially lower" than one from last year. Robins declined to discuss the terms of the deal in an interview with Bloomberg this week.
Before it's here, it's on the Bloomberg Terminal.
LEARN MORE