Clinton Health Scare Shows How Both Candidates Skirt Close Coverage
Neither Trump nor Clinton has agreed to an arrangement with the media known as a protective pool.
By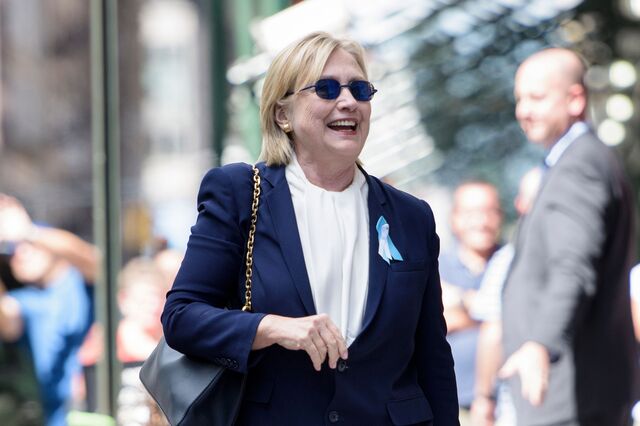 When Democratic presidential nominee Hillary Clinton abruptly left the Sept. 11 commemoration at Ground Zero on Sunday, the journalists covering her appearance there learned of her departure only after photographers could no longer find her in the crowd with their telephoto lenses.
As she appeared to stumble and need assistance into a black van that drove her three miles north to daughter Chelsea's apartment, the scene was captured by a bystander on his phone. The dozen or so members of the media assigned to cover the candidate's every move remained cloistered inside the event. For almost 90 minutes amid a health scare there was no information from Clinton's aides.
Hours afterward, the campaign released a statement from Clinton's physician saying the nominee had been diagnosed Friday with pneumonia and on Sunday became overheated and dehydrated. "I have just examined her and she is now re-hydrated and recovering nicely," Dr. Lisa R. Bardack said in the statement.
The incident points up one more way the 2016 presidential contest breaks precedent from recent campaigns. At this point in the election calendar, candidates from both parties have followed a protocol that employs what's known as a protective pool, a small group of media representatives who move with the candidate. It's the same system used for the president and ensures that any statement or event that potentially could affect the outcome of the campaign or outside situation is rapidly reported to the public.
But neither Clinton nor Republican nominee Donald Trump so far has agreed to that level of coverage. The Clinton campaign has said it's open to instituting a protective pool but hasn't indicated a time frame for putting one in place. She began traveling with a contingent from the media aboard her campaign plane last week. The Trump campaign plans "arrangements next week that will closely resemble a traditional pool to allow for additional access," spokeswoman Hope Hicks said. But the journalists will not always fly on the same plane as Trump.
The protective pool typically includes reporters from three news services—Bloomberg, the Associated Press, and Reuters—as well as a journalist representing publications who sends reports to a wide distribution list; a TV producer; a TV camera operator; and several photographers.
Presidents always have a protective pool trailing their movements and nominees have for decades agreed to the same. In 2012, Republican nominee Mitt Romney's started in early August, timing that drew scrutiny from President Barack Obama's allies, who noted that he had a protective pool starting in June 2008 and that Senator John McCain had one by late July 2008.
"I'm surprised it's mid-September, just a little more than 8 weeks before Election Day, and neither candidate has a protective pool," former Obama White House press secretary and campaign aide Robert Gibbs wrote Sunday on Twitter. "Protective pool isn't always easy for either candidate or press but there comes a point for each nominee when it must be part of daily life."
Kathleen Hall Jamieson, a professor of communication at the University of Pennsylvania, said the media should have "comparable access" to both nominees, "holding them both to the same amount of observation."
Ideally, Jamieson said, the press would have moved with Clinton to Chelsea's apartment, but given that there was concern about the candidate's health, it was the Secret Service's prerogative to get Clinton into a safer place as quickly as possible. "If they think there may be a health problem, their job is not gathering up the press," she said.
Before it's here, it's on the Bloomberg Terminal.
LEARN MORE