Trump Tries to Capitalize as Clinton Regrets 'Deplorables' Comment
By , , and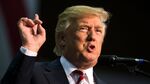 Hillary Clinton said Saturday that she regrets describing half of Donald Trump's supporters as a "basket of deplorables" in a speech at a fundraiser, as Trump's campaign tried to capitalize on what it considered a major gaffe by the Democratic presidential nominee.
Trump's running mate, Indiana Governor Mike Pence, lambasted Clinton in a midday speech at a gathering of conservative voters, and campaign officials instructed surrogates to highlight Clinton's remarks in their public appearances. 
"Hillary Clinton's low opinion of the people who support this campaign should be denounced in the strongest possible terms," Pence said at the annual Values Voter Summit in Washington. "They're hard working Americans. Farmers. Coal miners. Teachers. Veterans. Members of our law enforcement community.
"Hillary, they are not a basket of anything. They are Americans and they deserve your respect," he said, drawing cheers from the crowd.
Pence's response was the most forceful effort by Trump's campaign to seize on Clinton's remark and try to ensure maximum damage was inflicted on her campaign. Her lead in national and battleground state polls has narrowed in recent weeks, giving fresh hope to Trump's supporters.
Trump campaign officials, however, decided not to change plans to keep the Republican's surrogates off of Sunday morning news talk shows out of respect for the 15th anniversary of the 9/11 attacks. The campaign is confident that controversy over Clinton's remark won't dissipate, the officials said, requesting anonymity to discuss internal campaign deliberations.
Clinton told an audience of gay rights supporters at a fundraiser in New York City Friday night, "You know, to just be grossly generalistic, you could put half of Trump's supporters into what I call the basket of deplorables. Right? The racist, sexist, homophobic, xenophobic, Islamaphobic—you name it."
The remark drew laughs from her audience, and she later said that other Trump supporters are "people who feel that the government has let them down, the economy has let them down, nobody cares about them, nobody worries about what happens to their lives and their futures, and they're just desperate for change." 
But Clinton's campaign found itself explaining the remark after her speech and even some of Trump's Republican critics said it could cost Clinton votes among independent voters still trying to make up their minds, in part by undercutting her message that she is a unifying leader while Trump is divisive. On Saturday, she issued a statement that began with an expression of regret but ended with an excoriation of proposals, remarks, and actions by Trump that Clinton said indicated a campaign built "largely on prejudice and paranoia."
"Last night I was 'grossly generalistic,' and that's never a good idea. I regret saying 'half'—that was wrong," Clinton said, before turning to a criticism of Trump. What is "deplorable," she said, is that Trump "hired a major advocate for the so-called 'alt-right' movement to run his campaign and that David Duke and other white supremacists see him as a champion of their values."
She was referring to Trump's campaign chairman, Steve Bannon, who is also the executive chairman of Breitbart News, a conservative website. Jim Manley, a Democratic strategist, said that it was not unreasonable for Clinton to highlight bigotry among some Trump supporters, though he said she was also right to walk back her remarks.
"I don't know what the exact percentage is but there's no doubt Donald Trump is drawing out the worst impulses of his supporters ranging from racism to the outrageous chants of 'lock her up,'" Manley said. "There's an awful lot of hate involved when it comes to his political rallies."
Trump used his Twitter megaphone to rebuke Clinton; his campaign manager, Kellyanne Conway, called for Clinton to apologize; and Pence drew comparisons with President Barack Obama's 2008 remarks about some rural American voters. Obama said at the time that "it's not surprising then that they get bitter, they cling to guns or religion or antipathy to people who aren't like them or anti-immigrant sentiment or anti-trade sentiment as a way to explain their frustrations." The remark drew fierce criticism from Republicans.
Trump said that Clinton's statement on her remarks compounded the error.
"Isn't it disgraceful that Hillary Clinton makes the worst mistake of the political season and instead of owning up to this grotesque attack on American voters, she tries to turn it around with a pathetic rehash of the words and insults used in her failing campaign?" Trump said in an e-mail from Conway.
Democratic strategists said the damage to Clinton's campaign from her remark would depend on the Republican and media response in coming days. When Republican Mitt Romney infamously declared at a secretly filmed fundraiser in 2012 that he wasn't concerned about "47 percent" of voters he considered to be dependent on government services who wouldn't vote for him, his remark was relentlessly highlighted by Democrats as an insult to working-class voters.
When the Trump campaign sent morning talking points to its surrogates at 7 a.m. Saturday, the document said nothing about Clinton's "deplorables" remark other than to repeat the statement that a spokesman had released shortly after midnight. But in a noon conference call, Trump aides told the surrogates to focus on three issues: Clinton's "deplorables" comment, Trump's friendliness toward Russian president Vladimir Putin, and the latest polling, according to two people who were on the call and asked not to be identified discussing it.
Friday night was a rare night when Clinton's comments overshadowed Trump's own. In Florida, he had suggested Clinton was so above the law she could shoot someone and get away with it, and said if Iranian sailors made inappropriate gestures at U.S. ships during his presidency, they'd be "shot out of the water."
Republicans saw Clinton's comment as a chance to try to put the usually cautious Democratic nominee on the defensive, with just two months left in the campaign and some key swing state polls tightening. A Reuters/Ipsos battleground report released Saturday moved both Ohio and Florida from leaning-Clinton to toss-up.
Clinton campaign spokesman Nick Merrill tweeted a defense as soon as her remarks took off on social media. Not all Trump backers are racist, he said.
"Obviously, not everyone supporting Trump is part of the alt-right, but alt-right leaders are with Trump," Merrill wrote. "And their supporters appear to make up half his crowd when you observe the tone of his events."
Conway fired back, "Nick, it's simply untrue. Come to an event; talk to real people who aren't donors. Or better: have Hillary apologize."
Merrill's quick work to clean up the remarks indicates the Clinton campaign considered them a slip, said Ryan Williams, a former Mitt Romney spokesman who tried to tamp down public outrage over the Republican's infamous 2012 remarks that he wouldn't worry about "47 percent" of U.S. voters who he described as dependent on government.
"Whenever you clarify or walk back, it's not good. If it's good, you double down on it," said Williams, who has been critical of Trump.
Williams noted, though, that Romney's gaffe came at a crucial point in the race and fed directly into rival Obama's narrative that the Republican was a cold-hearted businessman who didn't care about regular people. "Forty-seven percent of Americans pay no income tax. So our message of low taxes doesn't connect," Romney said at the secretly recorded private fundraiser. "My job is not to worry about those people. I'll never convince them they should take personal responsibility and care for their lives."
Clinton's remark, made with reporters listening, might lose some sting because she has already given speeches tying Trump to the white supremacist movement, Williams said. Clinton made a similar remark on Israeli TV earlier in the week. 
"The comments need to be dissected and put into context," said Symone Sanders, a Democratic strategist and former spokeswoman for Clinton's primary opponent, Vermont Senator Bernie Sanders. "She's not wrong. There is a portion of Trump supporters who identify as racists, white nationalists and more. That's true and we shouldn't be shy about pointing that out. Trump has given these folks a voice through the hateful rhetoric of his campaign."
But Sanders said such people are probably not a majority of Trump's supporters. "I think the majority of folks are folks who feel locked out of opportunity and forgotten."
—With assistance from Sahil Kapur in Washington.
Before it's here, it's on the Bloomberg Terminal.
LEARN MORE