Super-PAC Telegraphs Battleground Strategy to Clinton Campaign
A conservation super-PAC's press release contains a kind of coded message about voters they're targeting to other organization on the left—like the Democratic nominee's campaign.
By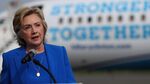 The League of Conservation Voters' super-PAC can not legally share its plans with candidates it wants to help, but Hillary Clinton's staff will still be able to learn, with a surprising degree of precision, the names of each of the almost 970,000 voters whose doors it plans to knock before the first of its canvassers has even approached a doorstep.
In announcing its plans for an "aggressive $4.2 million persuasion canvass" across three states—Pennsylvania, Nevada and North Carolina—the LCV Victory Fund has taken the unusual step of including in a press release the specific ranges of microtargeting scores that define the voters it will attempt to sway in Clinton's favor and against Trump. It amounts to a direct and precise signal to Clinton's campaign, state parties and other super-PACs not to bother duplicating those efforts, or perhaps to layer on specific digital or direct-mail communication targeting those individual voters.
The environmentally minded super-PAC says it plans to target voters in five suburban and urban counties that statistical models have identified as more likely than not to vote in November, but are not profiled as highly likely to be already Clinton or Trump supporters. To her campaign and Democratic party organizations, this technical formulation serves as clear instructions on how to find them in a database run by Catalist, a private organization launched with funding from George Soros and supported by a coalition of labor, environmental and women's groups: "vote propensity score above 50 and a Catalist Clinton support score between 20 and 90."
The decision to make public the type of tactical information that such groups once guarded as part of their strategic advantage represents a shift in thinking about how best to operate within a large loophole created by the Federal Election Commission's interpretation of the Citizens United decision. While the law prohibits private coordination of strategic plans, they can be published freely in a press release even if the only audience that would find them useful are the campaigns with whom a super-PAC is forbidden from communicating.
Already this election year, super-PACs have pushed information into the public domain so that it can be used by campaigns that are subject to stricter campaign-finance limits. The pro-Jeb Bush super-PAC Right to Rise posted video footage online so that Bush's campaign could edit it into ads, while the Clinton campaign uses research that the independent Correct the Record publishes directly to the web.
Many super-PACs have experimented with using press releases, strategy memos, and public conference calls to describe their advertising plans in such a way that allied campaigns can decode where and when they plan to place ads. Yet this is often done cautiously, as telegraphing television buys carries a risk that rivals could attempt to match those same programming choices, either to counteract the messaging or drive up rates.
Catalist limits access to its national voter database to ideologically sympathetic customers. So while it counts the Clinton campaign as a customer, along with a variety of Democratic party committees over the years, Catalist is unlikely to provide data to Republicans who would find value in trying to match the LCV Victory Fund's canvassing effort by communicating with those same households in Pennsylvania, Nevada and North Carolina.
Clinton's campaign will be able to fully reverse-engineer the canvass and decide how it wants to reinforce the communication through its own channels. The LCV Victory Fund has publicly described both its approach—which involves a canvasser trying to provoke an open-ended conversation up to twenty minutes long—and also included in its press release language that reads like part of the script it might put on canvassers' clipboards before sending them out to see voters.
"The difference between Hillary Clinton and Donald Trump could not be starker," the press release read, in words attributed to  LCV Victory Fund National Campaigns Director Clay Schroers. "Trump completely lacks the judgement, temperament and knowledge to be President. His stubborn climate denialism, threats to cut the EPA and indifferent ignorance on energy policy show how far outside the mainstream he is. Hillary Clinton, on the other hand, has shown time and again that she has the smart approach to policy we need to protect public health, combat climate change and make America the leader in clean energy technology. We're looking forward to sharing that contrast with voters in these critical battleground states with the type of in-depth conversations we know can make a difference."
The group has included similar targeting details in past press releases for a 2014 get-out-the-vote drive to help Colorado Senator Mark Udall's re-election, and a similar persuasion canvass launched this summer on behalf of Nevada Senate candidate Catherine Cortez Masto, also a Democrat. Now, says spokesman Seth Stein, "it's standard practice for us."
Before it's here, it's on the Bloomberg Terminal.
LEARN MORE