Private Prisons Have a Problem: Not Enough Inmates
Investors are fleeing, so private operators are diversifying with halfway houses and check-in centers for drug offenders.
By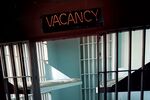 With overall violent crime rates falling nationally and fewer people getting sentenced to long stretches behind bars, private prison companies see a potentially catastrophic decline in demand for their services. Their response: diversify into everything from halfway houses to neighborhood check-in centers for drug offenders.
Over the past three decades, entrepreneurs and investors piled into the private prison industry, convinced that the thorny job of incarcerating criminals could be a lucrative growth business. No longer. Curtailment of harsh mandatory-minimum sentences and other changes in criminal justice policies have combined to reduce federal and state prison head counts to 1.56 million as of yearend 2014, a 3 percent falloff.
In recent weeks, the two publicly traded U.S. private prison operators, Corrections Corp. of America (CCA) and Geo Group, have felt the effects of a shrinking market. On Aug. 29, the U.S. Department of Homeland Security announced it would review whether to end its use of privately contracted facilities for detaining criminal aliens and other illegal immigrants. Just 11 days earlier, the U.S. Department of Justice said more definitively that it would begin phasing out private prisons.
About half of the companies' annual revenue "may be at risk" after the federal government announcements, according to an analysis by Bloomberg Intelligence. Both companies have major immigration detention contracts due to expire within the next eight months. Those deals alone have generated $520 million for Nashville-based CCA and $228 million for the smaller Geo, which is headquartered in Boca Raton, Fla.
So far, state-issued private prison contracts appear to be more secure because state penal systems remain more crowded than their federal counterparts. Yet that hasn't been enough to reassure investors. Since the Justice Department announcement on Aug. 18, shares of CCA and Geo have each sunk by more than 30 percent. (Their largest rival, Management & Training, based in Centerville, Utah, is privately held.)
Thus the drive for diversification. Most people enmeshed in the criminal justice system aren't held in prison or jail, but instead are overseen by some form of "community corrections." That catchall term refers to several kinds of institutions: halfway houses, where some inmates go near the end of their sentences; "intermediate sanctions facilities," which oversee released offenders who violate the terms of their probation or parole; and day-reporting centers for people sentenced to rehabilitative drug-treatment or employment-training programs, rather than traditional imprisonment.
There were 4.7 million adult offenders on probation or parole as of the end of 2014, the most recent figure available. That number's down 7.8 percent from seven years earlier but still far larger than the prison population, and the decline has been much slower.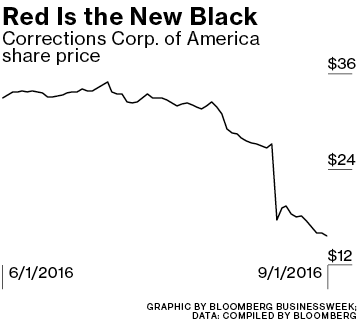 "We kind of read those tea leaves" six years ago and began planning the move toward community corrections, says Tony Grande, CCA's chief development officer. The strategy shift has been justified, he adds, as prison populations have shrunk and government customers have indicated they want large private providers to offer less punitive, shorter-term facilities that are less like traditional prison and more like community-based operations that include rehabilitation opportunities.
Grande points to a footnote to the Aug. 18 Justice Department memo instructing the Federal Bureau of Prisons to wind down its use of full-scale private prisons. The note emphasized that the department will continue to pay private companies to operate "hundreds of community-based residential reentry centers, or 'halfway houses,' across the country."
CCA has diversified into community corrections through acquisitions, buying its first halfway house in San Diego three years ago. Today it owns 25 such facilities with a total of 5,000 beds in six states. More deals are in the pipeline, Grande says.
"We have really ramped up and have had a lot of growth here in a short period of time," CCA's chief executive, Damon Hininger, told industry analysts in an Aug. 19 teleconference responding to the federal cutbacks. Growth by acquisition will continue, CCA executives say. Historically, small local operators, many of them family-run, have owned most community corrections properties, so what's going on now is the beginning of a consolidation of that piece of the market.
Geo has been moving in the same direction "for several years," its vice president for corporate relations, Pablo Paez, said via e-mail. The company says it has more than 20 residential reentry centers and about 60 day-reporting facilities, serving about 7,000 offenders a day.
Skeptics of private prisons say they're worried about the trend toward larger contractors buying up mom-and-pop community corrections companies. In a report published in August, the American Friends Service Committee, a peace and social justice organization, warned that the bottom-line focus of publicly traded corporations will undermine reformers' goal of "shrinking the size and scope" of the criminal punishment system.
"While the best practices in the area of community corrections emphasize tailoring interventions to provide the lowest level of security or surveillance necessary for the shortest amount of time," the Friends committee added, "the incentive for private prison companies is to 'widen the net' of people under ever-increasing levels of control."
Grande disagrees. "To reduce populations, we've got to find a way to reduce recidivism in this country," he says, and CCA is already seeking to do that with rehabilitative programs it runs in its prisons. "If the needs change, we have to change."
The bottom line: Federal and state inmate head count has fallen 3 percent since 2008, pushing private prison operators to diversify.
(
Corrects the size of reduction in federal and state prison head counts since 2008 in the second paragraph.
)
Before it's here, it's on the Bloomberg Terminal.
LEARN MORE