Obama Urges China to Prod North Korea Harder on Nuclear Weapons
By
China objects to U.S. deploying missile shield in South Korea

North Korea test-fired more ballistic missiles this week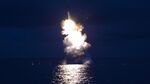 China has done more on sanctions against North Korea than previous rounds of penalties but could still "tighten up" further in prodding Kim Jong Un's regime, U.S. President Barack Obama said on Thursday during a trip to Asia.
Obama said he had told President Xi Jinping that China needs to "work with us more effectively" in combating Kim's nuclear ambitions.
"China has done more on sanctions implementation than they have on previous UN security council resolutions," Obama said at a briefing after a summit with Southeast Asian leaders in Vientiane, Laos. "We continue to indicate to them the importance of tightening up."
North Korea test-fired a trio of ballistic missiles that landed within a few hundred kilometers of Japan's coast earlier this week. Kim's regime, which has repeatedly flouted UN Security Council resolutions barring its ballistic missile activities, has conducted at least 22 launches this year, according to U.S. officials.
The White House said Obama raised concerns over North Korea's actions in his meetings this week with Asian leaders, and on Wednesday he said the U.S. would work with the UN to tighten sanctions on North Korea. After meeting with South Korean President Park Geun Hye, Obama said the countries would work to increase the efficacy of the sanctions by closing loopholes.
Missile Defense
The U.S. is also planning to deploy a missile defense system known as Thaad to South Korea. The Chinese have protested that move, which U.S. officials insist is only intended to protect South Korea.
Obama said he noted Xi's objection to Thaad and that the U.S. is not looking for a diplomatic tussle over the missile shield. Still, he said, "we cannot have a situation where we're unable to defend ourselves or our treaty allies against increasingly provocative behavior."
"They need to work with us more effectively to change Pyongyang's behavior," Obama said, referring to China.
Before it's here, it's on the Bloomberg Terminal.
LEARN MORE