Merkel Lawmaker Sees Leeway on Migration in Brexit Bargain
By , , and
Proposal departs from Merkel's conditions on EU freedoms

Hint of flexibility balanced with warning against 'naive' hope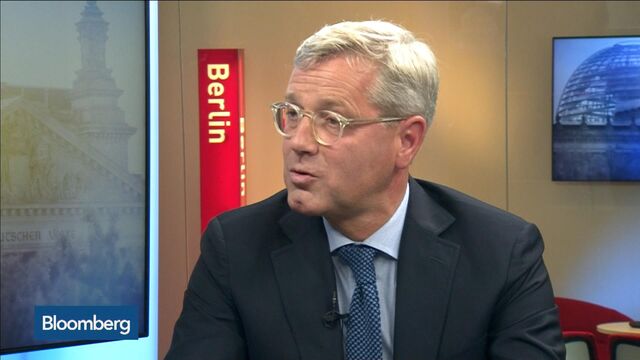 The European Union should ease its demand for the U.K. to allow the free movement of workers in return for post-Brexit market access because that would help keep Britain tied to Europe, a senior member of Chancellor Angela Merkel's party said.
Norbert Roettgen, head of the German parliament's foreign affairs committee, took a more accommodating stance than Merkel, who signed up to the decision of EU governments that the so-called four freedoms -- capital, goods, services and labor -- aren't negotiable. While Roettgen doesn't speak for the government, his comments reflect a view among many policy makers in Merkel's Christian Democratic Union that it's in Germany's interest to maintain strong business ties with the U.K.
"We should think out of the box, not only black or white," Roettgen said in a Bloomberg Television interview in Berlin. "We should be flexible as Europeans" to keep relations with the U.K. "as close as possible," he said.
U.K. Prime Minister Theresa May's ambition to seize control over Britain's migration policy in response to Brexit supporters has raised the prospect of being shut out of the EU's single market. Free movement of workers between EU member countries, the core element that drove the immigration debate in the U.K. before the exit referendum in June, is a political rather than an economic project and should be negotiable, Roettgen said.
"We can separate that," he said. A condition would be to accept EU rules and their legal enforcement by the bloc's institutions, he said.
'Naive Hope'
Merkel is sticking to her position that accepting freedom of movement is essential for Britain to participate in the single market once out of the EU, Steffen Seibert, the chancellor's chief spokesman, told reporters on Wednesday.
Thomas Schaefer, the finance minister of Hesse state, which includes Germany's financial center of Frankfurt, said the U.K. shouldn't expect the EU to give up on its principles.
"There's still this naive hope in Britain that as little as possible will change," Schaefer said in a phone interview. So-called passporting for U.K. banks is part of the EU's four freedoms, "so in that case you'd also have to give Poles access to jobs in Britain," he said.
Roettgen's comments elaborated on a paper he co-authored with France's Jean Pisani-Ferry and economists Andre Sapir, Paul Tucker and Guntram B. Wolff that lays out a proposal of a "continental partnership" between the EU and the U.K.
Such a partnership would grant Britain some control over labor mobility while preserving free movement of capital, goods and services, the paper said. As a non-EU member, the U.K. would still have to adhere to regulations set out by the EU overseers of the single market.
Price to Pay
"The price the Britons would have to pay is that they would be inside this market but they would have in the end to take the rules decided by others because they have withdrawn," Roettgen said.
He said the U.K.'s decision to leave the EU caused "big damage" and May's government should take as long as it needs before triggering Article 50 of the EU, which sets out a two-year process of exit negotiations.
"They should take the time they want to take -- they should prepare," said Roettgen, a former environment minister under Merkel. "I think they aren't really sufficiently prepared up to now."
Sign up to receive the Brexit Bulletin, a daily briefing on the biggest news related to Britain's departure from the EU.