Kazakh Premier Shifted to Security Chief as Economy Falters
by
Karim Massimov moved from premier to head of security service

Massimov's deputy appointed as acting prime minister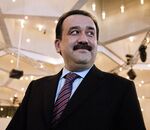 Kazakhstan's president dismissed his prime minister, Karim Massimov, after two years in the role as attempts to jumpstart the central Asian nation's economy have failed, sparking unrest.
President Nursultan Nazarbayev appointed Massimov head of the National Security Committee, and named First Deputy Premier Bakytzhan Sagintayev acting prime minister, according to an order published on the presidential press service's website.
Tensions are rising in the former Soviet republic that borders Russia and China as the social contract that underpinned Nazarbayev's more than 25-year rule frays. The collapse of oil prices has sunk the nation's currency and inflation has surged to the fastest since 2008. Warning of a "real crisis," Nazarbayev pledged this year to revive growth by selling government assets, overhauling state institutions and fighting corruption. The 76-year-old leader is also seeking to map out a transition from his rule, with his eldest daughter Dariga having been named deputy premier in 2015 after serving as deputy speaker in parliament.
"We witness the common practice of ministerial musical chairs in Kazakhstan," Kate Mallinson, a partner at London-based political risk advisory GPW & Co., said by e-mail. "Any reforms risk angering both the workers who rely on the government to protect their livelihoods or the powerful business elites who benefit from the status quo. The appointment of Sagintayev to replace Massimov is a clear victory for Dariga Nazarbayeva who had difficulties working as his deputy and long sought to undermine Massimov."

The tenge has weakened 28 percent against the dollar in the past 12 months, among the 10 worst performers in the world, its weakness triggered by the slump in the price of oil, Kazakhstan's biggest export earner. Gross domestic product rose 0.1 percent from a year earlier in the first half of the year, while consumer-price growth has held above 15 percent since February, with a peak of 17.7 percent in July.
For investors, it hasn't been all gloom even as the tenge reels, with the country's debt remaining attractive. The yield on Kazakhstan's 2025 dollar bonds fell to a record 3.366 percent on Wednesday and was at 3.386 percent at 9:12 p.m. Astana, the capital.
"Kazakhstan was and remains a very good spot for fixed income investors," said Oleg Kouzmin, an economist for Russia and the Commonwealth of Independent States at Renaissance Capital in Moscow.
Succession Struggle
Protests over one of Massimov's first major reform proposals -- on land sales -- earlier this year exposed the difficulties the government faces in pushing through changes. Jostling among would-be heirs to Nazarbayev, Kazakhstan's ruler since 1989, is compounding doubts about the government's ability to deliver. The succession struggle may have also received impetus from the recent death of President Islam Karimov in neighboring Uzbekistan, who rose to power at the same time as Nazarbayev.
"Perhaps Nazarbayev wants to signal a more proactive approach to fend off any domestic political unease/unrest," Tim Ash, an emerging-market strategist for Nomura International Plc in London, wrote in a note. The move is "unlikely to bring radical change," he said.
The changes also indicate a departure from Nazarbayev's pledge during parliamentary elections in March to allow the current government to complete institutional reforms and anti-crisis measures, amid speculation of an imminent shake-up. Sagintayev was economy minister until 2013 before becoming a deputy prime minister. Massimov was in his second stint as prime minister, having held the office for almost six years until 2012, the longest tenure in that post since the collapse of the Soviet Union.
Massimov will lead the security service in challenging times. Kazakhstan was hit by terrorist attacks this year, leading to the arrest of 21 men in August and the killing of 18 extremists in June. Former security chief Vladimir Zhumakanov was named Nazarbayev's adviser.
Massimov, "a close adviser and confidante to the president," was never going to depart far from the premiership, hence he was moved to head the powerful security services, Mallinson said.
Before it's here, it's on the Bloomberg Terminal.
LEARN MORE