Fitbit Can Seek to Knock Jawbone Out of U.S., Agency Says
By and
Two Fitbit patents revived at International Trade Commission

Fitbit retains market dominance even amid legal fights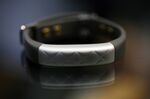 Fitbit Inc. won a new round in its tit-for-tat legal fight with Jawbone Inc. Thursday after a U.S. trade agency revived patent-infringement claims regarding the wearable fitness devices, increasing the headaches for long-beleaguered Jawbone.
A trade judge was wrong to say two Fitbit patents covered ideas that weren't eligible for legal protection, the U.S. International Trade Commission in Washington said in an opinion posted on its electronic docket. It upheld the judge's findings that a third Fitbit patent is invalid.
The decision means that Fitbit can pursue an effort to block Jawbone's Asia-made products from the U.S. market. The revived case doesn't guarantee a victory, though -- the commission said the judge was premature in making his decision and ordered the case remanded for further investigation. A final decision is unlikely before next year.
Jawbone said it expects the judge will again find the patents invalid. "We also believe the judge will find Fitbit's patents are not infringed by any Jawbone products and that Jawbone's own patents predate the patents Fitbit is trying to assert," Jawbone said in a statement.
Protecting Innovations
Fitbit predicted it would be victorious. "We are confident in the strong legal bases underlying our patent infringement claims" and the company will continue "to protect the innovations central to our product offerings," Fitbit said in a statement.
The fight started in May 2015, when Jawbone filed a civil suit claiming Fitbit pilfered employees and critical inside information. It followed up by filing an ITC case claiming Fitbit infringed its patents and stole trade secrets. Fitbit retaliated with this case.
Jawbone, whose parent company is Aliphcom, is appealing a decision that some of its patents are invalid, and is seeking to overturn a different trade judge's Aug. 23 findings that no secrets were stolen.
Each has accused the other of nefarious actions. Jawbone says Fitbit is fighting unfairly to knock out a competitor, while Fitbit says Jawbone turned to the courts and ITC only because it was losing in the marketplace.
"The tide has turned in favor of Fitbit," said Matt Larson, a legal analyst with Bloomberg Intelligence in Washington. He said it gives Fitbit more leverage in any settlement talks.
Wearable Devices
Manufacturers shipped 22.5 million wearable devices in the second quarter, according to International Data Corp. 
Despite increasing competition coming from cheaper Chinese options and higher-end smartwatches, Fitbit has remained dominant in the wearables market. In the second quarter of this year, Fitbit had a quarter of the market for wearable devices, while Jawbone has long since fallen out of the top five. Fitbit beat analysts estimates this past quarter, with revenue growing 46 percent from a year earlier. 
The revived Fitbit patents involve a wearable heart rate monitor and the ways to operate a portable monitoring device.
Jawbone, a pioneer yet long-troubled maker of activity trackers, has faltered as competition has picked up from players like Fitbit and tech giants like Apple Inc. and Alphabet Inc.'s Google. Earlier this year, there were reports that the closely held company put its speakers up for sale. Later, it was reported that Jawbone had tested the market for buyers. In November, Jawbone cut 60 employees, or 15 percent of its workforce and closed its New York office. 
The case is In the Matter of Certain Wearable Activity Tracking Devices, 337-973, U.S. International Trade Commission (Washington).
Before it's here, it's on the Bloomberg Terminal.
LEARN MORE