EON's Uniper Float Is Omen for More Billion-Euro Writedowns
by and
Spinoff's market value seen at about 4 billion euros in survey

Analysts, investors expect volatile start of trading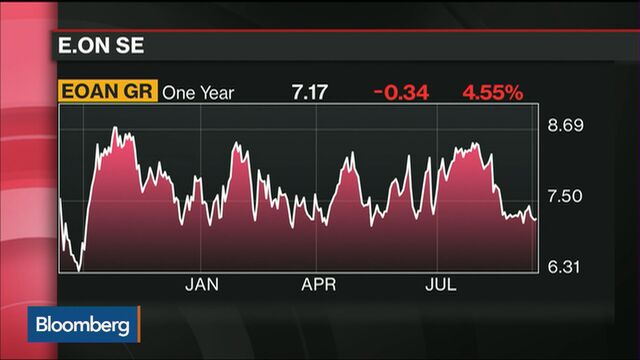 EON SE faces another round of multi-billion euro writedowns as the market value of its fossil-fuel spinoff is forecast to fall massively short of that in its books when it starts trading in Frankfurt on Monday.
Uniper SE will be worth about 4 billion euros ($4.4 billion), according to the average estimate of 12 investors and analysts polled by Bloomberg. That's a third of the value EON applied to the business as of June 30, and points to about 3.8 billion euros of impairments for the Essen-based utility, according to shareholder group Deutsche Schutzvereinigung fuer Wertpapierbesitz.
"That's disastrous," Thomas Hechtfischer, the director of DSW, Germany's largest association for private investors, said by phone. "Based on the market-value estimates for Uniper, there'll be billions of writedowns for EON for the second time since the half-year earnings."

EON's split and decision to list the majority of Uniper is a response to Germany's shift from nuclear and fossil fuel to solar and wind, a policy that's undermined power prices and hurt profitability at utilities. EON, which now focuses on renewables, networks and retail consumers, wrote down almost 4 billion euros last month, adding to impairments of more than 24 billion euros already recorded by the utility and peers RWE AG, Vattenfall AB and Energie Baden-Wuerttemberg AG since 2014.
Georg Oppermann, a spokesman for Uniper, declined to comment on the company's market value.
Pure Play
Uniper, which has been operating independently since January, now runs EON's commodity trading, conventional power generation and Russian energy exploration and production businesses as well as having long-term gas contracts with the world's biggest gas exporter. EON is distributing 53 percent of Uniper's stock to existing investors, handing out one share for every 10 of EON.
"The asset is a pure play of a conventional electricity generator with a big Russia exposure," Thomas Deser, a fund manager at Union Investment, one of EON's 15 biggest holders, said by phone from Frankfurt. "It isn't to the taste of everyone."
If the market considers Uniper's power stations worth less than EON's 12 billion-euro valuation, that may result in writedowns for EON, Chief Executive Officer Johannes Teyssen told the Frankfurter Allgemeine Sonntagszeitung newspaper. The book value must change to the market valuation after the third quarter, EON has said.
Officials at EON declined to comment further on the charges or Uniper's market value.
Challenging Future
A writedown of 3.8 billion euros is based on the difference between Uniper's book value and the expected market worth applied to EON's remaining 47 percent holding, according to Dusseldorf-based DSW.
"The near-term could be challenging for EON, and further writedowns of Uniper's book value are likely," said Ahmed Farman, an analyst at Jefferies Ltd. in London.
EON, the second-worst performer in Germany's benchmark DAX index in 2015, has fallen more than 7 percent this year to 8.251 euros as of 12:41 p.m. in Frankfurt on Friday.
Peter Crampton, an analyst at Macquarie Group Ltd, sees a "small" gain in EON after Uniper's listing. "This will be the first time when you can buy EON without that strong commodity price exposure, which opens up more investors," he said.
Index Sales
Uniper will join EON as a member of DAX only on its first day of trading before dropping out. This may oblige index tracking funds that can only hold DAX companies to sell their Uniper shares. UBS Group AG analysts estimate that 5 to 10 percent of Uniper's market capitalization could be sold by index funds on the opening day.
RWE, EON's main competitor in Germany, is also separating its renewables, retail and grid business into a company called Innogy, with about 10 percent to be put up for sale in an initial public offering later this year. While more stakes may be offered, RWE plans to keep a majority.
The last company that was spun off and listed by a DAX member was Osram Licht AG, the lighting unit split from Siemens AG in 2013. Under similar index fund selling pressure, the company "performed quite well," according to Sam Arie, an analyst at UBS, gaining 14 percent in its first week of trading.
"The first week of trading will be very volatile," Deepa Venkateswaran, an analyst at Sanford C. Bernstein & Co., said by phone from London. "I expect a more stable Uniper valuation from early October."
Before it's here, it's on the Bloomberg Terminal.
LEARN MORE