Airbnb Will Hold Hosts to Higher Standard, Hire More Minorities
by
The home-sharing company releases discrimination report

Airbnb sets goals to diversify hiring and procurement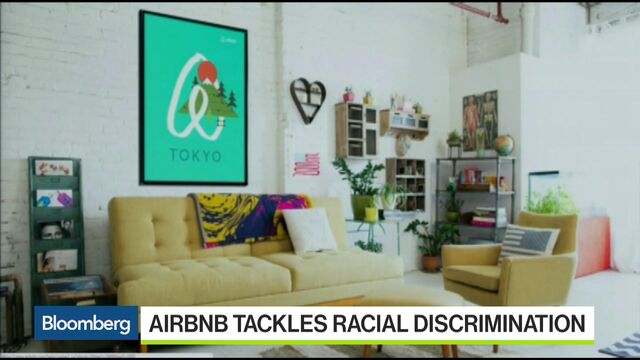 Airbnb Inc. unveiled a series of steps to address complaints of racism and other discrimination by people using the online service to rent their homes.
The San Francisco-based company will ask hosts to agree to an anti-discrimination policy that goes beyond U.S. legal requirements, it said in a a 32-page report authored by Laura Murphy, the former head of the American Civil Liberties Union. The new rules, crafted by former U.S. Attorney General Eric Holder and civil rights attorney John Relman, will ask property owners to affirm that they won't discriminate based on "race, religion, national origin, disability, sex, gender identity, sexual orientation or age."
Hosts will be prevented from listing a unit on the same day if they previously told a prospective guest that the property was unavailable, a step aimed at discouraging them from unfairly vetting customers. Airbnb will also urge hosts to let guests to book a unit without being screened, through a new feature called Instant Book.
While Airbnb said it will provide hosts with online bias training, it didn't go as far as some critics have asked, such as removing guest photographs from its platform. Guest and host photos can put race front and center on Airbnb. Murphy addressed the issue:
"I came to believe that Airbnb guests should not be asked or required to hide behind curtains of anonymity when trying to find a place to stay," Murphy wrote. At the same time, she acknowledged that it offers some benefits when it comes to certain transactions: "Creating these kinds of anonymous tools has helped people successfully apply for mortgages and employment opportunities, just to name a few examples."
Airbnb had initially brushed off questions of discrimination, but began to respond to mounting criticism earlier this year. One customer filed a civil rights lawsuit against the company, a company called "Noirbnb" promised more inclusive home sharing in response to discrimination on Airbnb and critics began tweeting their experiences with the hashtag "#Airbnbwhileblack."
Brian Chesky, Airbnb's chief executive officer, said in an interview two months ago that he was taking the issue very seriously. "Our mission is to create a world where people feel like they belong," he said. "That's why we're making a big deal of it."
In the report, Airbnb also made commitments to change some of its own behavior. The company will create an "Open Door" policy, which will guarantee housing to anyone who has been discriminated against on the platform.
Airbnb also committed to hiring a more diverse workforce by boosting hiring from underrepresented populations. The company set a target having 11 percent of its employees from minority groups by the end of 2017 from the current 9.6 percent. Total procurement spending from certain suppliers, including those run by minority owners, women and veterans, will be boosted to 10 percent by 2019 from the current 1 percent.
"When I was approached by Airbnb and asked to lead their effort to fight discrimination and
bias, I was skeptical," Murphy wrote in the report, which was commissioned by Airbnb. "Airbnb is putting in place powerful systemic changes to greatly reduce the opportunity for hosts and guests to engage in conscious or unconscious discriminatory conduct."
Before it's here, it's on the Bloomberg Terminal.
LEARN MORE