Trump Renews Focus on Military Spending as Race Tightens
By
Poll shows Trump leads among current, former servicemembers

Candidates to participate in military forum Wednesday night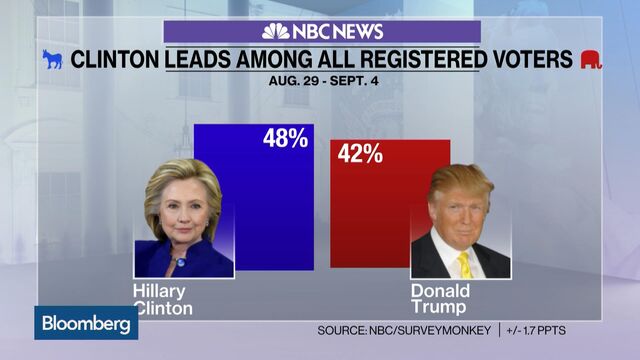 Republican presidential nominee Donald Trump detailed his proposals for an expansion of U.S. military power as his race with Democrat Hillary Clinton tightens, in an appeal to service members and veterans who could give him a critical boost in November.
If elected, Trump would ask Congress to lift military spending caps, increase defense spending, and seek a plan from generals to counter Islamic State in his first 30 days in office, he said in a speech Wednesday in Philadelphia.
Trump also said he would increase the size of the army to about 540,000, the Marine Corps to 36 battalions, the navy to a number of surface ships and submarines "approaching" 350, and the Air Force to at least 1,200 fighter aircraft.
"History shows that when America is not prepared is when the danger is by far the greatest. We want to deter, avoid, and prevent conflict," Trump said, calling Clinton "trigger-happy and very unstable."
Missiles, Classification
As president, Trump said, he would also seek a "state of the art" missile defense system and give U.S. naval cruisers ballistic missile defense capabilities. He'd enforce "all classification rules, and enforce all laws relating to the handling of classified information" -- a swipe at Clinton's use of private e-mail when she was secretary of state -- and would order the Joint Chiefs and federal agencies to review U.S. cyberdefenses, the campaign said.
U.S. intelligence officials are considering a fundamental overhaul of the process used to classify information, with Director of National Intelligence James Clapper saying Wednesday that intelligence agencies are "guilty" of overclassifying material.
Trump's campaign, in a "fact sheet" distributed before the speech, credited the conservative Heritage Foundation, the army chief of staff, and the National Defense Panel as recommending some of the proposals he's espousing.
Spending Caps
The Budget Control Act of 2011 imposed caps to rein in discretionary spending on military and non-military programs. The caps took effect in 2013 after lawmakers failed to reach a debt-reduction deal, and are enforced by a mechanism called sequestration.
While Clinton also supports lifting the caps, she calls on her website for "ending the sequester for both defense and non-defense spending in a balanced way." Trump hasn't made clear whether he would also seek to lift the domestic spending caps, which Democrats say is a necessary condition for undoing the defense limits.
Over the past few years, Congress has adjusted the caps several times to boost spending. Lawmakers have also funded some operations through a special war-related account that isn't subject to the spending caps.
Even so, the Pentagon faces $106.6 billion in potential cuts from its current budget projections over four years starting in fiscal 2018. Pentagon Comptroller Mike McCord earlier this year said those planned cuts are the No. 1 defense fiscal challenge facing the next president.
In 2013, Trump said sequestration imposed "a very small percentage of the cuts that should be made, and I think, really, it's being over-exaggerated," according to CNN.
Political Crossfire
Trump at a Tuesday rally in North Carolina blamed Clinton for favoring "military adventurism" that has created power vacuums filled by terrorists including Islamic State, a case he continued to argue against the former Obama secretary of state Wednesday.
As Trump and Clinton battle over who would make a better commander-in-chief, an NBC News poll released Wednesday found the Republican leads by 19 points among voters who are serving or have served in the U.S. military.
Clinton said Tuesday that Trump "disrespects our military leaders by saying, and I quote, 'I know more about ISIS than the generals do,'" and criticized his treatment of a Gold Star family and of veterans he employed in the private sector.
She said she would "give our military everything they need when they're serving overseas" and support service members with job training and mental health care when they return.
Trump was accompanied on the campaign trail Tuesday by retired Army Lieutenant General Michael Flynn; his daughter Ivanka; and former New York City Mayor Rudy Giuliani, all of whom met with military spouses following a town hall-style event in Virginia Beach, Virginia. Clinton is sending her running mate, Tim Kaine, to the area on Friday, her campaign said.
After Trump announced Tuesday that 88 retired U.S. generals and admirals had endorsed him, Clinton's campaign replied that 95 support her.
Both presidential nominees were set to participate in a forum on military issues Wednesday night in New York City hosted by NBC News and an Iraq and Afghanistan veterans' group.