politics
Mylan CEO Behind EpiPen Price Furor Praised by Senator Father
By
Manchin distances himself from drugmaker but praises Bresch

Some outraged colleagues want hearings and investigations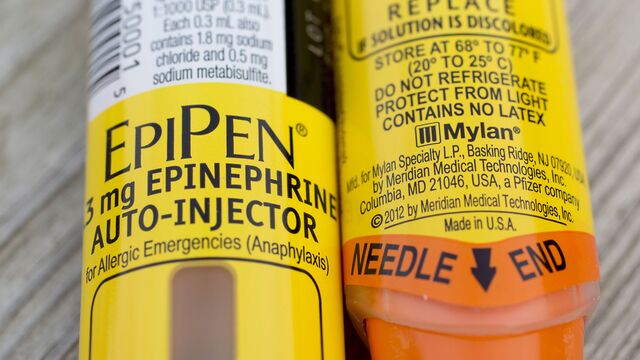 West Virginia Senator Joe Manchin admits he's a proud father seeing his daughter run a drug company, but he says he didn't know much about the business decisions Mylan NV made as it raised prices more than 400 percent on the EpiPen -- and kept it that way on purpose. 
Heather Bresch, Manchin's daughter and Mylan's chief executive officer, has come under fire from lawmakers, including many of his fellow Democrats, for her pricing decisions on the life-saving anti-allergy drug.

"We make a point ever since I've been in this position, and when I was governor, we made a point, we just didn't get involved. It's so convoluted. I don't understand," he said. "To get into something you don't understand and your daughter being in this type of industry it was best I stayed away."
Bresch, 47, is facing demands from Manchin's colleagues to appear before Congress and explain the price increases, which came as her pay rose substantially.
"My daughter is my daughter with unconditional love and she's the most amazing person that I know of as far as not only being accomplished, but just, she's so compassionate and generous in how she's always lived her life," Manchin, 69, said in an interview outside the Capitol Tuesday evening.
The EpiPen has become a national symbol for those who argue drugmakers are gouging customers and saddling taxpayers with unsustainable costs increases.
'Open-Minded and Fair'
"The only thing you can ask is that people be open-minded and fair," Manchin said. "That's all. Just be open-minded and fair. That's all anybody can ask for, especially if it's your child. So that's all we're asking for."
He said his daughter would make sure people who needed EpiPens got them. "The only thing I know about from my daughter is if someone got a hold of the company and says we can't afford 'em, we need one, she would give them one. That's all. I know that. I know her well enough to know that would happen," he said.
After facing strong criticism from lawmakers and Democratic presidential nominee Hillary Clinton, Mylan offered more discounts for certain customers and said it would introduce a generic version of the anti-allergy shot for half the price of the original EpiPen. The auto-injector cost $57 a shot when Mylan purchased the drug in 2007, but a series of price increases took the cost to more than $600 for a pair of EpiPens.
Mylan declined to comment on Manchin's remarks.
Manchin said he is sure his daughter will answer all of the questions that have been asked of the company by his colleagues, but said he sees a larger issue than Mylan.
"They are all too expensive," he said. "So if there is a way to find out that we can deliver it at a better, more economical price, and still have the innovative and creative juices flowing I guess that makes all these things happen, you've got to find the balance somewhere," Manchin said.
'Blessing in Disguise'
"Maybe it's a blessing in disguise. You've got to look for the silver lining all the time, don't you?" Manchin said, referring to the renewed focus on the high cost of prescription drugs.
Manchin said he's not worried the issue could be used to attack him in 2018, when he will be up for reelection.
"If they attack me because I love my daughter, that's not a big price to pay," he said.
Mylan is due to send answers to questions posed by Senate Judiciary Committee Chairman Chuck Grassley of Iowa this week, as well as brief congressional staff for the Senate Special Committee on Aging.
Aging Committee Chairwoman Susan Collins of Maine said in an interview Tuesday she wasn't sure a hearing would be necessary. Her committee has already held hearings on other drug companies raising prices and is working to finish a report on the larger issue with recommendations.
Others, however, have called for antitrust investigations and hearings in Congress.
'People Are Dying'
Senator Bernie Sanders of Vermont said he wants broader action on drug affordability in addition to hearings.
"People are dying. People are getting much sicker than they should, and I think no one doubts any more that the pharmaceutical industry is motivated by incredible greed," the former Democratic presidential candidate said Tuesday.
House Oversight and Government Reform Chairman Jason Chaffetz of Utah also said Tuesday his committee is likely to hold a hearing on EpiPen pricing.
Separately, New York Attorney General Eric Schneiderman said Tuesday that he opened an antitrust investigation into Mylan, saying the drugmaker may have ripped off local school systems that purchased the EpiPen by adding anticompetetive terms to sales contracts with the schools.
Bresch and the company successfully pushed for a 2013 U.S. law that expanded the purchase of the product by schools nationwide.
— With assistance by Jared S Hopkins
Before it's here, it's on the Bloomberg Terminal.
LEARN MORE