Emerging Assets Rise Fourth Day as Investors Focus on Fed Timing
By and
Colombian peso, South Korean won lead gains in currencies

Odds of Fed rate increase this month decline to 22 percent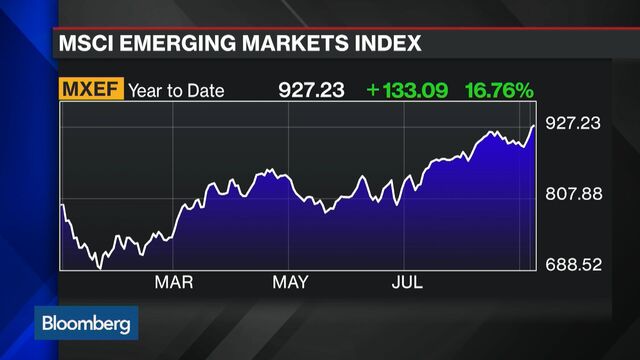 Emerging markets rallied for a fourth day as traders weighed the potential time-line for Federal Reserve interest rate increases in light of disappointing U.S. economic data.
The MSCI Emerging Markets Index extended gains to the highest level since July 2015 as benchmark equity gauges from Russia to Taiwan advanced at least 0.7 percent. Philippine stocks fell for a third day amid speculation outbursts by President Rodrigo Duterte are hurting investor sentiment. The Colombian peso and South Korea's won led developing-market currencies higher as futures traders reduced the odds of a Fed move this month to 22 percent.

This year's gains in emerging markets have gathered pace in September as U.S. services and jobs data cast doubt on the speed of Fed interest-rate increases, prompting investors to seek higher returns in riskier assets. Developing nations also got a boost from signs of stability in China's economy. The Fed's latest Beige Book release Wednesday showed the U.S. economy grew at a modest pace in July and August as a strong labor market failed to put much upward pressure on wages and prices.
"There is a lot of liquidity being created that has to find a home," said Tony Hann, the head of equities at Blackfriars Asset Management in London. "Emerging markets, especially Asia, look good now that fears that China is going into meltdown seem to have receded."
Investments in exchange-traded funds that buy stocks and bonds in emerging markets extended the longest winning streak in more than a year as inflows exceeded $19.5 billion over the past 14 weeks, according to data compiled by Bloomberg.
Stocks
The MSCI Emerging Markets Index rose 0.3 percent to 926.04, extending its gain this month to 3.6 percent. Poland's WIG20 advanced 1.1 percent for a four-day increase of 2.7 percent. Equities in Taiwan rose 0.8 percent.
The Micex Index gained 0.7 percent in Moscow. MegaFon PJSC added 2.7 percent, the most in two months, after President Vladimir Putin suggested anti-terror laws will be eased to reduce negative impact on telecom carriers.
The Philippines stocks gauge dropped 1.3 percent, taking its loss this week to 2.4 percent, after Duterte threatened to swear at U.S. President Barack Obama, who subsequently canceled a meeting with him.
Saudi Arabia's Tadawul All Share Index led Gulf declines, falling 0.8 percent as the kingdom weighed plans to cancel more than $20 billion of projects and slash ministry budgets by a quarter to repair finances squeezed by low oil prices.
The MSCI developing-nation stock gauge trades at 12.8 times its 12-month projected earnings, compared with a multiple of 16.4 for the MSCI World Index of developed-nation equities.
Currencies
The MSCI Emerging Markets Currency Index rose 0.5 percent, taking its four-day gain to 1.6 percent in the longest rally in a month.
Colombia's peso strengthened 3.3 percent. The won jumped 1.3 percent to a 15-month high and the Taiwan dollar advanced 0.6 percent as funds bought into Apple Inc. suppliers before its unveiling of the iPhone 7 in San Francisco.
The ruble gained 0.7 percent as Brent crude rose for the second time this week, closing at $47.98 a barrel in London. Oil is Russia's biggest export.
The rand fell 0.3 percent, ending a four-day advance. Turkey's lira weakened 0.5 percent, the first decline in three days. The Polish zloty and Hungarian forint each gained at least 0.3 percent against the euro.
Bonds
The premium investors demand to own emerging-market debt over U.S. Treasuries narrowed five basis points to 331, according to JPMorgan Chase & Co. indexes.
South Korea's 10-year sovereign bonds rose for a third day in four, pushing the yield down four basis points to 1.48 percent. The yield on similar-maturity Turkish bonds dropped eight basis points to 9.53 percent, the lowest in seven weeks. Russian debt advanced for a fourth day as the yield fell eight basis points to to 8.02 percent, a more than two-year low.