Food & Drinks
David Chang on How Ando Delivery Could Save Restaurant Dining
As the growing online service introduces new lunch options, its founder explains how he developed this strategy through both his experience at Momofuku and growing up in Virginia.
By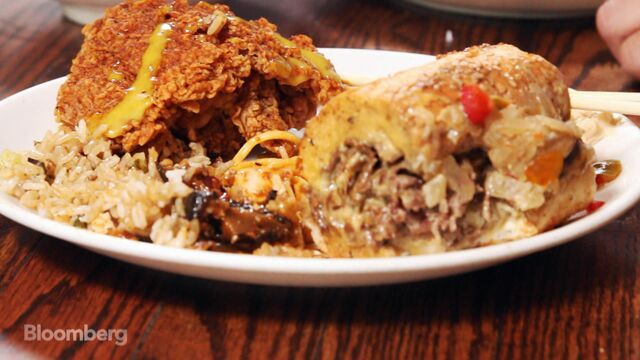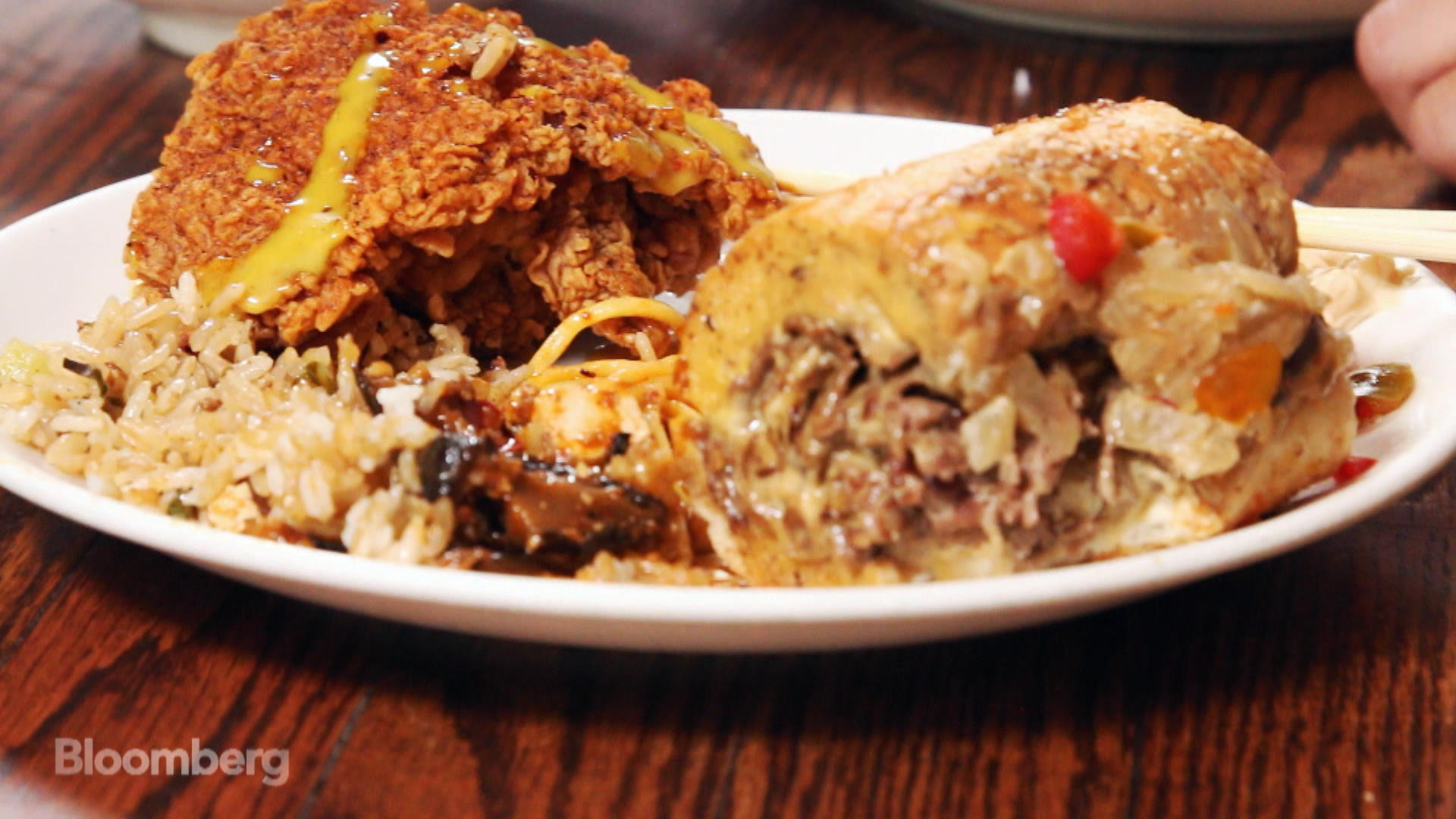 David Chang is piling food from cardboard delivery containers onto a large plate for me.
The founder of the game-changing Momofuku restaurant empire spoons a mound of shimmering dan dan noodles, doused in red Sichuan oil, onto the only empty corner left on my dish. It coils between a catcher's mitt-size piece of fried chicken and a Philly cheesesteak sandwich, the latter offering the salty promise of a perfect cheese sauce gently nudging out of it.
I'm excited, but a little confused—and overwhelmed. This is not how food delivery normally works; the best thing about it is you can get lots of different kinds of food, but usually it's just one genre at a time.
And yet for Chang, this plate full of highlights from Ando, his new NYC-based food delivery service, has profound meaning.

"Growing up in suburban Virginia, going to the mall was the highlight of the week. This is essentially the greatest hits of the food court," says Chang. "I'd go with my friends and we'd each get one dish—Asian noodles, cheesesteak—and assemble them on the table. This is a dream plate."
"Yup," says J.J. Basil, chef and head of development at Ando, and another child of the Virginia suburbs. "When you put it together, it makes sense."
A Virtual Restaurant
There's another way to look at the plate, besides with happy nostalgia, and that's as the next generation of food delivery: a virtual restaurant.

Starting on Wednesday, Sept. 7, Ando enters Phase Two of its expansion, by adding menu categories to its app and website andofood.com.
Anoop Pillarisetti, Ando's general manager, explains these new genres vis-à-vis the food on my plate. The dan dan noodles and mapo tofu will fall in a section titled "Wok," alongside dishes like General Tso's Chicken. 
Another category is "Bodega." It's a catchall for dishes like the fried chicken and cheesesteak, as well as banh mi.
The last category is the most compelling: "Lab."
"It's an experimental test kitchen," says Pillarisetti. Choices include vegetarian fried rice; chef Basil deepens the flavor of it by adding bonji, a fermented seasoning. There's also a supersonic version of the traditional deep-fried crab Rangoon dumpling; this iteration is a spring roll with mashed potatoes mixed in to lighten up the cream cheese filling.

People can give feedback on the Lab dishes, helping determine what makes it onto the Ando menu. What's more, those who order and interact the most with the Ando team can "unlock" secret dishes. Chang and Basil talk in hushed tones about a deep-fried cheesesteak that might soon be available to top customers.
A Chef With No Tables
Still, what Chang believes makes Ando singular in the world of food delivery is the food itself. He chose a chef who has experience unlike most delivery cooks: Basil trained at Noma in Copenhagen, RyuGin in Tokyo, and WD-50 in New York. At Ando, he works as an R&D chef, reverse-engineering dishes to make sure they're as good—or better—after they're delivered.
The bonji in the fried rice is not a typical delivery-food ingredient. When Chang decided to put a Philadelphia cheesesteak on Ando's menu—as the kind of dish that people crave when they're hungry, and therefore ideal for delivery—Basil made countless versions until he found one that had plenty of cheese sauce but not so much that the sandwich bread was a soggy mess after delivery.

"It looks like a traditional cheesesteak, and we're not trying to mess with Philadelphia," says Chang. "So I call it an NYC cheesesteak. We added chickpea hozon [a miso-like condiment] because hozon has notes of pecorino and parmesan and gives the sauce a fuller, more delicious flavor." Chang firmly believes that Basil, or a chef like him, has the potential to be one of America's great new chefs.

For that to be any more than a dream, people have to be able to taste the food, which is where it gets trickier. One drawback for Ando has been its slow rollout. Having launched in May, Ando's delivery is still available only in Manhattan's Midtown East district and slowly expanding westward. It's not often that midtown has a culinary edge on places like Brooklyn, but for Ando, lunch-desperate midtown is delivery-food ground zero.
Where Mario Batali Comes In
One reason Ando is so well-focused is that Chang has been working on the idea for more than a decade. He credits a well-known friend, chef Mario Batali, with planting the idea for Ando in his head. When Momofuku Noodle Bar opened, the lines were soon two and three hours long. One of the first loyal customers was Batali. "He never waited on line," says Chang. "Not because he was a celebrity—because we never let anyone cut—but because he would come early for lunch. And he'd complain, 'Why can't I get this for dinner? I just want this delivered.' "

"Of course, I listen to Mario," Chang continues. He hung out at Batali's pizza place Otto and saw that it was doing new things in the world of food delivery, like wrapping its cured meat in paper and stuffing it into architecture tubes, for neat and stylish delivery. "They were selling full meals," says Chang. "And they weren't selling food that wasn't supposed to be delivered. Their No. 1 pizza at Otto had an egg on it, but they wouldn't sell that pizza for delivery."
That idiosyncratic strategy helped convince Chang not to deliver the dishes that crowds lined up for at Noodle Bar. "I didn't want to rob the individual that was waiting in line so patiently for their food when someone could literally be eating it in their boxers, complaining that the ramen wasn't that good," he says. (He allows that they will have Momofuku delivery when he can be sure the technology and the food will be great.)
Delivery vs. Brick and Mortar
"The future of dining in New York, and maybe America at large, is certainly going to be affected by delivery," Chang says. "If mobile technology has already changed how you get your mail and your dry cleaning and everything else, of course it's majorly disrupting how people get their food."

On top of changes in technology, the increasing costs of labor and real estate make restaurants a prohibitively expensive proposition. Still, Chang is old school. "I'm committed, more than ever, to improving my brick-and-mortar restaurants," he says. "I believe in that dining experience; it's why I exist and it's not going to go away. If anything, experiential dining is going to be more important. If front-of-the-house staff have fewer customers to focus on, they can shower more attention on the guests that do come into the restaurant." He is, at least for now, determined that Ando won't injure or kill restaurant culture.
And ... Pizza?
But that doesn't mean he doesn't have plans for more delivery models. He points out that Chinese food, which increasingly dominates Ando's menu as it evolves, is the No. 2 delivery-food option in the country; the No. 1 choice is pizza. Would Chang consider going head-to-head with the legions of pizza delivery places in New York? "I have a lot of pizza dreams," Chang says, and laughs. "I can't wait for Batali and all my Italian chef friends to feel threatened. But we're going to hold off on that for now and focus on Ando."
Before it's here, it's on the Bloomberg Terminal.
LEARN MORE