Growth Star From Afar, Australian Economy Falters Under Scrutiny
by
Annual GDP expansion clocks up the fastest pace in four years

More than half of growth came from resource exports: Macquarie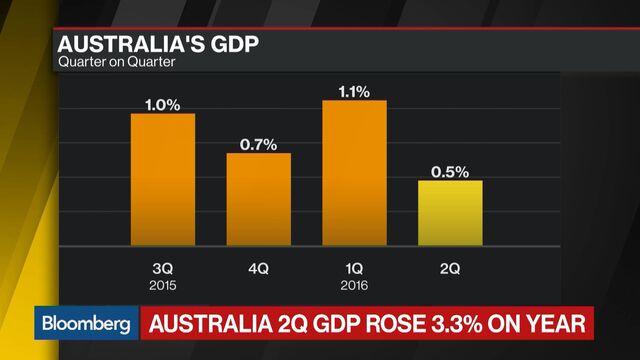 Australia appears a shining light in an otherwise fairly moribund developed-world economy, from glancing at its latest GDP report. But that image falters under scrutiny as the country's powerful expansion fails to generate equivalent jobs gains and dent excess capacity.
The Reserve Bank of Australia's actions tell us so: it's been forecasting strengthening growth and at the same time cut interest rates twice in four months to a record-low 1.5 percent; it's also pointed out that the traditional connection between certain levels of growth and labor-market outcomes no longer holds. Australia's growth isn't quite jobless, but it's not far off.
Wednesday's second-quarter data showed a 15.5 percent surge in public investment -- mainly state and local government spending on projects. That of course is good: infrastructure spending generates jobs and boosts productivity. But if we take New South Wales, a leader in this field, chances are that actually involved buying properties for demolition rather than road building. Moreover, resource exports from new mines accounted for another large chunk of growth.
"There's not a lot of jobs created buying back homes or shipping tons of iron ore," said James McIntyre, head of economic research at Macquarie Bank, who estimates more than half of the 3.3 percent annual growth came from resource export volumes.
As a result, Australia's economy exceeded its 30-year growth average, but very little inflation was created because of near-record underemployment. While the jobless rate fell to 5.7 percent in July from 6.3 percent a year earlier, some 87 percent of the roles created were part-time: a definition that covers anything less than 35 hours a week.

"We need the growth composition to head back to more labor-intensive sectors in the economy in order to soak up that labor force," McIntyre said. "If it doesn't, then we're going to see continued inflation disappointments and the RBA being forced to cut rates further."
Australia isn't alone in this type of quandary. Sweden's economy grew an annual 3.1 percent in the three months through June, and more than 4 percent in the three preceding quarters. Yet it's running negative interest rates and a bond-buying program to revive inflation.
Fiscal Boost
Australia's annual expansion last quarter was its fastest in four years, driven by a 1.9 percent rise in government spending and 15.5 percent increase in public investment, which together added 1 percentage point to quarterly growth. Reflecting the winding down of mining investment, non-dwelling construction slumped 12.4 percent, subtracting 0.8 percentage point.
In New South Wales, which is building roads and railways after more than a decade of inactivity, the state is funding projects by selling existing assets. At a federal level, the government is terrified of losing its AAA credit rating as it struggles to contain a budget deficit and get on top of debt. As a result, it's disregarded borrowing to fund productivity-enhancing infrastructure.
"How far can the public investment upswing actually go if governments are fiscally constrained and not willing to undertake an expansion of debt and take advantage of interest rates?," McIntyre asked.
Flexi-Time
The sudden step-up in Australia's part-time roles is partly driven by services industries like tourism and education that are rebounding amid a resurgent currency, and require a more flexible workforce than the mining jobs they're replacing. The rise of China's middle-class and its consumption of services could also prove a boon in the future.
About 1 million additional jobs could be created in Australia within 10 years by boosting trade with China, Monash University said in a report this week. Achieving that will come down to the reform vision and political skills of Prime Minister Malcolm Turnbull, whose side holds a razor-thin majority in parliament; and to the skills of incoming central bank Governor Philip Lowe as he tries to combat weak inflation.
Lowe may need to try to tame the local dollar. It's risen more than 10 percent since mid-January amid uncertainty over the U.S. Federal Reserve's plans to tighten policy, as well as zero and negative rates and bond-buying programs in Europe and Japan that make even Australia's record-low rate attractive. Australia's services industries are among the most sensitive sectors to currency moves.
Wednesday's GDP release also confirmed Australia's economy has avoided recession for 25 years and is now closing in on the record held by the Netherlands, according to the Treasury department.
Before it's here, it's on the Bloomberg Terminal.
LEARN MORE