Saudi Cost-Cutting Drive May Cancel $20 Billion of Projects
By , , and
Government to review thousands of contracts worth $69 billion

Ministries could be merged or eliminated under plans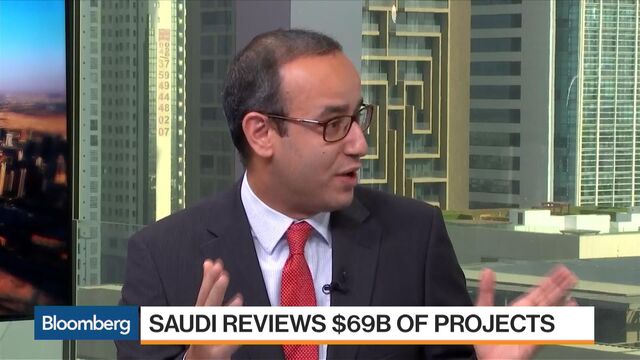 Saudi Arabia is weighing plans to cancel more than $20 billion of projects and slash ministry budgets by a quarter to repair finances squeezed by low oil prices, people familiar with the matter said, efforts that analysts expect to slow economic growth.
The government is reviewing thousands of projects valued at about 260 billion riyals ($69 billion) and may cancel a third of them, three people said, asking not to be identified as the discussions are private. The measures would impact the budget for several years and may include transport, housing and healthcare projects, according to two of the people. The government plans to carry out the review within six months, they said.
A separate plan includes merging some government ministries and eliminating others, two people said, also speaking on condition of anonymity. The benchmark stock index dropped the most among Middle East markets monitored by Bloomberg.
QuickTake Saudi Arabia's Strains
Under deputy Crown Prince Mohammed bin Salman, the world's biggest oil exporter has taken steps to rein in a budget shortfall that ballooned to 16 percent of gross domestic product last year, the highest among the world's biggest 20 economies. The government has delayed payments owed to contractors and started cutting fuel subsidies. The prince also plans to sell a stake in oil giant Saudi Arabian Oil Co., or Aramco, and create the world's biggest sovereign wealth fund.
The International Monetary Fund expects the shortfall to drop to below 10 percent of GDP in 2017.
Short-term Strategy
"The revenue and economic diversification strategy being pursued will only start to yield results over the medium- to long-term," Raza Agha, VTB Capital's chief economist for the Middle East and Africa, said by e-mail. "In the short term, it is a question of living with lower oil prices by cutting some capital spending, and financing what's left via debt sales and drawing down foreign reserves."
The Finance Ministry declined to comment, while officials at the Ministry of Economy and Planning weren't available for comment when contacted by Bloomberg.

Authorities set up the National Project Management Office last year to control capital spending and ensure that government projects are carried out efficiently. The office will oversee similar bodies, being created in ministries, municipalities and state entities, to ensure infrastructure projects are executed on time and within budget.
Watch Next: Can Saudi Arabia Shake Its Hydrocarbon Habit?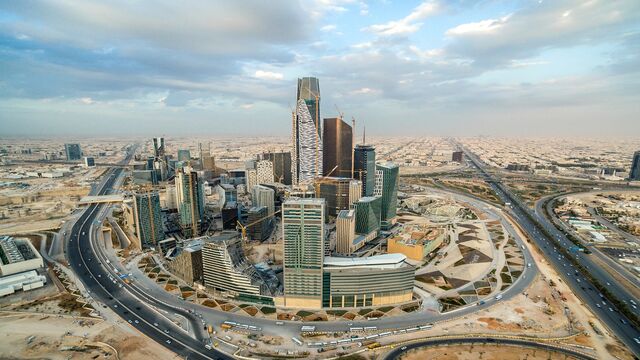 Other Ways
The kingdom is also looking at other ways to bolster its finances. Plans are afoot to sell its first international bond early next month, which could raise more than $10 billion, people familiar with the plans said in August. Public debt levels will increase to 30 percent of economic output by 2020 from 7.7 percent, according to targets set out in the transformation plan released in June.
Spending cuts and the drop in oil prices to below $50 a barrel are already weighing on growth prospects.
Gross domestic product is forecast to expand 1.5 percent according to data compiled by Bloomberg. Excluding the 2009 global recession, that's the slowest pace for more than a decade. The IMF estimates medium-term growth would settle around 2.5 percent, hardly enough to lower one of the world's highest youth unemployment rates.
'Double-Edged'
"Much lower government spending will translate into lower private sector growth, which has already started to be seen in economic indicators this year," said John Sfakianakis, director of economic research at the Gulf Research Center. "It's a double-edged sword as the government has to rationalize spending because of the drop in oil revenues."
The Tadawul All Share Index declined 0.8 percent at 1:47 p.m. in Riyadh.
Project cuts by the government "just kill the sentiment that was building during the past few days with Saudi stocks," said Mohammed Alsuwayed, the head of capital and money markets at Adeem Capital in Riyadh. "The market should trade down on that today and tomorrow."
In interviews with Bloomberg News this year, Prince Mohammed said that the government was developing a mechanism to provide cash to low- and middle-income Saudis who rely on subsidies. Past rulers of Saudi Arabia have largely avoided seeking additional revenue from the public, which has grown accustomed to government largess in exchange for political loyalty.
"Saudi Arabia's growth model and its engine are being fundamentally reevaluated, arguably on sounder foundations," said Philippe Dauba-Pantanacce, a senior economist and global political analyst at Standard Chartered Plc in London. "While economically speaking this all makes sense, the question is: is there a plan to address the potential social fallout from these spending cuts?"