Philippines' Duterte Regrets Tirade After U.S. Drops Meeting
By and
Duterte said he would curse Obama in Laos if drug war raised

Later said he regretted it came across as personal attack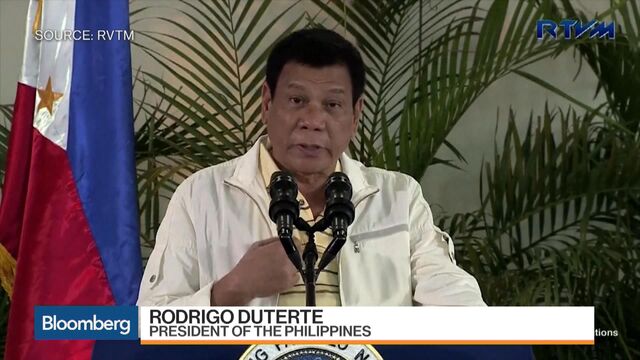 Philippine President Rodrigo Duterte sought to mend fences after his expletive-laden tirade against Barack Obama prompted the U.S. president to cancel a one-on-one meeting in Laos.
In a statement issued by his office on Tuesday, Duterte said he regretted that his comments warning the U.S. against interfering in a war on drugs "came across as a personal attack." The nations agreed to move the meeting to a later date, he added.
"Our primary intention is to chart an independent foreign policy while promoting closer ties with all nations, especially the U.S.," he said in the statement, adding that the nations shared a "longstanding partnership." "We look forward to ironing out differences arising out of national priorities and perceptions, and working in mutually responsible ways for both countries."
National Security Council spokesman Ned Price said Obama won't go through with a scheduled bilateral meeting with Duterte on Tuesday at the Association of Southeast Asian Nations summit in Laos. Instead, he'll will meet with South Korean President Park Geun Hye, Price said in a statement.
The White House left the door open for the possibility of a less formal meeting between Obama and Duterte at the summit. "I would not expect a formal bilateral meeting, but I think he'll have an opportunity to interact with him," Ben Rhodes, White House deputy national security adviser told reporters at a briefing Tuesday.
Duterte on Monday rejected U.S. criticism of the methods he's using in his anti-drug campaign, saying it was an internal Philippine matter. He indicated that a meeting with Obama could prove a testy affair, saying if the U.S. president questioned him "I will curse you in that forum."
"Who is he? I am the president of a sovereign state and we have long ceased to be a colony," Duterte said. "I only am answerable to the Filipino people who elected me as president."
Asked at a briefing in Hangzhou, China, at the end of the Group of 20 summit about Duterte's comments, Obama said "clearly he's a colorful guy" and added that he was talking to his staff to see if "this is a time we can have some constructive, productive conversations."
Defiant Duterte
Duterte has been defiant toward international criticism of his anti-drug campaign, which has left about 2,400 dead in the two months since he took office. He's lashed out at statements from the United Nations and the U.S., responding to comments from U.S. Ambassador Philip Goldberg by calling him a homosexual. That prompted Washington to summon officials from the Philippine Embassy to complain.
Duterte has defended his campaign as a matter of national security, calling illegal drugs a pandemic that must be wiped out by the Philippines at any cost.
"Nobody has a right to lecture me," Duterte said. "God, do not do it. We will end up disrespecting each other if you do that to me."
The war on drugs will continue and many will be killed "until the last pusher is out of business," he said.
Before it's here, it's on the Bloomberg Terminal.
LEARN MORE