Sanders Launches Activist Group Amid Questions About Its Set-Up
By
'Our Revolution' created to support progressive candidates

Former staffers question legal structure chosen for new entity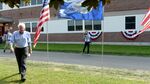 Bernie Sanders wants the political revolution started by his insurgent Democratic presidential bid to continue via a new organization, but some former staffers wonder if its structure will be more hindrance than help.
Sanders formally launched Our Revolution to mobilize volunteers and voters to support progressive candidates running for offices ranging from school boards to Congress. It also will campaign on issues to "create an America based on principles of economic, social, racial and environmental justice," Sanders said during an online broadcast on Aug. 24 launching the group.
The roll-out was marred, though, by the resignation of eight staff members amid objections about the group's leadership and its creation as a 501c4 "social welfare organization'' that can accept the kind of large, anonymous contributions that Sanders railed against during his Democratic primary battle with Hillary Clinton. The structure also limits the group's ability to coordinate with candidates, a complaint already made by Tim Canova, the Florida congressional candidate whom Sanders supported. Canova lost an Aug. 29 primary to former Democratic National Committee Chairwoman Debbie Wasserman Schultz.
'An Odd Choice'
"Senator Sanders's choice of a 'c4' organization to carry on the legacy of his presidential race is somewhat of an odd choice, because there are some stringent legal requirements," said Paul Ryan, deputy executive director of the Campaign Legal Center in Washington. "No one's ever really done this before to my knowledge."
Sanders endorsed Clinton after the extended primary and will campaign for her, including at a New Hampshire AFL-CIO Labor Day breakfast. It's unclear, though, what role if any the new group might play in supporting her. Clinton isn't listed on the group's website among its endorsed candidates, and during the group's introductory event Sanders didn't call for members wary of Clinton or leaning toward a third-party candidate to back her.
Speaking on NBC News' "Meet the Press'' on Sunday, Sanders would only say that Clinton is better than her Republican opponent on issues such as raising the minimum wage and climate change.
"Either Hillary Clinton or Donald Trump is going to become president of the United States, and there is no question to my mind that Hillary Clinton is far, far, far and away the superior candidate," he said.
Progressive Candidates
Sanders has said Our Revolution will back more than 100 candidates this year and lists 63 on its website, including Zephyr Teachout in New York and Pramila Jayapal in Washington state, who won their respective primaries and will run for the House of Representatives in November. It also supports seven statewide ballot issues, including measures in Washington state and California opposing the Supreme Court's Citizens United ruling, which let corporations spend unlimited sums on political causes.
Claire Sandberg, who had joined Our Revolution after serving as organizing director for the Sanders campaign, said she quit because of concerns that the legal structure would allow the anonymous, large-dollar donations from billionaires that Sanders opposed. Its rules also hinder the group's ability to work with candidates it wants to elect, such as Canova, she said.
"Given the legal limitations prescribed by the organization's legal status, I am not sure there was anything that could have been done by Our Revolution,'' Canova said by e-mail.
Television Advertising
Sanders didn't campaign for his pick in Florida, but told NBC on Sunday that Canova did better against Wasserman Schultz than he did against Clinton in the same district in the March primary, and that his supporters gave about $600,000 to Canova's campaign.
Even so, Sandberg said she and other staffers raised concerns about the structure of the organization with Sanders, who remains in the Senate as an independent representing Vermont. She said she thinks Our Revolution's structure was picked in order to solicit large donations for television advertising.
"It's not because these concerns weren't raised repeatedly by staff in the organization,'' Sandberg said. "I still desperately hope that Our Revolution will get on the right track.''
Jeff Weaver, former Sanders campaign manager and head of the new organization, didn't respond to requests for comment. But Larry Cohen, the former president of the Communications Workers of America who is chairman of the group's board, said Sandberg's concerns about fund-raising were unfounded.
'Mobilization Machine'
"I don't believe this board will view that as a central purpose, or even a purpose,'' Cohen said. Rather, he described Our Revolution as a member-driven "giant mobilization machine'' that seeks to bring about change.
Federal law says a 501c4 maintained or controlled by a federal candidate or officeholder can't solicit or receive funds affecting a federal election unless the funds are raised with limits and disclosed, Ryan said. While Sanders has said he won't control the group, the ban still applies if he played a role directly or indirectly in establishing it, Ryan said.
Our Revolution leaders haven't said how they will handle contributions, and there are other questions -- including how such a ban would be enforced for state and local races -- with little guidance from the Federal Election Commission, Ryan said.
Tapping Enthusiasm
Volunteer Jason Edwards of suburban Columbus, Ohio, hosted 90 people for the Our Revolution launch and said he's excited about the new group. But he's concerned about the staff exodus, and wants the group to provide more training and resources for local progressive candidates.
"My concern with the organization right now is they are not meeting the needs of the grassroots groups,'' said Edwards, 34, a medical lab technician. "We have a large volunteer pool that is very enthusiastic and dedicated."
Our Revolution is building an organization similar to Democracy For America, the federal political action committee promoting progressive candidates formed by former Vermont Governor Howard Dean after his unsuccessful run for the 2004 Democratic presidential nomination, Executive Director Charles Chamberlain said.
In the short term it will be difficult for Our Revolution to do much besides mobilizing supporters to turn out for progressive candidates this November, Chamberlain said. It also can play a role trying to block approval of the Trans-Pacific Partnership, a top priority of Sanders and his supporters, if the trade accord comes up in the lame-duck congressional session after the Nov. 8 election, he said.
Grassroots Network
The long-term impact will be maintaining a grassroots network to push Sanders's goals, including debt-free college and universal health care coverage, and early stumbles such as the resignation of certain staffers are to be expected, Chamberlain said.
Still, Joe Trippi, a Democratic strategist who worked for the presidential campaigns of Dean in 2004 and former Senator John Edwards in 2008, said it could erode Our Revolution's credibility if it, like other 501c4s, doesn't disclose donations.
The value of Our Revolution should be in keeping involved the many people drawn to politics,in some cases for the first time, by the Sanders campaign, Trippi said.
"Your first love in politics is often the one that you carry for the rest of your life," he said. "Keeping them in the process, keeping them engaged, and harnessing that energy is important.''
Before it's here, it's on the Bloomberg Terminal.
LEARN MORE