Merkel 'Full of Plans' in Call With Party Bosses, Lawmaker Says
By and
Chancellor holds conference call after state defeat by AfD

Senior member of Merkel's CDU comments on fourth-term debate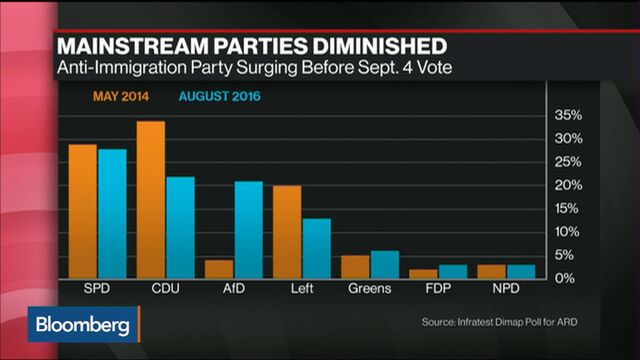 Chancellor Angela Merkel defiantly signaled she'll stay the course after an anti-immigration party defeated her Christian Democrats in a state election for the first time, according to a senior member of the chancellor's party.
"I have not the impression that she wants to give up," Elmar Brok, a Christian Democratic Union lawmaker in the European Parliament, said in a Bloomberg Television interview after taking part in a post-election conference call with Merkel on Monday. "She was full of plans how to solve this crisis."

Merkel will probably hold off on any announcement that she's running for a fourth term until a CDU party convention in December, said Brok, a member of the party's national executive board. Merkel will also defer any announcement until the CDU agrees on a candidacy with its Bavarian sister party, the Christian Social Union, he said.
The CDU was beaten into third place by the Alternative for Germany in elections Sunday in the Baltic coast state of Mecklenburg-Western Pomerania after the AfD campaigned against Merkel's open-border policy and other parts of her agenda such as economic sanctions against Russia. The AfD finished second behind the Social Democrats, which have governed the state since 1998.
Brok said Merkel focused on moving the party forward as she addressed party leaders in the call from the Group of 20 summit in Hangzhou, China. 
"You cannot just put this result on the shoulders of Mrs. Merkel or the Christian Democrats," according to Brok, who said the AfD siphoned state voters from all parties, including the Social Democrats, the anti-capitalist Left party and the Greens.
Merkel has signaled in interviews that she won't change her policy after about 1 million asylum seekers came to Germany last year, saying that measures are being taken to integrate those who requests are granted and to ease the return of those turned down.
"Angela Merkel has led this country successfully through many crises," CDU General Secretary Peter Tauber told reporters in Berlin after the conference call with Merkel. "Party members trust in her to do so in the future. We all will do well to rely on her."