Kuroda Says New Ideas Not Off Table as BOJ Reviews Policy
By
Rejects any reduction in the scale of monetary stimulus

Reiterates that there's scope to ease further if needed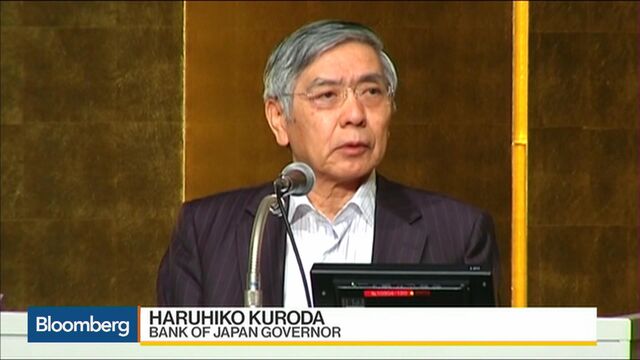 Bank of Japan Governor Haruhiko Kuroda declined to rule out new initiatives to stoke inflation as the central bank conducts a comprehensive review of its policies and their effectiveness.
Kuroda emphasized in a speech in Tokyo Monday that the review, to be completed by the Sept. 20-21 board meeting, won't result in any reduction in monetary stimulus, as is "being called for by some market participants."
"There is ample room for further monetary easing in either of three dimensions -- quantity, quality, and the interest rate -- and other new ideas should not be off the table," Kuroda said in prepared remarks at a conference. He declined to specify what other options might be considered if needed.
The governor said the two main aspects of the BOJ's review are examining what's hampered achieving policy makers' 2 percent target and the effects of the current triple-pronged stimulus approach, which has sent yields and lending rates to historic lows. Kuroda said that oil price declines, weak consumption after a 2014 sales-tax hike and a slowdown in emerging markets have all held back consumer-price gains.
Japan continues to bear the impact of prolonged deflation, he said, which has left it in a different position than the U.S., where inflation expectations have been "anchored" around 2 percent, even as energy prices dropped. Economists have speculated that one result of the BOJ's review will be the central bank backing away from a two-year time frame for hitting the inflation target
"Inflation expectations have yet to become as much of a monetary phenomenon as the BOJ thought," Barclays Plc economists Kyohei Morita and Yuichiro Nagai wrote in a report. "We believe the BOJ will continue to pursue 2 percent inflation 'at the earliest possible stage,' but refrain from calendar-based communications."
Most analysts had previously seen the central bank expanding stimulus on Sept. 21. The yen gained after Kuroda's speech, and was at 103.39 per dollar as of 5:09 p.m. in Tokyo.
'Reaching Limits'
"Of course, it's possible for the BOJ to introduce a fourth easing measure in addition to the existing three because Kuroda continues to say there's no limit to monetary policy," Takeshi Minami, chief economist at Norinchukin Research Institute, said after Kuroda's speech. "But when you look at market reactions, I don't think they are buying what the BOJ is saying. Markets feel Kuroda is reaching limits."
Given this skepticism, Kuroda gave an extended explanation of why the bank may have to take an action even if it entails costs. He said there is "no free lunch'' and pointed to "enormous" benefits for Japan in ending deflation.
Kuroda cautioned that some policies couldn't be enacted legally or shouldn't be, such as directly underwriting government bonds and monetizing fiscal deficits.
Other Options
Economists have suggested that the BOJ could buy bonds of local governments and public corporations that fund projects including railways, power plants and sewers.
Kuroda did acknowledge that the BOJ's negative-rates policy has hit profits at financial institutions, but said it hadn't hurt bank lending. "In Japan, where deflation has been persistent for a prolonged period, the most powerful monetary easing measures are needed among advanced economies," he said.
He noted that the decline in long-term yields would hurt returns on pension and insurance investments, and that some businesses had consequently revised down their profit forecasts. "We should take account of the possibility that such developments can affect people's confidence by causing concerns over the sustainability of the financial function in a broad sense, thereby negatively affecting economic activity," he said.
Barclays economists anticipate the BOJ will shift its annual monetary base expansion target to a 70 trillion yen to 90 trillion yen range, from the current 80 trillion yen, to give it greater flexibility -- not to scale back policy stimulus.