Obama: Trade Agreement With U.K. Still Not Top Priority
By and
Leaders meet at G-20 summit, first time since May took office

Countries' 'special relationship' shaken after Brexit vote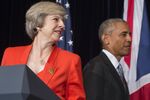 President Barack Obama stood by his warning that Britain will have to wait for a post-Brexit trade deal with the U.S., saying both countries have other priorities.
Obama used an April visit to London to warn Britain it would be at the "back of the queue" for a trade deal if it voted to leave the European Union. Speaking alongside Prime Minister Theresa May ahead of the Group of 20 summit in Hangzhou, China, he said this had been a statement of fact, rather than a threat.

"I never suggested that we will quote unquote punish Britain," he said in response to a question from a U.K. journalist. "I was asked about the viability of negotiating a separate trade deal between the U.S. and the U.K." He said the U.S. was focused on its trans-Pacific and trans-Atlantic trade deals and "it would not make sense for us to put those efforts aside."
May was the second world leader with whom Obama held a one-on-one meeting at the G-20 in Hangzhou. He met Saturday with Chinese President Xi Jinping, discussing human rights and South China Sea tensions as well as areas of agreement between the two countries.
Obama met May when she was home secretary but until Sunday had only talked by phone with the new prime minister, who was elevated in July.
Special Ties
The U.S. and U.K. are said to have a "special relationship" and have been close allies, but the alliance has been shaken by the U.K. vote to leave the European Union.
"This is her coming-out party," Heather Conley, director of the Europe Program at the Center for Strategic and International Studies, said of May's attendance at the G-20. "It's her first international event."
May is also scheduled to have one-on-one meetings with Russian President Vladimir Putin and Prime Minister Narendra Modi of India, but her toughest conversation is likely to be with Xi. She said she's still making up her mind about whether to let the Chinese-backed Hinkley Point nuclear power station proceed.
The plant would be built in Britain by Electricite de France SA and one-third funded by China General Nuclear Power Corp. Some in her team have expressed security concerns. Asked earlier if she trusted the Chinese, May replied, "of course we have a relationship with them and we have seen significant Chinese investment. What I want to do is build on that relationship."
She said her intended silence on the subject in China should not be taken as a sign she was against the project. Asked about the project at a press conference Sunday, May reiterated she plans to make a decision "sometime this month."
May confirmed she'd be asking Britain's National Security Council to assess if Chinese investment represented a threat.
Obama is now meeting with Turkish President Recep Tayyip Erdogan, the first time they have spoken in person since Erdogan held onto power after a coup attempt in July.
Before it's here, it's on the Bloomberg Terminal.
LEARN MORE